Erin Heist didn't grow up dreaming of being a musician. Despite spending much of her life in Juneau, where she makes her home, frequently attending the Alaska Folk Festival there, she said it wasn't until adulthood, when she saw a band playing traditional American music, that she "had that moment that I think a lot of musicians have which is, 'I want to do that. I want to feel that way, and make other people feel that way.'"
This was only a few years ago. But after picking up a guitar and woodshedding in local music circles, Heist has just released her debut EP, "Another Rainy Day."  She also has studio time in Oregon booked this fall to record a full length album, and appears poised to become a new name in Alaska's vibrant music scene.
"I really haven't had the opportunity to be the front person or be the leader in a lot of the music that I've done," she said. "I'm usually a bandmate."
"Another Rainy Day" is a five-song collection of stripped down Americana songs that wander from bluegrass to space country to folk. Produced by her cousin, Patrick Troll, it includes three originals, one cover, and an intriguing remake of a traditional Western ballad.
"I specifically chose songs that were more suited to that stripped-down feel, something that Patrick and I could do together," she said of the song selection.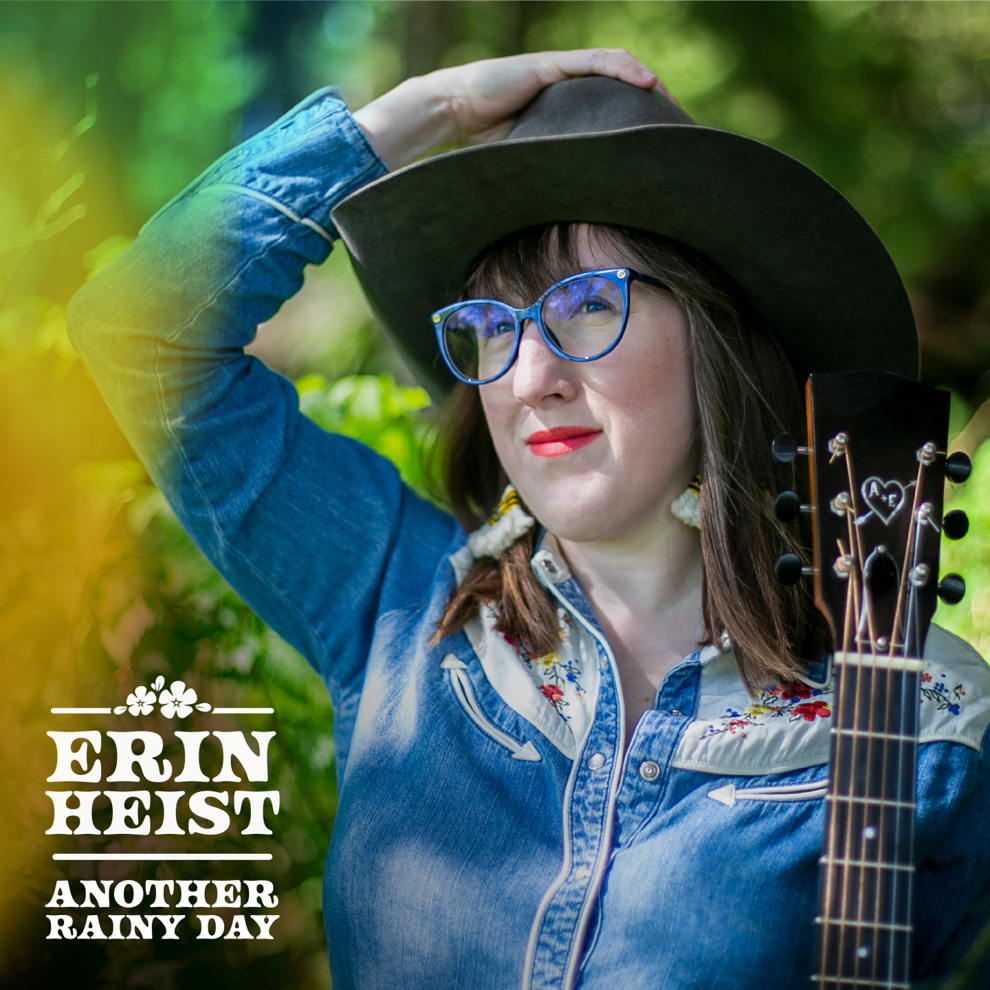 Heist explained that her decision to make this EP was prompted by her plans to record an album. She had never done any previous recording, and felt that before working with a full band, it would be good to get some studio experience first. "It turned out I'd never actually heard my own voice before," she said.
Heist flew Troll to Juneau from his Seattle home in April. The duo settled in to Betsy Sims' Studio A for four days, joined for one of them by Heist's husband Andrew Heist, who added backing vocals, fiddle, and mandolin to the spare but evocative recordings. 
For Heist, the songwriting and recording processes are attempts to dig deeply into traditional American song structures, and then move those styles into the 21st century. 
The EP opens with "Train to Cheyenne," a slow country song about woman in the 1930s, boarding a train to enter into an arranged marriage with a man she has yet to meet. "It's a song about my great-grandma Betty, who was essentially a Depression era mail-order bride," Heist explained. 
Heist, who holds an MFA in creative writing from the University of Alaska Anchorage, said she had struggled for years to find a way of telling this story of her ancestor, who was a single mother in Chicago during an age when unwed mothers were generally shunned by society. She answered a marriage advertisement by a cowboy and, with child in tow, left for Wyoming. The marriage would last for sixty years and become part of her family's history. "I can't wrap my brain around what that must have been like for her," Heist said.
This song was the first she wrote as part of a self-challenge for 2020. Before the pandemic swept the world and changed everyone's plans, she had determined to write one song a month for the entire year, a goal she met. "And then 2021 came along and I thought, all right, I have all this original music. I should start recording, Because that's what people do." 
The EP's title track was also a result of that songwriting process, Heist said. "That was a song that came out of a lot of frustration." 2020 was an exceptionally rainy summer even by Juneau's standards, she explained, and since outdoors was the only place musicians could gather and play, the weather washed out any chance of this.  
The piece has a sense of timelessness to it, which is intentional, she said. She's trying to write songs "that hit that same chord that some of these traditional songs hit, but does it from more of an Alaska perspective." 
On the traditional cowboy ballad "Bury Me Not On the Lone Prairie," Heist makes that connection in an unstated manner. The story of a dying man's last wish for his soon-to-be corpse is rooted in an even older song about burial at sea, Heist said. This put her in mind of Alaska's fishermen and fisherwomen, who she feels have carried on that frontier spirit.
The arrangement diverges considerably from the standard approach to the song, and is augmented by some studio wizardry on Troll's part. "We borrowed this really beautiful vintage style tube amp and ramped up the space sound effects to eleven," Heist said. "And then ran Andrew's fiddle through that tube amp. Then Patrick plays some electric guitar on there, through that same super spacey tube amp."
This is the song that veers into space country territory, and it results from the collaboration of two markedly different musical approaches. Troll comes from more of a pop background, while Heist is a traditionalist, and the production here merges the two approaches. Heist loves how it turned out and said this is the joy of working with a sympathetic producer. She wouldn't have come up with this on her own. 
"Recording is a pretty vulnerable process, and getting to do that with somebody like Patrick was the dreamiest."
"Reckoning on the Line" is closest to the bluegrass/old time style Heist plays when she performs with her husband Patrick in a duo. It was the first song she ever wrote, back in 2017, and it was born in a conversation she was having with a friend. Discussing a mutual acquaintance's self-inflicted, troubles Heist said at the time, "There's a reckoning on the line for her." 
Heist's friend immediately replied, "That's a song." So Heist wrote it.
The closing track, "Rock Bottom Riser," is more of a folk track, written by Bill Callahan, who performs under the name Smog. "A big part of my pandemic year was working really hard to improve my guitar skills," Heist said, explaining her choice to include the cover. She's been working on crosspicking, and said this song popped into her brain as a good vehicle for that. She said she isn't even sure what chords he's playing in and had to create her own take on it. "I got obsessed with playing it," she said. "I love that it's a moody song, but also has a sense of drive to it."
Heist's next album will be entirely composed of original songs and she has a full band slated to join her in the studio. In the meantime, she's taking advantage of the slowly returning opportunities for live performance. She might have waited until adulthood to take up music, but for Heist it's now it's a lifetime commitment. "Once you're on a stage and you're playing your first gig and you're watching 200 people waltz in a circle, you're done," she said. "Because that's the best feeling in the world."