Competition fuels us. As a young college basketball player I was a bit too skinny and undersized to play the center position. I quickly realized that I needed to change my style of play if I was going to compete in the paint with players much taller than me. It fueled me to train harder, develop crafty inside moves and get to where I wanted to go on the floor quicker than my opponent. Healthy competition is good for us. It spurs us to innovate and differentiate ourselves. It pushes us to higher heights.
What is considered 'competition' in corporate America is an entirely different beast. What options does an under-sized, under-resourced small business have when a Walmart or Home Depot opens their doors around the corner? Particularly, here in Alaska, where we have become 'famous' for Grand Opening Day lines-around-the-block, record duct-tape sales, and four-hour-long waits in a drive-thru for something that resembles food.
This past summer, industry-giant, Guitar Center opened a 16,000 square foot location in midtown Anchorage to mixed reaction throughout the local music community. Having a huge selection of instruments that we can handle, play, and explore has got to be a good thing right…?
Guitar Center has nearly 300 retail locations throughout the United States as well as a huge online presence through Musician's Friend. They have an interesting history. They have been widely known as an aggressive sales organization since its inception in 1959. Founder Wayne Mitchell created this aggressive environment by putting his sales staff on a straight commission basis. Although this policy was dropped in the mid-1970's, this aggressive approach helped Guitar Center gain significant market share.
There is a perception that when a Guitar Center comes into a town, its main objective is to close the doors of the smaller Mom-and-Pop music stores and quickly take market share by slashing prices and overwhelming the market with new gear options. It has been seen throughout the industry that when Guitar Center enters into a new market that they totally wreck the local music stores for about 6-12 months; then things start to even out again. It's not a coincidence that there has been left behind a wake of small independent music stores closing as Guitar Center expand into new markets. Akin to the Walmart corporate model, Guitar Center tends to offer very few full-time positions; opting rather to hire part-timers and offering the bare minimum of hours at sub-standard pay.
I wanted to find out more about the effects that the opening of Guitar Center was having on the local music stores that have served this community for decades — generations, even.
I asked Petr Bucinsky, owner/operator of Petr's Violin Shop and Guitar Central in Anchorage what effects he has seen in his business since Guitar Center opened just up the road from him.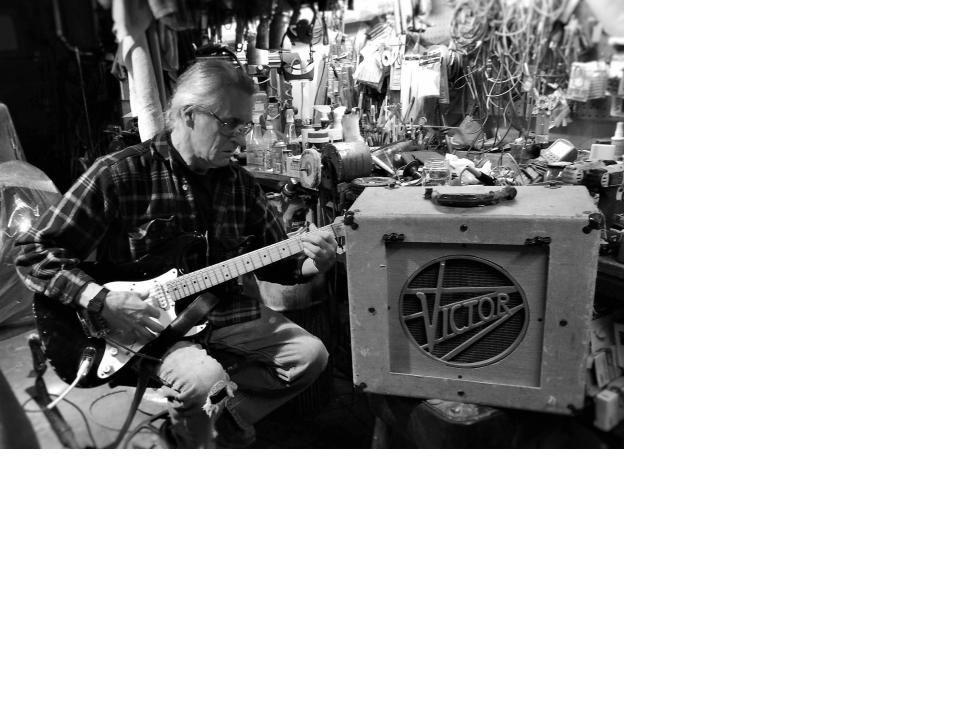 "With Guitar Center coming into town, they do something so much different than us, that it really hasn't affected us that much," he said. "Maybe on some of the accessories, because they buy a lot of them at a time and we only buy what we really need so they might get a little better break than we do and they can sell it at a lower price."
"If anything it has spawned a whole new group of guitar players. We are seeing new faces. I think it's actually helped," Bucinsky continues. "What we do is so much more than just turning items. We have a great crew. Everybody that works in our shop plays a musical instrument. It's really important. Everybody knows their job and everybody else's job there. We are all connected and that's a really important thing. We know most of our customers on a first name basis, because they come in over and over and over."
Petr's resume is impressive. "I made my first little guitar when I was seven years old. I was working in the shop (his father's) since I was a kid."
In the early 1970's, Petr's parents purchased the Christianson Violin Shop on 15th and C.
"My dad was also a trained violin maker," Petr said. "He finished the 8th grade and then he went to violin making school in the western part of the former Czechoslovakia."
After graduating from West High in Anchorage, Petr then attended the Violin Making School of America in Salt Lake City, earning a degree in violin making and restoration, eventually working for a guitar maker in West Germany, a stint with Hofner, and upon returning to Anchorage he purchased his father's shop and has been operating it ever since.
"I've been doing this for 45 years now," he said. "We do everything from violin repairs, to student instruments, to really high-end instruments. We do everything from simple to very complicated restorations."
Bucinsky has also expanded his offerings, including wooly mammoth ivory bridge pins for some of the largest guitar makers in the world.
"We have a database of tens of thousands of people and 45 years worth of customers," he said.
I asked Petr how they differentiate themselves from Amazon or the big box stores.
"We ask questions first and we let the customer decide. We do not push things. We do not want to make a 'sale.' That is kind of the last thing on the list. We want to match the guitar with the customer and that is so important because once that customer leaves and he plays the instrument for a day or two and he's not happy with it, that does not reflect well upon us."
"We also don't carry instruments below a certain level (of quality). I get a lot of customers that come in and say, 'Hey, I just bought this guitar over at Costco and I look at it and say, 'This looks like a guitar, but it is a toy.' The action's high... It hasn't been in a humidified environment…" Bucinsky pauses for a moment and remarks, "Then they say, 'Well my student is just wanting to start out.' That's exactly the problem! Somebody is trying to start out and you're giving them something that is not playable. They are going to end up quitting, because it is difficult to play."
In a recent article published in Guitar World Magazine, Fender CEO Andy Mooney revealed that 45 percent of new Fender guitars are purchased by new users. Unfortunately, 90 percent of all new guitar players quit within the first year.
"For us it is not about making the next sale, it's putting the right instrument, in the right hands, matching the instrument to the customer," Bucinsky said. "If a student gets an instrument, that is a good instrument that sounds good, that's easy to hold, they connect with it… they are going to want to continue playing. And after they get done with that, they are going to want a better instrument."
"What we can do is keep people playing. Keep them into music. Because it is so important, especially for these young kids. It doesn't matter which instrument. Kids do better. It expands a different part of our brain which can also be used for other things."
Mammoth Music has its roots in Spenard in the early 1990's. Owner Forrest Jackson took a risk and bought out Budget Records and Tapes, nestled in next to PJ's and the rest is history.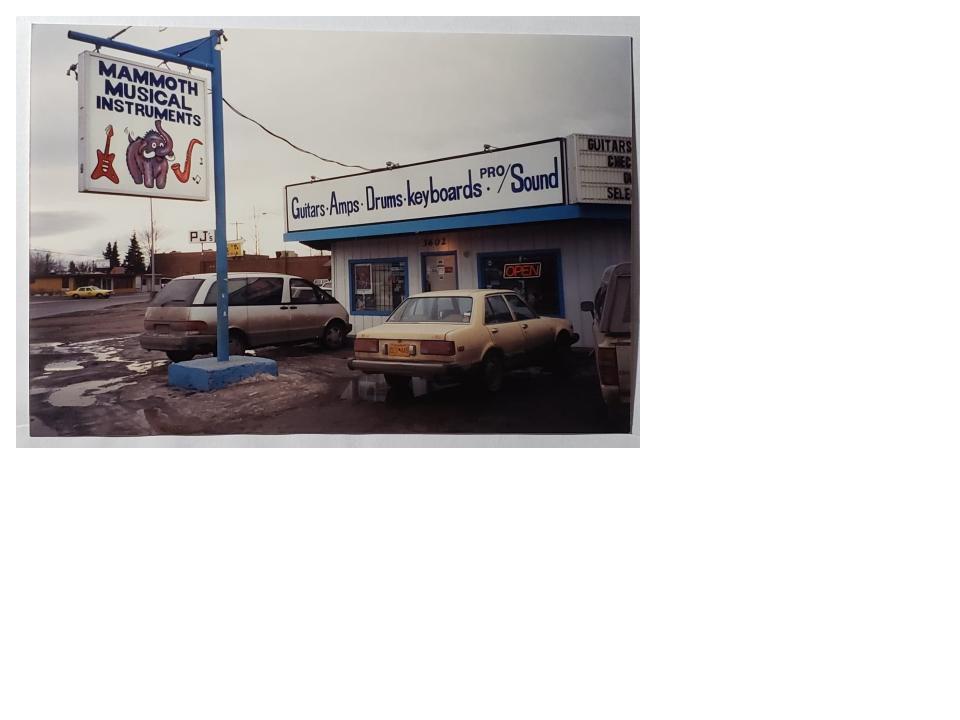 "We would take all the money we had made from the store and put it into new inventory and expanded their selection of CD's and vinyl," Jackson said.
Eventually they added musical instruments, moved to various other locations before settling into their 5th Avenue superstore.
Mammoth Music is feeling Guitar Center's effects a bit more than a specialized shop like Petr's.
With Forrest though, I sense that Guitar Center coming to Anchorage has rejuvenated his competitive spirit and he sounds determined to not only survive, but thrive despite these challenges.
Jackson cites Amazon, Sweetwater, and Musician's Friend as the main predatory companies that have changed how purchases are now made, and he is doing something about it. "Something that I have been after for the past four or five years is free same day or next day local Anchorage delivery." Jackson continues, "I could match their prices basically all day long, but what I couldn't do is match the convenience of showing up on that customer's porch in two days... So I thought, wait a minute, I could actually outdo them. I get it… Do people really want to get in the car at 10 below on icy roads and drive down to 5th Avenue to spend $30 in my store for a cable and a few strings? I have the flexibility to deliver to their home or workplace, but I'm not going to leave it on your porch like the others do."
When discussing the main problem with the online direct marketing model Forrest remarks, "it is a gigantic money siphon, pulling 100's of millions of dollars outside of Alaska and that money is not coming back."
Jackson is also adjusting the store's schedule to be open later hours to match Guitar Center.
"They were open 28 hours more per week than we were. That's basically two whole days lost of potential sales."
One of Petr's and Mammoth's longtime customers and strongest advocates is local guitar phenom, Mark Spafford. Mark's band is the Unknowns and I am blessed to have him as my lead guitarist in my band, Daddy's Issue, as well. Mark first picked up a guitar when he was fourteen years old and started playing gigs at Blues Central when he was sixteen.
"The first guitar that I bought was from Petr. It's where I went when I turned fourteen and heard Jimi Hendrix's 'Purple Haze' on the radio and I had to get a guitar. From that perspective alone Petr's is very special to me," Spafford said. "Petr's feels comfortable. I get all my guitars worked on at Petr's. When I think about buying my five year old or nine year old a bass guitar or regular guitar, I'm going to Petr's based on that fact."
"Mammoth was where my friend's worked back in the day," he added. "It's where I go to rent my stuff these days. The people there know me and they take care of me."
"Frankly, the few times that I have gone into Guitar Center they really haven't had anything that I really wanted. There is nothing I can buy there that I can't buy at Mammoth or Petr's. I grew up here. I'm going to take care of the people that I live with that have taken care of me for the past thirty years. There is no reason for me to go to Guitar Center to get anything, other than late night before a gig grabbing a cable or something."
The Alaska music community is a small one and word gets around. I heard through the grapevine that Mark had recently purchased an amp from KB, aka, Kenny Bettisworth. KB is the old school tube amp guru in Alaska and he has been doing it now for sixty years. Spafford tells me, "You know why I bought that amp from KB? It's because he said 'This is your amp Mark. This is the direction I think you need to go. This is exactly your sound.' It's just more of a personal touch."
KB is the epitome of the small, independent businessman; operating out of his garage and basement. He also provides a wealth of experience, knowledge, and hilarious stories about working with Gary Sloan and the Raines Brothers since the 1960's. Charlie Musselwhite and his briefcase full of blues. KB built my workhorse harmonica amp out of a 1938 Victor moviehouse speaker and an old radio tube amp. KB knew what sound texture, look, and durability that I was after. He works on all of my vintage amps and microphones. Without him, I would be stuck playing 'new shit.' Many of us would.
Pictured is KB aka Kenny Bettisworth playing through the old tube amp he custom made for mephoto credit — Darren Smith
I bring up Guitar Center to KB. He didn't have to think long for a response. "The fact that they decide to put a store here is probably corporate strategy to go into certain underserved markets, where there is not so much major competition," he said. "To corporate, they may see Anchorage as being inadequately served, but I don't see this as the case."
"The stuff that has created the rock and roll sound, that standard… You can't get that out of a modern amplifier. People in their search to recreate that character and quality of the music that they grew up listening to."
KB also sees a trend going away from the big Marshall stack units to the more portable amps where you really push their limit to use their distortion component. He tells me, "You know it with your harps. When you are not pushing it there is a certain kind of tone, but when you are pushing it, then it sounds like there are a couple extra players that show up. I've heard amplifiers that sound like there is an entire orchestra coming out of them."
Most of KB's business is from decades of repeat customers or referred to him by people he knows. He tells me very few new musicians come to him. But wouldn't it be nice to get a student kicked off on the right foot with proper gear? He replies, "Absolutely! If it doesn't play and it doesn't sound good, yeah, he's going to put it away in a couple of months."
I can't tell you where to go find KB. You have to go down to the crossroads, but he would let me tell you which crossroads. He opted for, "If they wanna find me, then they need to show up at a music venue, enjoy the music and ask a player how to get a hold of KB."
Now, it's not like Guitar Center is simply an Evil Empire. They have brought better pricing and availability to this market in some cases. They have rejuvenated the competitive spirit among the local music stores. I sense an improvement and more of a focus on better serving the customer. The stores I have spoken with are willing to be flexible on pricing and in many cases will even match a competitor's price.
Guitar Center has also hired a number of local musicians. One of the local musicians on the sales team is Garrett Hermansen. I first got to see Garrett and his bandmate Ben Mattox at an open mic at the Carousel under the name, Building 13, and I hired them to open for Daddy's Issue at Van's Dive Bar the following week. You can catch Garrett and his band, Building 13 at Van's Dive Bar every first and third Tuesday of the month.
I asked Garrett about working at Guitar Center and how it has impacted the local music community.
"I enjoy working here, because I'm surrounded by music and it is the one thing that I really love," he said. "I'm able to focus on music more now. We are more than just a music store. We're not just selling things like most box stores are; we are providing lessons; we are trying to integrate more music into the community."
"It's kind of interesting. I've always advocated for the Mom-and-Pop, so it's kind of weird working for the corporate. I think it's a good thing for the community. We have vintage instruments, brand new instruments, audio, lights, we do a little bit of everything. We carry everything from the beginner Squire Strats to custom PRS's and Gibsons."
Another positive that Garrett presented was that the instruments at GC are available to play and the potential customers can test them out. That is not always the case in some other shops and probably for good reason. "That's one of the reasons why we are here. If you wanna try it out? Then go ahead…"
As much as Garrett was accentuating the positive I could sense that there was some frustration as well. Minimal hours and limited benefits are tough on any employee and commissions in the 1 to 3 percent are miserably low by any standard.
"I know that we put a strain on the Mom-and-Pops. I, myself, try to source out certain products out to Petr's or Mammoth because they do offer some products that we just don't. I think that the key to longevity for all of us is that we all need to work together."
Purchasing an instrument can be a life changing experience for someone. With all of the expertise that professionals like Petr and KB offer and have offered for decades, why would you want to start out on the wrong foot? I'm not saying to stay away from Guitar Center. I strongly urge you to check them out when looking to add more music into your life. But do yourself and your student a favor and get started off on the right foot by consulting with your local experts this holiday season and see the entire package they have to offer prior to purchasing something out of convenience or curb appeal.