By Matt Hickman
If you're into hot fiddle playing and Americana music at its finest, you don't want to miss Foghorn Stringband, which returns to Alaska this weekend.
Fiddle legend Stuart Mason said of the band of nearly 20 years, "Face it people, there's Foghorn and then there's everybody else."
Undoubtedly some of the band's appeal is tied to its geographic diversity. Band members come from all over North America with Caleb Klauda and Reeb Willms from Washington State, Stephen 'Sammy' Lind from Minneapolis and Nadine Landry, an upright bass player from Eastern Quebec.
Landry joined the band in 2008, drawn to the band's sound amalgamating bluegrass sounds with cajun flavors. Ironically, she first saw Foghorn Stringband in Alaska in 2003.
"I first met them at the Alaska Folk Festival in Juneau. They kept going up to Alaska every year," Landry said. "Sammy the fiddle player joined the band… and we toured like that for at least three years. Reeb joined in 2011 and that's been the lineup for eight years now."
Landry was first turned on to music by her grandmother.
"My grandma was a fiddler and taught all her kids to play the piano and fiddle to back her up," Landry said.
In 2000, the then 19-year-old Landry moved out west to Whitehorse, Yukon to spend a little time with her aunt. Nineteen years later, Landry still calls the Yukon home.
"Whitehorse attracts a lot of artists, lots of singer-songwriter stuff and the guy I bought my bass from moved away and left me all of his gigs, so I started gigging," Landry said. "I started hanging out with people playing acoustic music and the Alaska Folk Festival in Juneau really changed my life. Music was a huge part of their lives and I never thought I'd do anything else, really."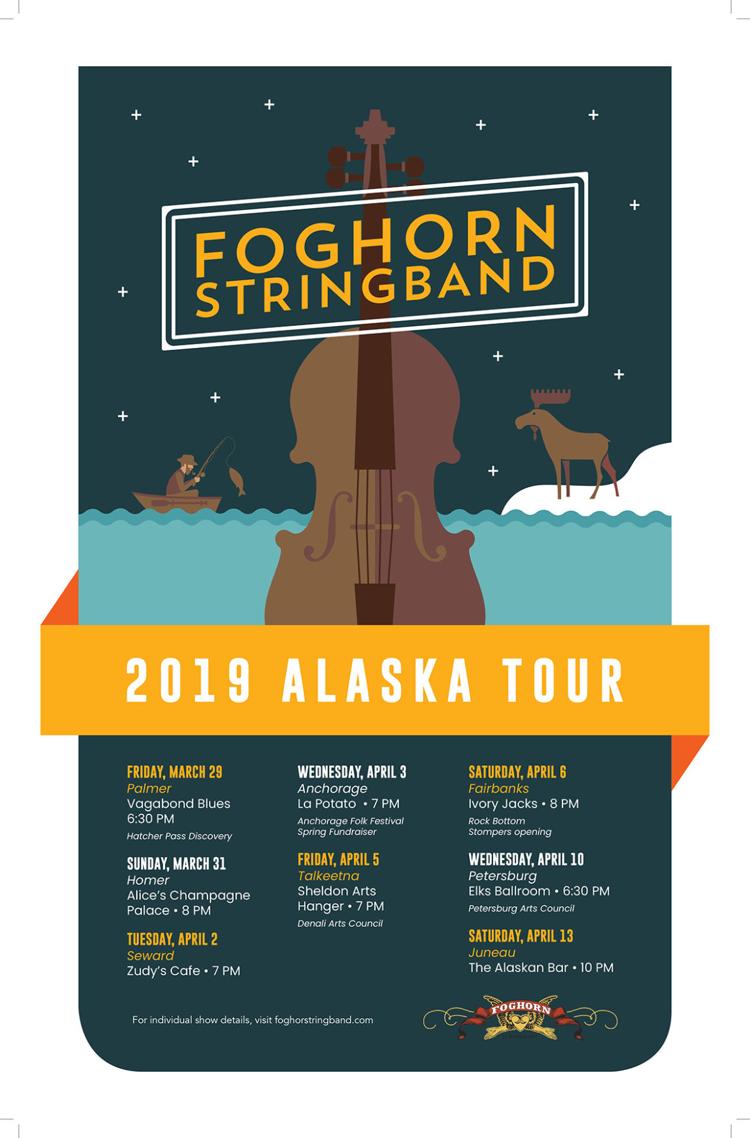 Foghorn Stringband opens their 2019 tour of Alaska with a show at Vagabond Blues in Palmer on Friday, followed by a Sunday show at Alice's Champagne Palace in Homer, an April 2 show at Zudy's Cafe in Seward and a lone Anchorage show April 3 at La Potato, which doubles as an Anchorage Folk Festival Spring Fundraiser. They play the Sheldon Arts Hangar in Talkeetna on April 5 before heading north to Fairbanks the following day.
As usual, the tour will wind up at the Alaska Folk Festival in Juneau on April 13.
"We always look to the Alaska Folk Festival as kind of kicking off the festival season," Landry said. "It's kind of early, but after a long Alaska winter it's nice to see everyone come out into the world and see what kind of shenannigans we can get into."
After that, it's off to the Indiana Fiddlers Gathering in Battleground, Indiana, and from there an annual fiddle camp/festival in Port Townsend, Wash. With members spread out across North America, coordinating schedules, much less finding practice time isn't always easy but the band has always found a way to make it work.
"I think our approach is really about keeping it as traditional as possible, playing with a lot of respect," Landry said. "It's such a broad genre to call it Americana or folk, that kind of incorporates everything, but you kind of need to have a little bit of everything to keep it really traditional and high energy."
Landry said Alaskan audiences tend to have as much energy as any.
"I think what we love the most is (Alaskans') excitement and the way they dance — there's nowhere else like that except maybe Louisiana," she said. "We play dance music; it's just the energy — you dance and we play."
Despite their extensive travels, albums and notoriety earned over the years, Landry said a large portion of the concert attendees aren't terribly familiar with Americana music.
"It's nice; when we go to Alaska we've got a crew of friends coming, but hopefully they bring people that have never heard that kind of music and hopefully we can change their mind," she said. "It's not all that popular; it's not played on the radio much, but if people give us a chance they realize they like it. It's high energy and we always welcome new material, so everyone should come check it out."