One of the most universally respected forces in the music world, Ani DiFranco has presided over the alt-rock-folk scene since she started the Righteous Babe record label at age 19.
Thirty years since, Righteous Babe is still going strong, as is DiFranco, who released her 19th album entitled 'Binary' two years ago, and earlier this year published her memoir called 'No Walls and the Recurring Dream'.
Last week, we caught up with DiFranco for a quick Q&A from the road ahead of her Aug. 2 Salmonfest performance at the Kenai Peninsula Fairgrounds, her first show in Alaska since 2014.
How have you changed as an artist since you began recording almost three decades ago?
Whew, I've changed in so many ways in the last 30 years! I am happy to say that I think I'm calmer now and more measured, which makes me a little better at delivering my own songs to other people. in general, I think people have an easier time listening to someone sing who is relaxed and comfortable in their own skin.
You've been an activist-musician since practically the beginning. What were the influences that pointed you in that direction and how has the role and challenge of being an activist-artist changed over that span?
I came up in Buffalo, New York under the wing of a local folksinger-slash-troubadour and drifted deeper into the folk music subculture as I went. That subculture is populated by community-minded organizers, activists, and artists so I was surrounded by others who were politically conscious and engaged with the same dedication that I was. Unfortunately, as I continued to be politically engaged, my society at large seemed to become more complacent and even the folk music underground less consistently politically radical than it once was. It is heartening, at least, in the age of Trump, to see people activating across the social spectrum and starting to stand up for what's right again, dedicating time and energy to fighting for justice and equality for all people and the Earth.
What made you want to play Salmonfest this year? How closely have you followed issues regarding salmon in Alaska and the mining projects that threaten it?
I don't know anything about the threat to salmon from the mining industry in Alaska, so this will be an educational journey for me. I must say though, I am not surprised to hear of it. Every journey for me is an educational journey and everywhere I go, there is another face of the struggle of living beings to insure their right to exist and thrive in the face of greed and exploitation.
What made you want to pen your memoir now? What was that process like and did it turn out the way you thought it might when you started the project?
I decided to write a book to challenge myself as a writer — after penning hundreds of songs and poems — and also because I am a mother of two now and need to devise ways of working that allow me to stay home more and be present for my family.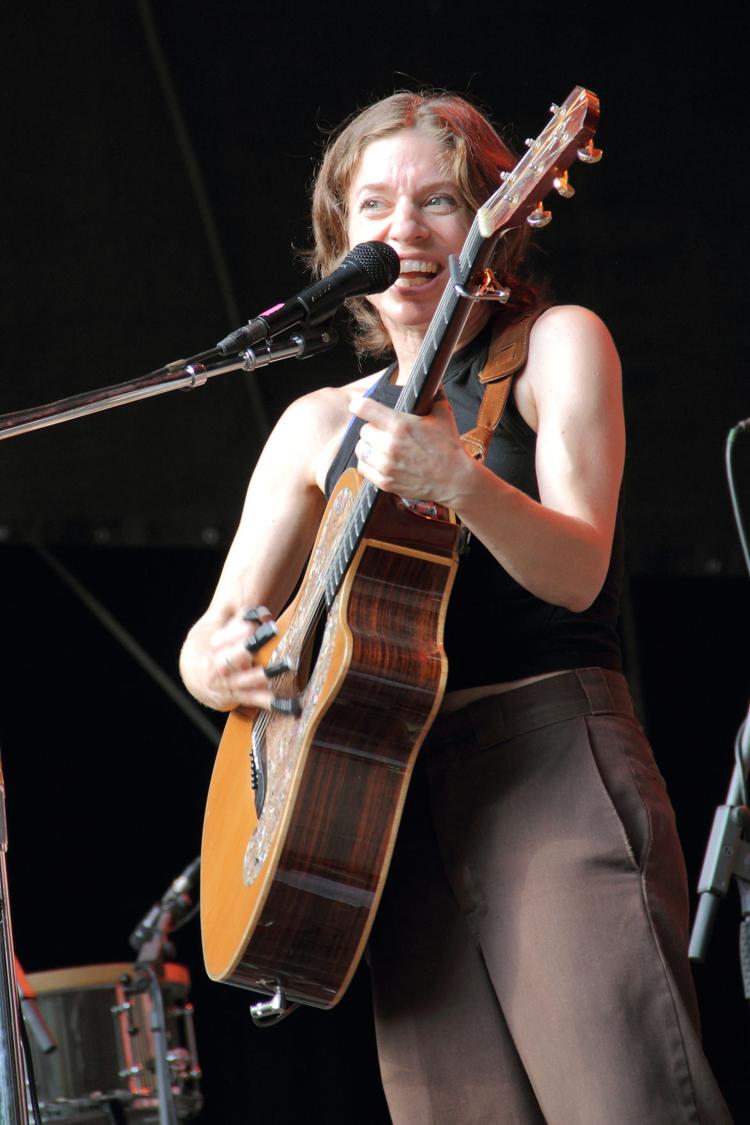 What other projects are you currently working on?
I am writing songs again, now that my book is finished and I am soon to release a collaborative effort called 'The Prison Music Project'. The Prison Music Project created an album of songs written by men in prison and recorded by a huge collection of singers, musicians, and producers. There are two million people in prison in the United States and this record, which will be released in the spring of 2020, intends to help shed light on their humanity and raise awareness about the crisis of mass incarceration in our society.
For people not familiar with your work, what are three songs of yours they should listen to to get a good sense of who you are as an artist and why those?
Oh wow, three songs? That's hard to say. OK, here you go:
'Both Hands' (Ani DiFranco, 1990) because it's side-one, track-one off my first album and you can hear where I started out.
'32 Flavors' (Not a Pretty Girl, 1995) because it's a classic Ani-song from my mid-nineties heyday that I actually recorded decently.
'Play God' (Binary, 2017) because it's one of my favorite tracks off my latest record and shows where I'm at now.
Why should folks turn out to your show at Salmonfest? What will they be treated to?
They should turn out if they need a blast of community and joy and music, the likes of which they can't get at home, alone, yelling back at their TV. Ha! Also, my band is killer. Todd Sickafoose on bass and Terence Higgins on drums just get me every time.