The Anchorage Symphony Orchestra has found the cure for those cold, dark, January days – Silent Film Night! For 14 years, Maestro Randall Craig Fleischer and the ASO musicians have presented evenings of LOL and even some ROFL to some of Hollywood's greatest comedy geniuses. This January is no exception. On January 11th audiences will experience a comedy one-two punch with Buster Keaton's Sherlock Jr., and Charlie Chaplin's The Pawnshop.
Known for his deadpan looks into the camera, breaking the fourth wall, Buster Keaton stars in Sherlock Jr. as a meek and mild projectionist, who would like nothing better than to be a private detective. He becomes engaged to a pretty girl but a ladies man swoops in, competing with our hero for her affection. This scallywag gets rid of the projectionist by framing him for the theft of a pocket watch that belongs to the girl's father. Keaton must use his amateur sleuthing skills to solve the case, clear his name, and win back the girl.
Sherlock Jr. is listed as #62 of the 100 funniest films of all time by the American Film Institute (2000). After the 1924 premiere, The New York Times called it, "one of the best screen tricks ever incorporated in a comedy". Another publication, Photoplay, said it was "rare and refreshing." Modern critics still love Keaton's film. In 2006, critic Dennis Schwartz wrote that Sherlock Jr. is "one of Buster's superior silent comedies that's noted for his usual deadpan humor, frolicsome slapstick, the number of very funny sight gags, the many innovative technical accomplishments and that he did his own stunts."
Keaton had a history of doing his own stunts, and Sherlock Jr. was a near tragedy. In a scene that finds Keaton grabbing a water spout while on a moving train, the pressure of the spout was harder than he had anticipated. Keaton found himself thrown to the ground, hitting the back of his neck on the rail below. He lost consciousness and was in excruciating pain when he woke up, then blinding headaches for weeks afterward. Over 10 years later Keaton a doctor and discovered he had broken the top vertebra in the fall.
Sherlock Jr. not only has Keaton's gasp-worthy stunts, but it also has complicated special optical effects and in-camera tricks that were revolutionary for the time. The film's most famous trick shot involves Keaton jumping into a small suitcase and disappearing. Keaton later said that it was an old vaudeville trick that his father had invented, and he later performed it on The Ed Sullivan Show in 1957, but never publicly revealed how he did it. Editing the film to make the new effects seamless was also difficult and took longer than a typical Keaton film. He later told film historian Kevin Brownlow "every cameraman in the business went to see that picture more than once trying to figure out how the hell we did some of that."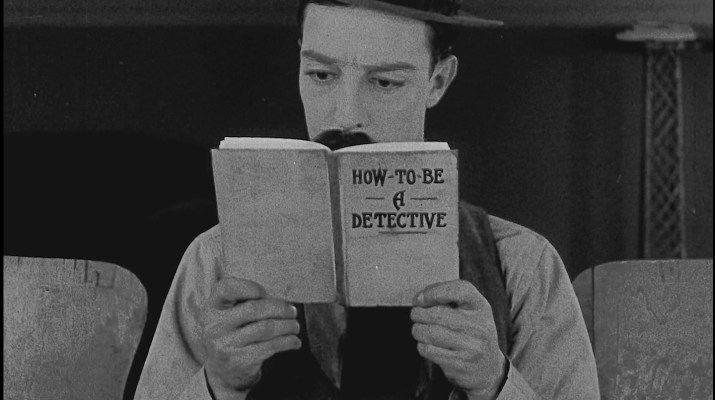 A tour de force of comedy, Charlie Chaplin's short film The Pawnshop is full of brilliantly constructed gags, one after the other leaving the audience in stitches. Set in a physical comedian's dream prop shop, Chaplin plays a not-so-punctual pawnbroker's assistant, who starts his day with his usual duties at the shop--a bit of dusting; some polishing up, and above all, a lot of quarreling with his co-worker. Throughout the day different crazy customers come in, including a woman who wants to pawn a goldfish. Then, a customer brings in an alarm clock leading Chaplin into one of his most famous solo sustained comedy bits.