On September 21st, the Anchorage Symphony opens their 74th season with a concert of outstanding works each having a French connection. In addition, the concert features the return of a stellar pianist and a work that may have inspired one of pop culture's most famous pirates!
The first piece on the ASO's season opener has both a French connection and one to popular cinema. French Romantic composer, Hector Berlioz is probably best known for his explosive Symphonie Fantastique. While in the process of writing this epic piece, he completed the adventurous Rob Roy Overture. Composed in 1831 while he was living and composing in Rome as the winner of the Prix de Rome, Berlioz was inspired by the novel "Rob Roy" by Sir Walter Scott. The title character is based on Robert Roy MacGregor, a real-life hero born in Scotland in the 1600s. He became an outlaw and rebel, often compared to Robin Hood. Scott's character has gone on to inspire pop culture icons like Han Solo from Star Wars, Captain Jack Sparrow from Pirates of the Caribbean, Marvel's Iron Man, and many others.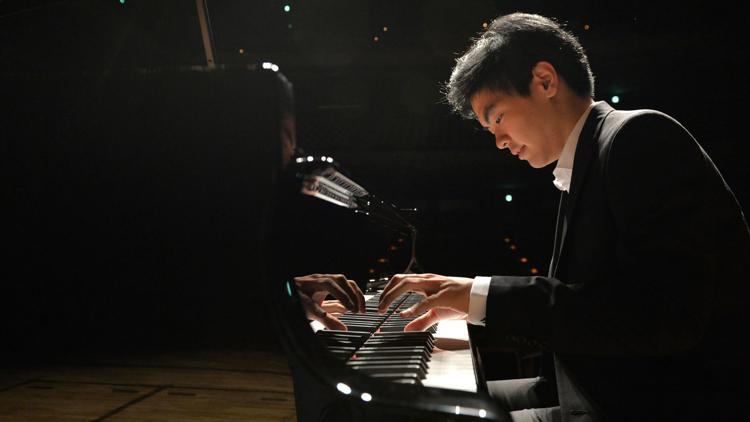 With such a charismatic figure as inspiration, Berlioz wrote a daring, energetic, dynamic overture, yet it left him feeling flat after the premiere. Upon tossing the score into the fire, Berlioz felt that was the end of his new overture. Lucky for us, a copy had been sent to a French institute for posterity. Listening to Rob Roy today, you can hear the sword fights, love scenes, and hero's welcome just as you might in a contemporary film score.
Berlioz was a French composer living in Italy, while the enigmatic Frédéric Chopin was a Polish composer living in France. At the tender age of 20, Chopin premiered his Piano Concerto No. 1 at a farewell concert just before leaving Poland. With Chopin himself on the piano, the concert was followed by thunderous applause from the audience of about 700. Weeks later he premiered the piece in France to critical acclaim. One reviewer wrote, "There is spirit in these melodies, there is fantasy in these passages, and everywhere there is originality."
Returning to the Atwood stage to tackle this spirited concerto is Van Cliburn Bronze Medalist, Daniel Hsu – who received exuberant applause and long-standing ovations last March after his remarkable performance of Rachmaninoff's third piano concerto. Another pianist was originally scheduled to perform for the ASO season opener and had to cancel shortly after Hsu wowed audiences last spring. Having witnessed the audience's appreciation and accolades for Hsu's performance, Maestro Randall Craig Fleischer opted to do something he had not done previously – bring an artist back to perform in the very next season. In speaking of Daniel, Maestro Fleischer said, "It is indeed rare to find such a brilliant combination of musical maturity and fireworks in such a young man. Dan is studied, thoughtful and electrifying!"
Described by the Philadelphia Inquirer as a "poet with an expressive edge to his playing that charms, questions, and coaxes," Hsu is increasingly recognized for his easy virtuosity and bold musicianship. Growing up in San Francisco, Hsu began piano lessons at the age of 6, making his concerto debut with the Fremont Symphony Orchestra just two years later, and his recital debut with the Steinway Society of the Bay Area at 9 years old. He was accepted into the Curtis Institute of Music and has since gone on to perform with large orchestras around the world, including the Philadelphia and Tokyo Orchestras. Now at the old age of 22, Hsu is currently the Richard A. Doran Fellow at the Curtis Institute of Music.
Trading one keyboard for another, Hsu is also a software engineer who creates new mobile apps. He contributed to the creation of Workflow, a popular productivity app that allows users to automate tasks on iPhone, iPad, and Apple Watch, which won the coveted 2015 Apple Design Award and was acquired by Apple in March 2017. Hsu, along with his team, was promptly hired by the software giant. He says his musical absences have been gracefully tolerated by Apple as he continues to tour around the world.
While touring Paris in 1926, American composer George Gershwin was looking to expand his musical horizons by studying with Maurice Ravel. Not a big fan of Gershwin's "jazzy" style, Ravel declined and suggested Nadia Boulanger, who also declined. Undeterred, Gershwin met up with Stravinsky, Milhaud, and Auric, while enjoying all that Paris had to offer.
Inspired by his time in the French capital, Gershwin composed An American in Paris, evoking the sights, sounds, and energy of the City of Lights. He even brought back Parisian taxi horns for the New York premiere! Known for his popular Rhapsody in Blue, this was the first of Gershwin's purely orchestral works, with no role for piano but plenty of jazz harmonies and spirit. His new piece immediately thrilled American audiences and even gained the respect of a number of major composers. The work achieved lasting fame in the 1951 American musical film of the same name with dance numbers choreographed by Gene Kelly.
Closing this evening of French flair is Ravel's La valse, often described as his "tribute to the waltz". Ravel loved Viennese waltzes, especially those composed by Strauss. He began to think about a tribute to Strauss 12 years before finally getting to write his piece. With distractions like World War I, he had to put this project aside. In 1918 Ravel received a commission to write a short ballet. He holed himself up in a small village in southern France and began to write. In a letter to friends, he stated, "It's going great guns. I was able to take off at last, and in high gear…I'm waltzing madly!" What emerged from that little village is a piece that demonstrates the depths of Ravel's romanticism, power, and vigor.
Anchorage Symphony's A French Connection, Saturday, September 21, 2019, (8pm) in the Atwood Concert Hall, Alaska Center for the Performing Arts. Infrared headphones for the hearing impaired are available concert night from the House Manager on the Orchestra Level. Tickets: Adult, $52-$27; Youth, $24.75-$12.50; Senior, $46.50-$24.50 (prices include surcharges and fees). Military, student and group discounts available. To purchase tickets, visit the CenterTix Box Office at the Alaska Center for the Performing Arts or www.centertix.com or call 263-ARTS (2787), toll-free at 1-877-ARTS- TIX.