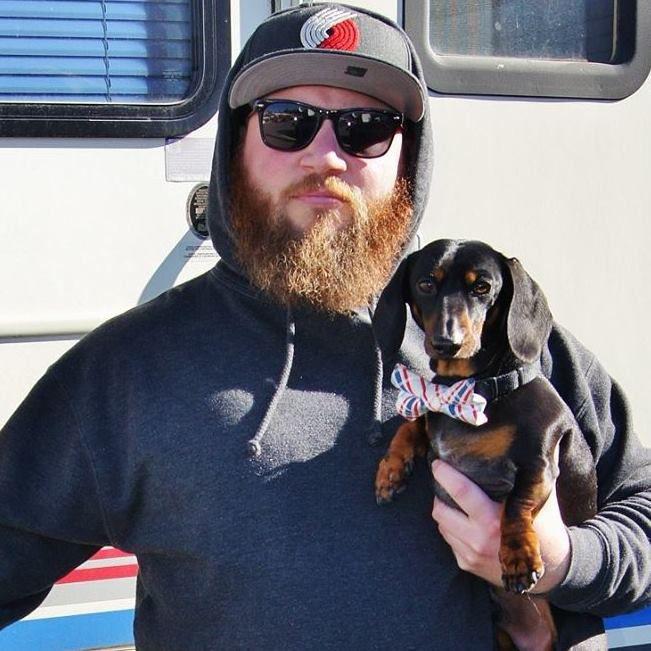 After three years in Anchorage, I can confidently say that my favorite stretch of road in the city is Fireweed Lane. Spanning from Spenard to the Seward Highway, Fireweed is home to the most diverse spectrum of local businesses than anywhere else I can think of. Bingo, axe throwing, antiquing, one of the last video stores in America, a world tour of ethnic eateries and, for the last year and a half, arguably one of the best burger joints in town.
Maybe "joint" is a misnomer; the red-and-white building is only that in name. It's more of a food truck on steroids, the size of a small shipping container. This structure has been built to stay open in winter, through weather that would even keep Uncle Wimpy away.
DD's Burgers has occupied the once-empty lot behind the Coffee Queen kiosk for nearly a year and a half now. Eponymous owner DD is an affable character, speaking with a slight hint of a drawl behind his mustache, as laid back as Sam Elliott sitting in a bowling alley bar. Not that he's got time to spare; you can hear the sizzle of the grill as employee Bubu paces through orders behind him. There are a lot of nicknames at play here.
DD says he's been in Anchorage since he was 16, and working in restaurants for about as long. You may remember him from his cooking at a now-gone Spenard location- one he'd rather not mention by name, but one he says paid well, and from which many of his regulars followed him.
He says the last 18 months have been good enough for the business to consider adding a second employee, as patio seating nears closer to reality. DD doesn't rule out a brick-and-mortar version of his burger stand, but not if it didn't have a drive-thru window. In fact, he says he prefers it. "I don't want a big place," DD says. "You've got too much overhead in the building and employees are expensive. Maybe ten seats inside, and a drive-thru window."
In addition to the classics he's kept on the menu over the years, DD says he's always working on burger specials. When he formulates a hit, it earns a permanent spot on the roster. DD's Hall of Famers include the Betty Bleu, the Farmer John, the Hunk-O-Burnin-Luv, and the Dad-Bod.
Currently featured on the website is the "Frosted Axe", named after the axe-throwing gallery that recently sprung up across the street: "¼ lb grass fed all beef patty topped with diced bacon, grilled mushrooms, red onions and jalapenos, smothered in a four blend melted cheese with sriracha ketchup with fresh shredded lettuce and sliced tomato on a sesame seed bun".
Total cost? $8.75. Make it a double and you're still barely cracking double-digits. DD cites the lack of overhead and his commitment to low prices. "I'm not into this to get rich. I want to make a living and offer a good product."
11a-7p Mon-Fri; 11a-6p Sat. closed Sundays / last Saturday of every month. Order ahead at 744-9065; ddsburgers.com