It sure seems like a lot longer ago than nine years when the retired German fire crew transport truck pulled up in front of the Fairbanks airport and picked me up to go and participate in brewing Hoo Doo Brewing Company's first beer. When I set about writing about the anniversary of the city's second post-prohibition brewery, I wondered what would keep the story from becoming just another boring brewery birthday wish. 
I needn't have worried; Hoo Doo's almost decade's long steadfastness and calm, purposeful presence is what sets the operation apart from the more than fifty other breweries spread about our state, even though it may seem unassuming at times. The reward, for Farbanksians and the visitors to our state's almost northernmost brewery is rock solid, style-centric beer that stands out by staying the course in a dependable, iconic social setting that's defining in what I consider an otherwise unassuming city, along with three other breweries that seem uncharacteristic for a population that size. 
Bobby Wilken, who owns the brewery outright with his wife, agrees on the time span. "I feel like we've been open forever, but it also feels like it was just two weeks ago," he says about the fun ride that opening and operating a brewery has been so far. 
Hoo Doo joined Silver Gulch Brewing Company, America's northernmost brewery, in 2012. Hoo Doo might be outliving its northern predecessor; if you haven't noticed, there isn't any Silver Gulch beer on the shelves any more, the restaurant at the brewery in Fairbanks is closed, and it seems that beer is only flowing to the Silver Gulch location in the Ted Stephens Anchorage International Airport; certainly not a good sign, but I don't know everything, either. 
Since then, the Black Spruce Brewing Company, Lat 65Brewing Co., and Midnite Mine foam factories have joined the Fairbanks fray, along with four distilleries, which makes for quite the "scene," as Wilken describes it.
"When we opened, the tap room model was very new and unfamiliar. When we built out the brewery, I would explain the model to the contractors, and they'd ask 'who would want to go have beers before eight pm? Who would limit beer to 36 ounces? And, no food either?'" they'd ask, says Wilken.
Wilken was nervous. Who wouldn't be? "We were preparing to keg up most of what we were making and try to get it into bars and restaurants to float the ship," he says of what he thought would be a humble beginning that might be a struggle in a place where craft beer hadn't really made the scene yet. 
"When we did open, it went gangbusters right off the bat; we were very busy. We thought the beers were pretty good, and the space in the brewery turned out to be so beautiful that Hoo Doo quickly turned into a very nice social setting and just stayed that way," says Wilken of the brewery's initial, incredibly positive welcome into a city that needed it. "We didn't sell a single keg to another account for a least six months because we didn't think we could keep up with demand."
Hoo Doo worked very well, immediately, because Fairbanks needed a scene.
"Now it's nine years later. After the first two years, we embraced that we were on the right track. We have this beautiful, friendly place with world class, high quality beers. It was clicking. That became our identity as a social space for family and friends in a great setting with great beers. We prided ourselves in the service, the beers, cleanliness, and everything being in perfect order," says Wilken of the brewery's place in a community that was needing a lively social space with a new generational twist. "Fairbanks doesn't have a whole lot of that, so Hoo Doo's kind of a community space, and people have grabbed on to it and embraced it. It's what we do, it's what we love to do, and why we're here. The community of Fairbanks needs this. Everyone wins," he says. 
When I asked Wilken about his biggest challenge in the nine years Hoo Doo's been around, I was baiting what I thought was the obvious answer. Sure, like every other brewery, Hoo Doo got it's ass kicked by COVID a little bit, but maybe even a little less than some others, but it wasn't COVID that Wilken found most challenging. His answer initially surprised me, then didn't in retrospect.
"For us, it's been moving away from doing everything ourselves to coming to the realization that it's healthy to need help and to hire people. The hardest thing has been for me to transition from 'that guy what wanted to start a brewery,' to 'let's hire a brewer,' and 'let's get more people for the taproom,' and not work 24 hours a day, seven days a week and balance the brewery with family life," he says.
"You remember when you were up here. My son was a year and a half old when we were stepping around the construction debris when we made that beer. He's eleven now and we have another boy. When we were building out, the focus was 'I'm not going to let this take me over and miss my kids growing up.' I'm going to strive to have a couple of days to not be at the brewery and to be at home, for dinner, get the kids on the school bus and make the basketball games, and that sort of thing," says Wilken of the often difficult transition from operations and hands on management to becoming a strategic leader, passing his vision and what the brewery should look, act and feel like to his dedicated employees and growing some work/life balance.
"The rest, you learn," says Wilken of the slow transition. "You have to learn the system. You have to learn how to get ingredients. You have to learn how to market the beer. Sure, this is all hard, but it happens; it has to, and it's of great reward. Learning how to have employees, the happy employees that we do have, most of which are long term, all of which love being part of this, and are dedicated, and how to nurture the relationship is as important and takes adjustment and learning."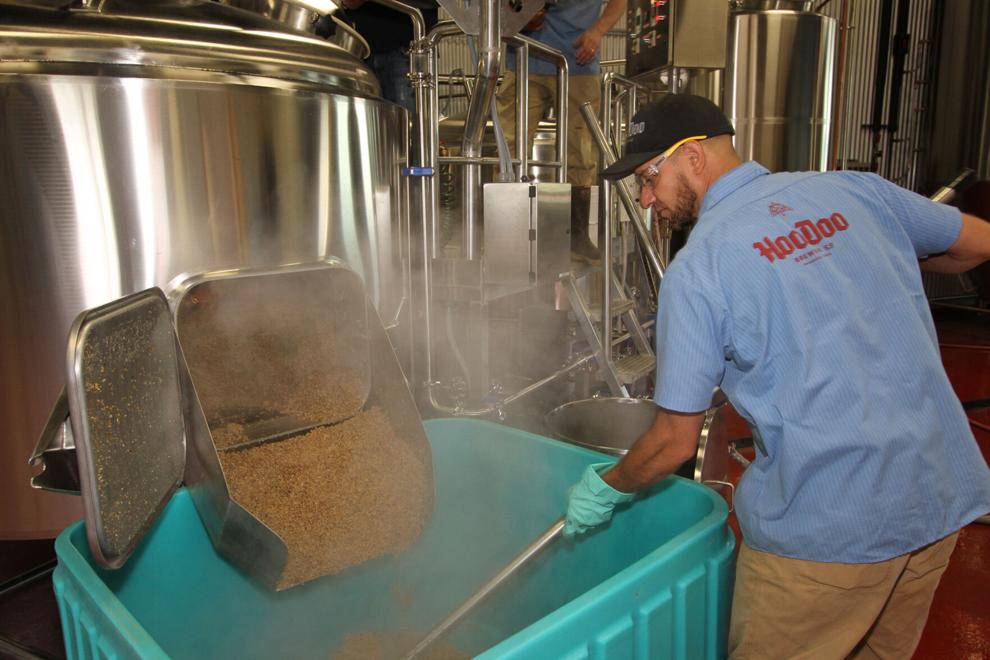 It was that same staff that Wilken and his wife are so dedicated to that saw them through COVID, and eased them back into the mainstream on the other side (if there is such a thing) a little easier and with more long term continuity that many other similarly sized and bigger breweries that I've talked to that had to scramble when the taps opened again.
"We closed for a few weeks or a month, and actually closed the brewery the day before the mandate," says Wilken. "We were packed at that time of the year, in the spring, one of our busiest times, too. I had to ask my wife, 'are we contributing to the problem? Maybe we should just do the right thing and close the brewery.'"
Wilken called an all staff meeting. "It was one of the hardest things we've ever done." 
Wilken's compassion bled through in those critical days. "I don't know when this will end," he told the assembled group, while announcing plans to move into a to-go only model. He didn't need all of the eighteen employees, about a dozen of which worked in the tap room slinging beer pre-COVID.
"If you want to be laid off, we can go through those motions," offered Wilken, but also offered "if you want to stay in, well, we'll spread the shifts as evenly and as best we can and ride it out."
And, that's what his crew decided to do. 
"When we opened back up, more hours quickly came, and with the same dedicated staff we went in with, we were able to recover with very quickly," he says.
In every anniversary interview, of course I ask about the future. With almost a decade of warm up stretches, I wondered where the race might take Hoo Doo.
Wilken didn't have to think about it much because nothing's changing. 
="My wife and I own the brewery completely. We don't have to have big planning meetings, chase the low hanging fruit or maximize profits. We like it that way. IT's really just all about continuing to life the lifestyle of a small brewery, having kids and enjoying Alaska. We love this location, we don't want to take over the brewing world, and we can't imagine opening a new brewery or even moving," says Wilken. "We love the size, the staff and the simplicity."
"We have the food trucks that are challenging to reign in and organize, but do we want to start some sort of a kitchen? Nah. We want to do what we do best, believe in that, and focus on the one thing: keeping a great community space in a place where we love to do it. We don't want to grow for the sake of growing. Sure, we always talk about possibilities, but go with the low and slow. Let the other guys make the seltzers."
Indeed, the brewery's the same one I walked into nine years ago, except for the addition of a 60 barrel tank, just so that Wilken can "say yes" a little more to new accounts begging for his beer. 
Wilken's unabashedly proud of what he, his wife and his staff have built, and unlike many other brewers and breweries that quickly outgrow their brewing britches and either burn out or grow out because it seems like it's the right thing to do. Hoo Doo stays the course in size, structure, product, and a in a position of huge respect in Fairbanks and elsewhere around the state where the beer can be found, which isn't far, because it's not intended to be. 
"We continue to try to keep it very simple and let the beer do the talking. Hoo Doo is about making great, classic styles of beer, ninety-nine percent of which aren't named, just identified by the respective style. This works for us for now and we'll stay this way," says Wilken of the past, present, and at least for now, the foreseeable future.