Ms. Fermento doesn't drink beer, so getting beer for Valentine's Day is more about me than it is for her. Ms. Fermento doesn't dislike beer; she tastes almost everything I drink. Beer is just not her beverage of choice, although by exposure, she knows a hell of a lot about the substance. Still, there are beers out there that are very fitting for the Valentine's Day occasion, and she always relishes in sampling the beers I buy to feature for the big day.
There's always the old standbys within the Lindemans line of imported Belgian fruit lambic ales that are long considered legendary lovers' beers. Not to be sexist, but women seem to love these beers. Despite the tart edge associated with spontaneously fermented beers, these babies definitely lean toward the sweet side of the palate, are generally lower in alcohol content and go down oh, so easy.
These beers pour sexy, too. Gals generally giggle at the sparkling reds, deep violets and clear purple colors that the various fruit varieties impart in the pour. Have you ever seen a beer with a purple head? Pour a Lindemans Cassis into a tall fluted glass and slide it across the table to your sweetie and gauge the response.
Snobbish guys often call them "chick beers" due to their popularity with gals and the long lines that form when they're poured a beer festivals. Guys like them, too. I love the effect of pouring one from afar and handing it to someone. When their pleased curiosity drives the question "what is this,"? I love the look on their face when I tell them it's a beer.
Despite the Lindemans line of fruit lambics being dubbed the candy beers of Belgium, simply these beers are solid V-Day workhorse beers that even non-beer lovers can't seem to resist. Lindemans Framboise is the best known in the group. This raspberry lambic bursts with aroma and flavor and is the easiest to find in better grog shop shelves. Lindemans Kriek is a lambic with cherries, the Pomme is fermented with apples. My favorite is the Cassis, a blackcurrant brew that's a delight all the way around.
Locally, Turnagain Brewing Company's Framb Was is a decidedly fascinating interpretation of the fruit lambic style. The base of this beer is a sour ale. It's richly balanced with local raspberries and comes across much less sweet, a bit more tart and certainly drier than the Lindemans version. Grab a 22-ounce bottle of this one for sure for your V-Day selections.
Anchorage Brewing Company's Love Buzz is a Belgain saison style that stands out with the defining feature of Hobbs Family rose hips. This incredibly complex beer draws you in with the alluring aromas of a multitude of fruits, none of which are used in the beer. The aroma comes from the unique yeast strain and barrel aging. It pulls out floral notes with grapes, apple, citrus fruits, and yes, a hint of roses. The flavor follows through perfectly and the light addition of peppercorns and orange peel adds a distinct spicy note to this true lover's brew.
There are two versions; one dosed with Citra Hops and the other with Mosaic. Both enjoy a deep secondary fermentation in Pinot barrels which adds a light background oak and light wine flavor. These beers can be found in liquor stores around town and at the brewery on 91st Avenue in south Anchorage. It's on tap for Valentine's Day, so Anchorage Brewing is a great destination for date night out.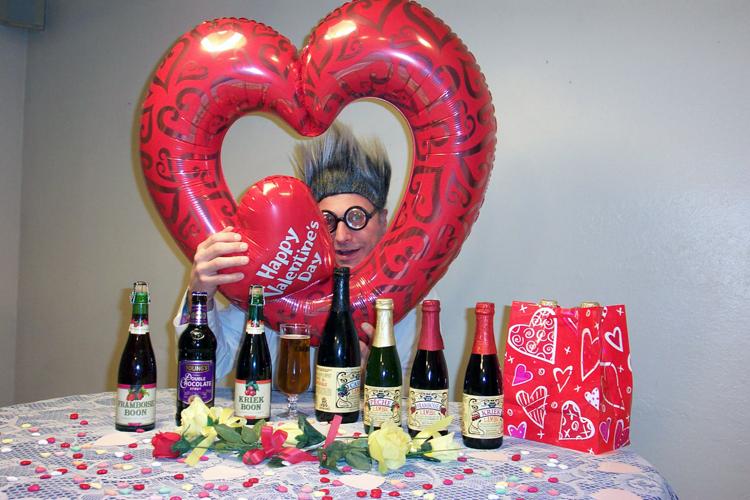 Another no-miss V-Day selection at Anchorage Brewing Company is The Experiment – a mix culture blueberry sour that features over 9,000 pounds of hand-picked Alaska blueberries. I point people to Lindemans Cassis for an awesome presentation in the glass, but The Experiment's pour is simply stunning. On tap only on Saturday starting at noon at the brewery, this elixir pours virtually black in the glass with the most impressive, frothy purple topper that really defies the fact that you'll be enjoying a beer, and not some rich, finely aged wine with a unique twist. Don't miss it. The good news is this beer is finally being packaged, although it may not be on the shelves in time for V-Day this year, but ask for it.
A recent entrant to Alaska's incredibly diverse, high end craft beer offerings comes from The Ale Apothecary – a 'Vintage Batch Oak Barrel Brewing' out of Bend, Oregon. The Apothecary has been cranking out some of the most sought after beers in the world and although we started getting these beers around the same time we celebrated AK Beer Week in January, pulling one of the brewery's originals – the Marionberry Sahalie – became a V-Day treat I got just for me.
According to the wrap on the bottle, "From Chinook Jargon meaning Heaven, this is our flagship muse born of falling water and the power of the sky." How can you not love that?
Barley and wheat malts provide the base for this long-mash beer. Water from the brewery's aquifer and local hops are used in this spontaneously fermented, open fermentation beer that's transferred to Domaine Drouhin wine barrels for aging, just after fresh, local marrionberries are added. The beer snoozes on okay for over a year, and when it goes to bottling, local honey is added and the beer ages for a minimum of six months to achieve the beer's natural carbonation.
This is one of the most complex, alluring beers I've enjoyed in some time. Expect a true wild ale funk and a deep mixture of twisting, turning sour, tart, dry, fruity, light grain and berry fruit essences in both aroma and flavor in a beer I had a hard time putting down once I pulled the cork from the 750 ml bottle. I drank it nonstop – sip after delightful sip — from start to finish, despite the 8.0 percent alcohol by volume punch that's entirely buried in this incredible brew.
I cringed at paying $38 bucks for a single bottle of beer, but I'm headed back for another one to enjoy on V-Day.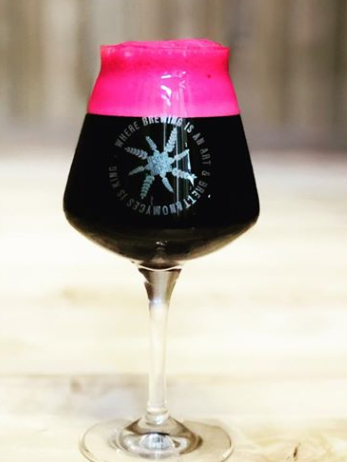 Valentine's Day beers don't all have to be fruity and sour or overly sweet. Another V-Day classic is Samuel Smith's Organic Chocolate Stout. Samuel Smith is a Yorkshire brewery established in 1758 and is one of the world's most respected breweries. In addition to a mainstream line of beers – all produced using water drawn from a well at the brewery that's as old as the brewery itself – the organic line includes the dark brown and features the aroma and flavor of roasted organic chocolate malt and organic cocoa.
The cocoa defines the nose with background hints of caramel, toffee and just a touch of coffee. Across the palate, this beer features the expected chocolate, but it's not at all overdone. The chocolate essence is rich indeed, but well balanced by the underlying roasted malt element, some nuttiness and a light coffee flavor. The bitterness is subdued because of all of this, so if your sweetie doesn't have an affinity for dark, stout beers, encourage her to wrap her lips around this one for a paradigm change.
It doesn't take much to bring home great fermented treats that will please both beer lovers and those that are not so sure on Valentine's Day. Beer is indeed a drink for lovers, and with a little creativity and an open palate, it's a way better compliment than chocolate and greeting cards.