It's no surprise that Tommy's Burger Stop serves up some of Anchorage's best burgers. Consider the fact that they've been voted as the Press Picks' Best Burger for several consecutive years. My two cents? Their popularity is due in large part to their usage of fresh ingredients, a proprietary Cajun seasoning, and amazingly consistent quality. With such a renowned reputation, I thought it would be pointless to produce yet more positive prose about their burgers. As such, I settled on exploring the rest of their menu to see if it's worth a stop for anything else—particularly their selection of po boys and Philly cheesesteaks. With a stomach full of whisky, this food reviewer was certainly up to task.
To give an idea as to how slammed this place can get, I was put on hold for what felt like a lifetime before placing my order. I can only surmise that in a moment of preternatural harmony, everyone in town happened to experience a simultaneous burger craving that night. And much to my dismay, I was later informed that they were all sold out of onion rings. All I can say is that these are truly the last days.
Fast forward to pickup time, and the first thing that caught my attention was that Tommy's has fully transitioned to being takeout-only. As strange as it may seem, I miss having to scout for one of few modest picnic benches in their dining area, likely to seat you next to their utilitarian restroom and all of the associated implications. On second thought, maybe I'm fine with how things are now.
Having successfully averted my attention from their burgers, I ended up taking home a hot wing Philly cheesesteak, shrimp po boy, fries, and a Double Musky pie. The cheesesteak contained no steak at all, but rather diced chicken doused in a buffalo wing sauce and topped with blue cheese. Appearance-wise, this was definitely not a looker, but my first bite informed me of everything I needed to know about this sandwich. Essentially a buffalo chicken dip in sandwich form, it managed to scratch a food itch I didn't know I had. 
The real kicker was a significant amount of blue cheese, which I absolutely adore as a fan of all things funky. The chicken was well-seasoned and matched the satisfying richness of beef. Eat this for lunch, and an afternoon food coma is all but guaranteed.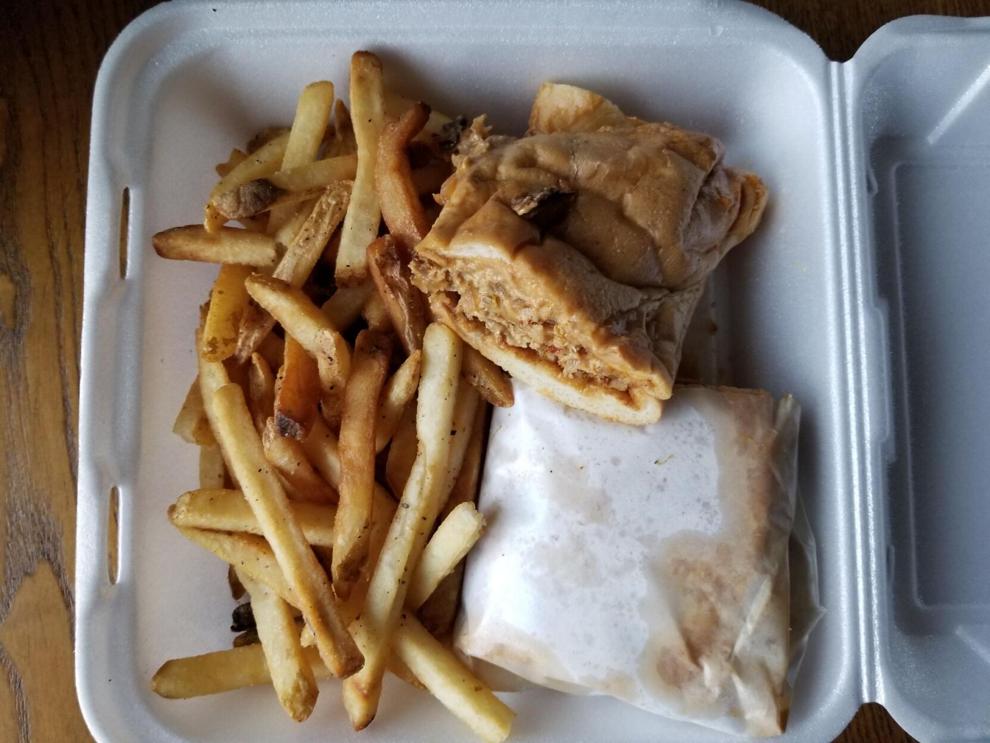 The fries were somehow still crunchy despite the transit within a Styrofoam prison, and my theory is that they were cut in-house. Crisp and light, these were far more enjoyable than the abomination known as crinkle cut fries, which otherwise have no redeeming qualities. 
The po boy was carefully wrapped in butcher's paper, which helped retain its enticing appearance and structure. 
The soft French roll resulted in the perfect vessel for crunchy, yet plump bites of shrimp slathered in a tangy remoulade and adorned with vegetables. And that's before I added a squeeze of lemon, which intensified the experience and transported me back in time as a kid enjoying seafood baskets at Skipper's. I can assure you that this is not a slight—rather, the highest form of praise.
I consider myself to be a good husband, so I anxiously waited until my sweet-toothed wife came home before digging into the "world famous" Double Musky pie for the first time. And I suppose that's an accurate designator after all, because this seriously rocked my world. The underdone brownie-like filling combined with a crumbly saltine crust was simply a revelation—it left me wanting more for days. Fortunately for myself and other rabid adherents, you can find the exact recipe on the Double Musky Inn website. Because something this good should be appreciated by all.
Tommy's bills itself as a burger joint, but it's clear there's more than meets the eye behind the rustic façade. Yes, burgers are awesome, but when's the last time you had a decent po boy, if ever? This experience has reaffirmed my belief that Tommy's is not just a purveyor of fine burgers—nay, they are a local treasure.