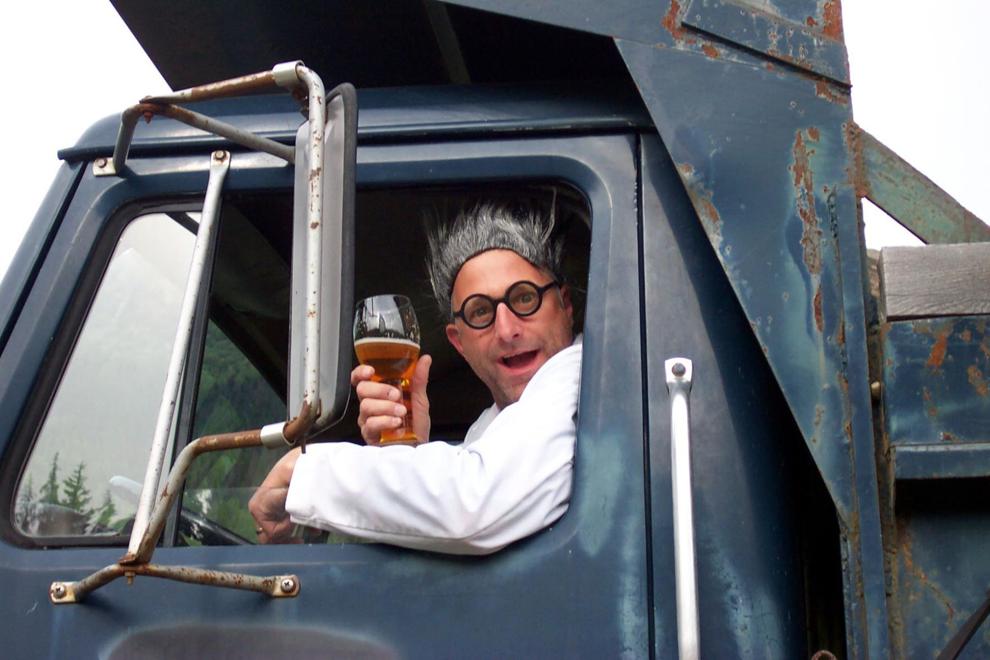 Glacier Brewhouse and Anchorage East Rotary's Adam Sikorski teamed up with Priceless, Alaska, a local organization dedicated to "restoring hope & redefining worth for human trafficking survivors in Alaska"
Human trafficking in Alaska is bigger that most people think. The magnitude caught me off guard, too. In fact, Alaska's somewhat of a trafficker's paradise. That's because we have a lot of money up here. Abundant disposable income fuels the most aggressive human trafficking systems. Seven out of 10 women have been abused in Alaska, and traffickers know that abused women are "pre-groomed" for the type of behavior that makes them easiest to enslave in the human trafficking arena.
Sikorski's known about this for a long time. He first introduced me to the concept in February of 2018, when he was cobbling together the first Rondy Rotary Beer Festival. 
"This event supports the fight against human trafficking," said Sikorski of the event back then. "That came from me. When I applied [to join the Rotary] I was just moving back up here."
At the time, Sikorski was a staunch supporter of Zoe International, an organization that fights child trafficking in Thailand. "When I joined the Rotary, everyone had a cause they were passionate about. Donor fatigue had become a real issue back then, but Rotary was all in for me supporting the human trafficking fight initiative," he said.
"The original focus was to raise money for international projects, but the more we started planning this, and looked into human trafficking, we realized that it's a huge issue in Alaska," says Sikorski of his getting connected with Priceless.
With two Rotary festivals benefitting Priceless under his belt, beer lover – Sikorski's known as the "Beer Czar," based on his passion for Russian Imperial Stouts – Sikorski's forever on the watch for opportunity to advance his cause to support anti-trafficking in Alaska. 
Sikorski makes the beer rounds and is well connected across the state in all things beer. In conversations with Glacier Brewhouse Brewmaster Drew Weber, he got an idea.
"Adam reached out last winter about what we do with our pilot system," says Weber. 
Glacier's actually got two brewing systems. One's the primary 15 barrel (think 30 standard sized kegs) system that cranks out all of the in house production beers – the flagships and normal seasonal ales we're all familiar with – and the other is a smaller four-barrel system, known in most breweries as a pilot system, that's separate from the main one. 
"The pilot system is part of the expansion we did seven or eight years ago. We're still brewing on the original brewhouse," says Weber. 
Many breweries turn their original systems into pilot systems when they grow and scale up to larger brewhouses. Not Glacier. The pilot system was sourced separately and purposely to add some creative bandwidth to the brewery.
Sikorski knew this and approached Weber about making a beer to benefit Priceless, and more specifically a special survivor in the program. 
"He mentioned doing a beer, a dollar of every pint of which goes to Priceless," says Weber of the beer that releases at the brewery on Thursday, August 12.  
"We got to talking to the ladies from Priceless and there's a girl named Jewel who wanted to come in and brew a beer, because she used homebrewing as part of her getting out of human trafficking and recovery," says Weber, who worked extensively with the group to create a recipe that best represents Jewel's journey toward normalcy. 
"We sat down, and although Jewel couldn't make that meeting, it was Adam and his group and some of the folks from Priceless. We bounced some ideas around, came up with a couple of options, and we brewed the one she picked," said Weber of the eventual creation of Fireweed Courage. 
Weber didn't just fire up the kettles and brew the beer. He brought in Sikorski, Jewel, and some of the people from Priceless for a hands on, immersive opportunity to actually make it themselves. "It was a lot of fun. Adam and some people from Priceless came, and we let them do the brewing. We got it all set up in advance, and I was hands off through the process, I talk a lot about beer and teach them, and talk them through it," says Weber. 
This was hugely impacting for Jewel, who actually did a lot of the grunt work including the cleanup work that's incredibly physical, including hand shoveling out the spent grain from the mash tun. "She even scrubbed the tanks themselves afterwards," says Weber, crediting Jewel for her determination. 
"I was told that the first plant to come back after the ground has been devastated by any kind of natural disaster is fireweed," says Jewel in a video that Glacier produced to commemorate the event and the beer. "I have a tattoo on my side with the cursive written word 'courage,' by the fireweed is woven into that word. It's a symbol of devastation, healing and hope that's been part of my journey," she says. 
"We used Pilsen malt for a light beer," says Weber of the construction of the 4.2 percent alcohol by volume brew. "We wanted fireweed to be the star of the show, so we only lightly hopped it with Columbus and Centennial hops. The girls and Adam went down to the burn area south of Cooper Landing where the fireweed really flourishing right now and hand-picked it. Although we never weighed it, they brought back enough to fill two large hop bale bags, some of which went into the boil and the rest in the aging tanks."
If you want to enjoy this lovely, light, delicate beer, the release day is Thursday the 12th, but Friday the 13th would be good, too, for a couple of reasons. First, because only four barrels were made, Fireweed Courage will go quick. Second, the crew from Priceless will be around for part of the day to share in the success of the initiative. 
"Jewel's story is incredible. We learned a lot, and so did their team, and we were so glad to help and support this," says Weber of his and Glacier's participation. I'm grabbing a growler to take to Hope for me for the weekend, because it's a perfect, meaningful beer in so many ways, and Hope's a perfect, meaningful place for me to enjoy it.