Frosted Axe Throwing had their Grand Opening celebration less than a month ago. The new business located on Fireweed Road was approached by someone looking for a donation for a charity event that was happening and without hesitation gave some time for people to come try out the service that they offer. It is the type of giving that is completely Alaskan and comes from the heart. That donation was one of several that made last weekend's Storm Trooper Trot and Holly Jolly Jerry Jam such a wild success.
When Jerry Montgomery was injured by a stray bullet while working at the Gaslight in October the rest of the bar and nightclub industry in downtown Anchorage was shaken. Not only was Jerry one of their friends, it also brought up thoughts about safety and how quickly a fun night out can turn tragic in an instant. Jerry has survived and is now down in the states undergoing intense physical therapy. A combat veteran who proudly served in the United States Army, he was known in Anchorage for his bright smile and fun personality. Pictures from friends show the goofy, fun, and hilarious side of this man who was known by so many.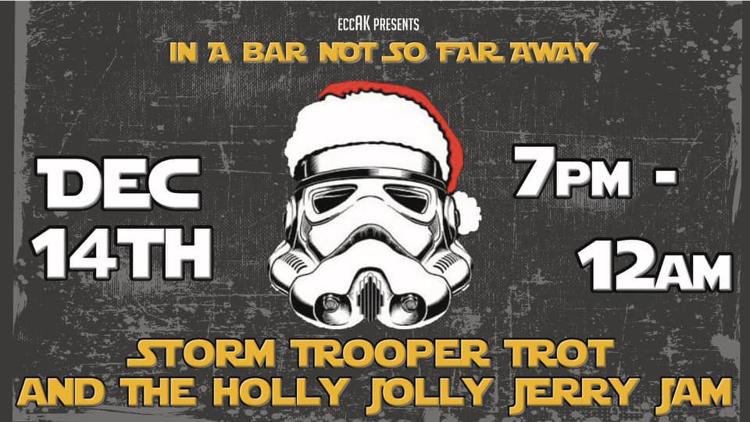 Conversations among bartenders and managers quickly started to happen. Everyone wanted to know what they could do to help. Everyone seemed to have some sort of idea of what they could do. The owners and staff of the Gaslight were on board to help in any way they could, but people that worked at and owned other bars wanted to help as well. The first step was going to be to figure out how to get all of these people involved on the same night, and to find a date. As more planning happened, Odom Corporation, one of two companies in town that provide the majority of alcohol for the bars stepped up to take a leadership role in the event. Brian Neilson, an employee of the Gaslight also started to help organize. Alex Phillips, a well-known downtown character, began to solicit donations from everyone she could possibly get ahold of. Then the plan really started to come together.
The next step was going to be to find a date that worked for all of the locations that were going to be involved. December 14th seemed to be the obvious choice but there was a small snag. National company Crawl With Us had a holiday pub crawl scheduled for the same night. After just a couple emails the leadership of Crawl With Us generously agreed to move the date of their event because they completely understood that an event to help a friend obviously needed to come first. Everything was set for what will go down as one of the most successful events to bond the downtown bar family ever.
While not technically a pub crawl, the event was very much structured like some of the other similar events that happen in Anchorage. With each location having a general theme of Star Wars and Christmas they were given the freedom to create their own more specialized theme, and host a silent or live auction to raise funds from the donated items and services secured by volunteers. As the date got closer, something began to happen. Without the restrictions of a pub crawl, which tries to keep everyone in the same area for easier travel between bars and restaurants, Reilly's Irish Pub came on board to lend their support and give back to someone in need. The Time Out Lounge in midtown also jumped in to help with what they could. Brown Jug Liquor allowed the event to be heavily advertised in their stores. Restaurants like Ginger, Bear Tooth, and Glacier Brewhouse all gave generously. Then it went bigger than the liquor industry. Even local artists, such as Joshua Cuddy, got in on the action, as he decorated a ukulele with an original art piece.
Southside Tattoo, TaTau, and Evan from ABC Electric Tattoo all donated services and gift certificates. The beauty industry was well represented as Denali Dreams soap company, Natasha Lindow from Alaska Body Aesthetics and Opal Letendre from The Skin Bar all gave generously. It seemed as if everyone from the community wanted to help whether they were connected to the service industry or not. They saw a cause and a way they could help and continue to give and give. Mammoth Music, Greatland Adventures, and MetalAska Art and Sign found things to give. Hulin Alaskan Design clothing company and Alaska Escape Rooms were excited to be able to support with donations also. The only piece of the puzzle that was left was to find the people that wanted all of the items from the local businesses and the large number of big-ticket items that were given by Odom Corporation.
On Saturday, December 14th each bar was ready and excited to help out their friend. As people started to trickle in, bids were made. Sweet Cheeks Cabaret had donated tickets to their future shows, and bar patrons and employees alike were suddenly finding themselves in bidding wars over tickets to the new performances that happen at Matanuska Brewing Company Downtown. Bids started to reach new heights as employees and volunteers got on microphones to talk about the cause, and why each was there giving their time and energy. Donation boxes had been set up in some locations and tips that would normally go home with the bartenders were being put directly towards the cause. The event was a success, and showed the true power of the Anchorage community when united behind a cause.
As the three leads for the event spend time collecting the amounts that were left on bid sheets, picking up checks from the bar owners and managers that promised funds for Jerry, and as plans are being made for future Service Industry Night events, there is still not a final count on exactly how much money was raised. At first count we know that several thousand dollars will be coming in. This money will go to help with bills and necessities as Jerry continues to focus on healing and what the future might hold. His entire life changed in a moment and the service industry and community that came together want him to only think about that for the time being.
For one night it wasn't about the alcohol industry, downtown, or one single bar. For a night, the community of Anchorage came together and showed how powerful we can be when united behind a single cause.