Ask any local where to find the best pizza in town, and you're likely to hear Moose's Tooth — resting high on a lofty pedestal, leaving all other pizza joints in their wake. But for all the restaurant's accomplishments and irrefutable legacy, has anybody thought to challenge the notion that they still serve the best pizza in town? After all, plenty of competition has sprung up over the years for their shot at the top.
A lot goes into making a great restaurant, but what really matters to me is the quality of the food itself. And while there's much to admire about Moose's Tooth's California-style 'zas with an abundance of creative toppings, I, for one, have observed that their pizzas generally leave a lot to be desired. Specifically, I'm referring to their paltry sauce coverage and oft pale, flaccid crusts. Surely, there must be somewhere in town capable of rising to the platonic ideal of a perfect pie.
Enter Hearth: one of many spots I've mainly managed to avoid going to until now. Though I typically prefer creating my own pizzas at home, one thing Hearth has on my home-based operation is their wood-fired oven. So naturally, I was drawn to its raw flames and the smell of fresh pizza. That is, before we were whisked away to be seated at a picnic bench on their outdoor patio.
That might've been for the best, as the atmosphere inside could best be described as boisterous — raucous, even. A flock of unattended children running amok amidst a crowded dining space didn't help either. Thankfully, I was rewarded for having to endure such chaos with a mouthful of Bleeding Heart Brewery's Beet IPA; a ruby red, bracingly bitter concoction that best served as a palate cleanser for the rest of tonight's proceedings.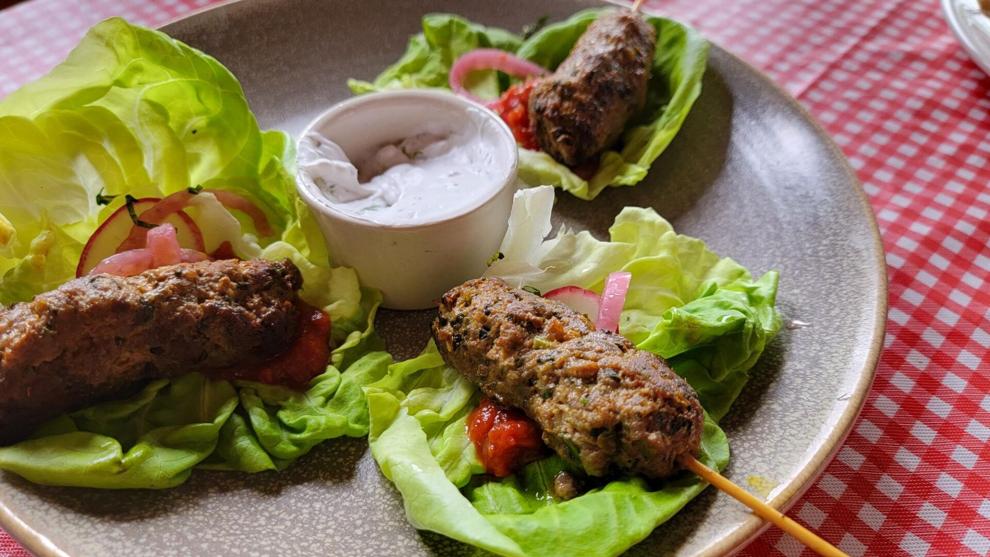 Aside from their pizzas, Hearth boasts a modest selection of soups, salads, and starters, though there was little capable of swaying me from the main event. That being said, I was curious to try their lamb kebab lettuce wraps — a trio of grilled meat patties imbued with Mediterranean spices served resting atop cups of butter lettuce and topped with pickled onion and tomato jam.
A coconut tzatziki was served alongside, though I wasn't able to discern much coconut flavor in an otherwise creamy dip. As for the wraps themselves, these two-bite portions delivered in terms of fragrant spices with a bouncy texture to the lamb, but ultimately, it's difficult to justify this simple dish and diminutive portion with its exorbitant price tag.
Another peculiarity on their menu I wanted to try was their bone broth. According to its description, the broth is created from local beef, pork, chicken, yak, and/or elk bones. Diners can opt to add chicken or mushrooms to their serving, and while I specifically requested the latter, something must have gotten lost in translation as they were completely omitted.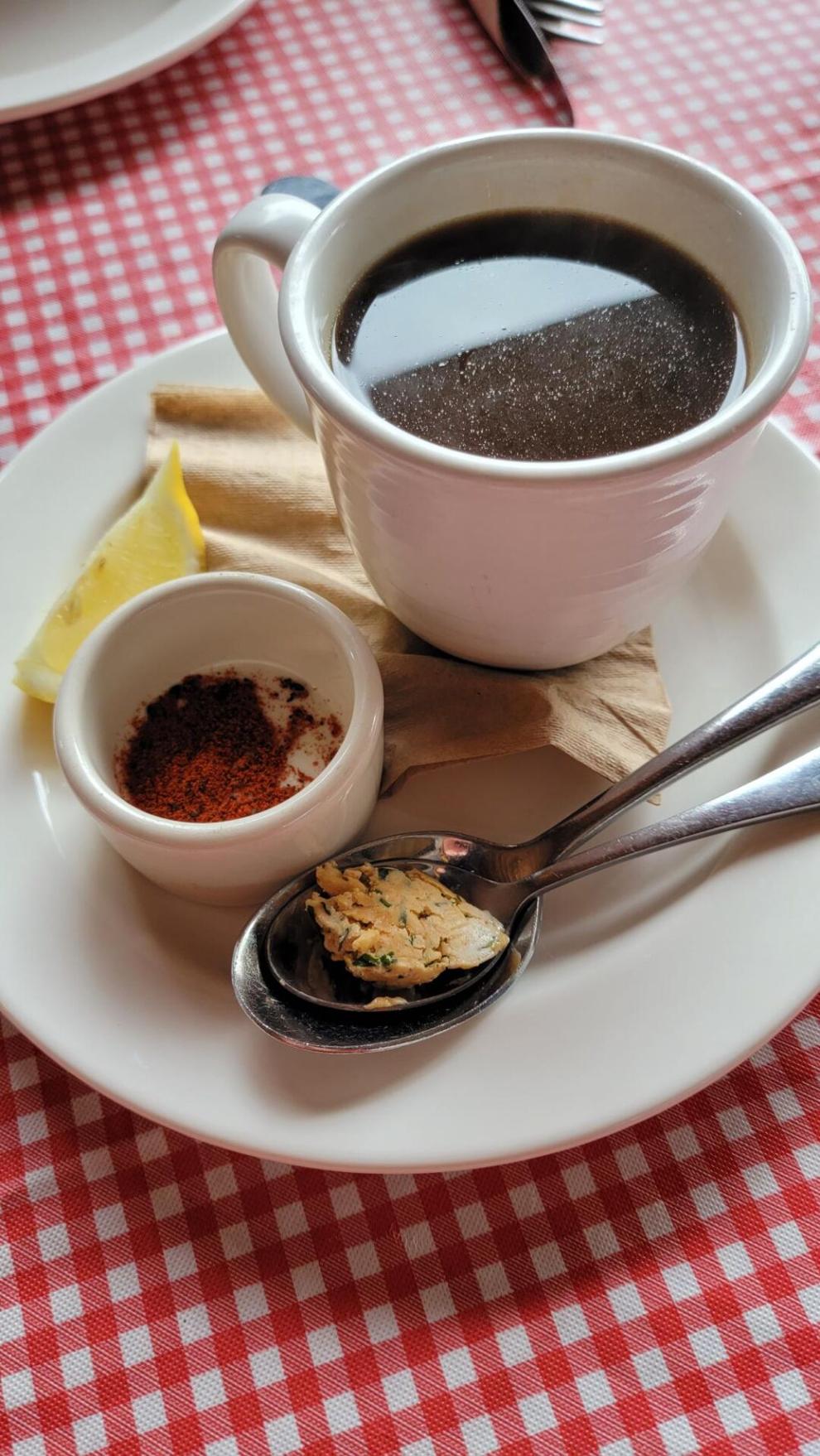 Regardless, I enjoyed the broth's presentation in that it came in an adorable little teacup, flanked with powdered sesame chili seaweed and a dab of parsley marrow butter. Unfortunately, the marrow butter dissipated into the broth without much of an impact. But the broth was comforting and mild. Perhaps due to the way in which it was served, this evoked a sense of sipping a restorative tea as much as it was a savory course — perfect for the cool, brisk weather outside.
At last, our pizza arrived looking as marvelous as I would've hoped. My wife and I had chosen one of their seasonal specials: the aptly named Summer Seoul-stice, topped with Canadian bacon, house-made kimchi, provolone, a garden of greens, and some hot honey.
It's relatively easy to gauge the quality of a crust based on appearance alone, and here, they certainly nailed the Neapolitan style they seem to be going for. Based on the leopard spotting and the charred underbelly, it's clear that this was touched by real flames in an inferno oven. Best of all, there wasn't a single speck of cornmeal to be seen. The crust's gluten structure was light and stretchy, allowing Hearth's dough to be the perfect foundation for their full range of quality toppings.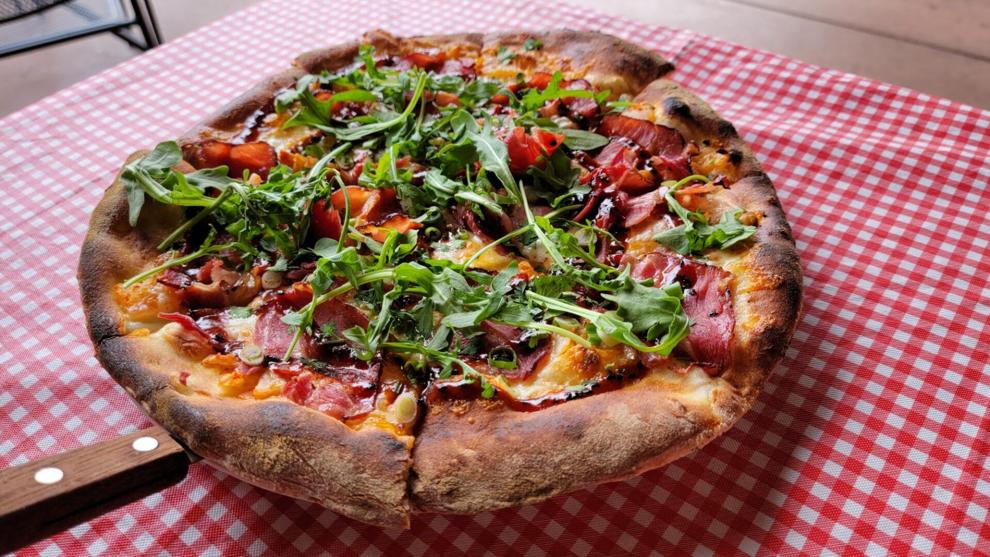 By far, the most impressive component to this pizza was the house-made kimchi. Even as a Korean American with reasonably high expectations, it spoke to my core and checked all the boxes in terms of being unapologetically salty, funky, and spicy. I could even see myself eating this in a more traditional way with a bowl of rice — it was really that good. Furthermore, the level of synergy when coupled with thin strips of bacon with streaks of marbled fat shone as the perfect example of the transcendental qualities of kimchi and pork when their powers are combined.
I may have had a few qualms about my overall dining experience at Hearth, but I remain firm in my belief they've got it where it counts. Unquestionably, their pizzaiolos are skilled in the art of slinging pies, and their dough is so scrumptious that I'd be happy to eat their pizzas any day of the week. But I'm still unsure what it'll take to topple the reigning champ of our local dining scene. However, I will say this much — the pizzas are better here at Hearth.
Hearth Artisan Pizza is located at 200 W Northern Lights Blvd, Ste F. They are open from 4 - 9pm daily.