I was ecstatic when Tent City Taphouse first opened its doors — as any self-respecting beer fan should have been. While alehouses and brewpubs in Anchorage are a dime a dozen, here was a place with exclusive brews from all across the state, showcasing some of my favorite lesser-known breweries such as Black Spruce and Grace Ridge. By forging unique business relationships and overcoming what's sure to be an onslaught of logistical hurdles, Tent City has quickly established itself as a premier destination for craft beer with a name that functions as a clever callback to the city's origins.
As if that wasn't impressive enough, Tent City also operates as a restaurant six days a week, featuring some of the usual fare diners might expect at such a locale. But a closer look at their menu suggests creative flair and an elevated approach to some classics—short rib shrimp and grits, pelmeni topped with ikura, and a smoked meatloaf sandwich, to name a few.
Though I've already stopped by a handful of times for their beers, I've yet to really tackle Tent City's dining options. Would this questionably qualified reviewer come away impressed? That was the imperative question on a recent visit with my wife. We stopped by on a cold weeknight and found the place to be decently packed. Thankfully, we squeezed in at the bar and found ourselves under the exceptional care of our server, Keshena. As the evening progressed, we were downright spoiled as we received numerous samples from their tap list upon demonstrating an appreciation for local brews. Of the beers we tried, Bleeding Heart's Juvie Juice—a strawberry rhubarb beer made in collaboration with Seward Brewing Company—was perhaps the most enjoyable, with an effervescence and a candy-sweet flavor that made for some easy drinking.
After a while, I had to drop the pint glass and focus on some much-needed nourishment. The wheatberry risotto described to us as their daily vegan special sounded too good to resist. That's what my wife decided on, while I opted for the Seward's Folly burger—a beef patty topped with a scallop brulée, caramelized onions, and some arugula.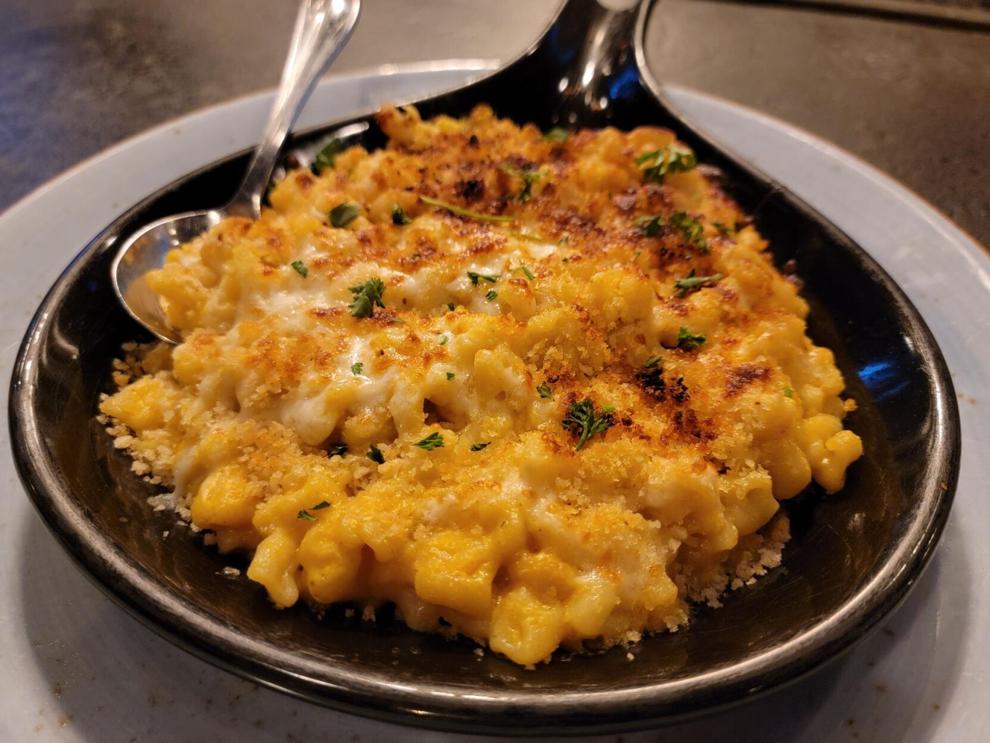 We supplemented our order with a side of their kase spätzle, which roughly translates to "cheese noodles", to hint at a certain American comfort food staple this approximates. Served on a cast iron skillet after baking, the smell of toasted cheese wafted into my nostrils upon its arrival. In place of macaroni were tiny nubs of spaetzle noodles that were chewy and simply fun to eat. The relative size of the noodles allowed the stretchy cheese to penetrate every nook and cranny of this decadent dish. In a move that could be considered over the top, diners have the option to add one of few toppings to their pasta, such as braised short rib or the aforementioned scallop brulée. Surely something worth considering for future visits.
I was eager to try some of my wife's wheatberry risotto, which was absolutely massive and accompanied by roasted root vegetables and a deep-fried oyster mushroom. The risotto was addictively creamy, with a slight heat and an intense savoriness that had me back for more. The wheatberries were satisfyingly nutty and overall, this was a very well executed dish with a beautiful presentation, to boot. I would be remiss not to mention how perfect the mushroom was, with its crisp edges and a texture that makes a convincing argument for shrooms as an ideal meat substitute.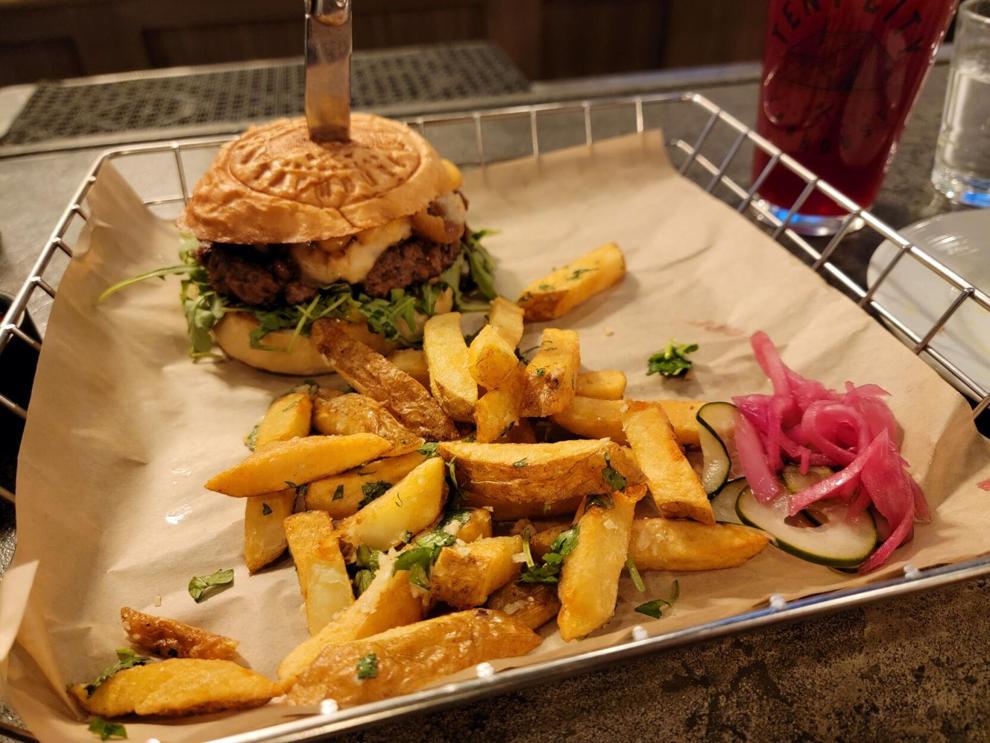 Speaking of which, my burger and the accompanying duck fat fries were just alright. I settled on the garlic cilantro variant of the fries, which I found to be overly saturated with oil. Maybe this is all part of the appeal, but I would've liked to see a little more cook time. At least the raw garlic flavor was prominent enough for my breath to ward off any vampires within the vicinity. 
As for the burger, I was a bit disappointed with how little of the scallop flavor came through. In fact, the scallops were somewhat indiscernible within all the melted cheese. It doesn't help that the burger patty wasn't very well seasoned for how thick it was. What I did appreciate was the quality of the buns, which were sturdy and held everything together neatly. And to touch on an important matter, is there any greater food flex than branding your burgers with the company logo? I think not.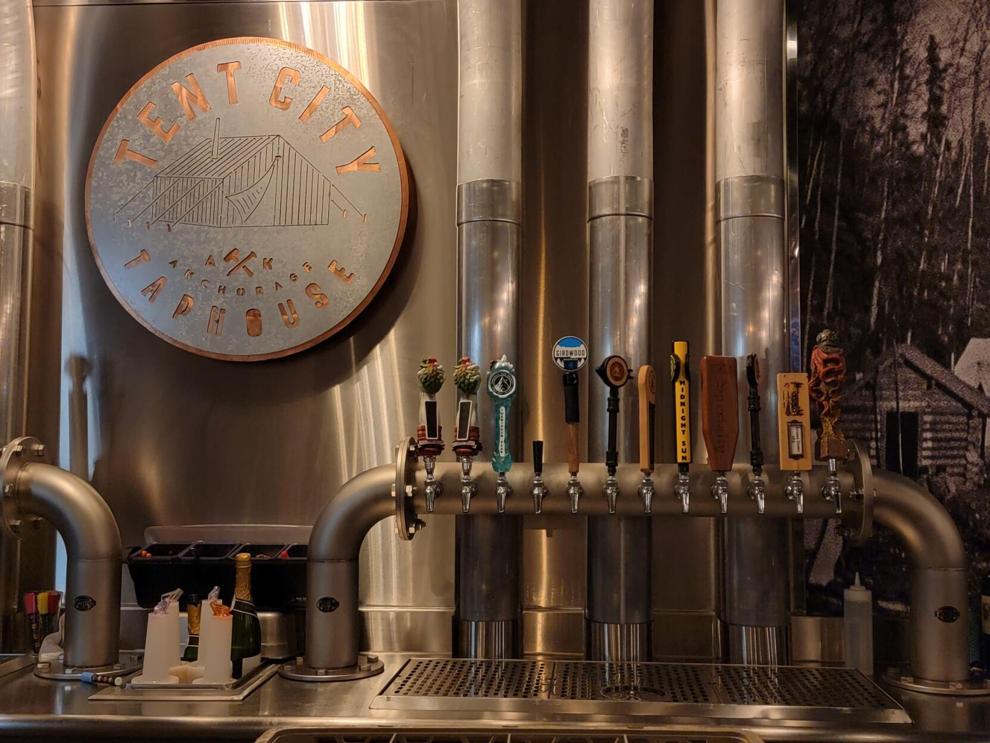 There's a lot more to Tent City than simply housing some of Alaska's best beers. Innovation seems to be one of ideals, and even the most jaded food critic is likely to find something exciting here. Even without their impressive food, the stellar service and exclusive beer selection makes deciding to come here a no brainer. Do yourself a favor and book a trip to Tent City, though be warned—you may never want to return home.