If you've lived in Alaska long enough, chances are you've spent a vacation or two over in our neighboring state of Hawaii. Hell, even thinking about it makes me want to book the next flight to Maui and bask on a warm, sandy beach with crystalline blue waters. Indeed, there is no better place to escape the harsh Alaska winters than this beautiful archipelago nestled in the Pacific.
What comes with this paradisal territory is an array of foods, that over time, have been shaped by Asian and Portuguese influences. Fortunately, Anchorage is home to a sizeable Polynesian community and if there's one thing that reminds people of home, it's food. There are several places one can find ono grinds these days, but one spot that has withstood the test of time is Hula Hands. It was after a recent dining experience there that I was reminded of just how compelling and transportive Hawaiian food can be.
It's no secret that I love raw fish, so an order of their spicy ahi poke was a must. I followed that up with a Nuunui, or "mega" combo, because I decided to go for broke. Diners can select their choice of protein from up to three lists to assemble their customized platter, which is accompanied by hefty scoops of white rice and creamy mac salad. I landed on chicken katsu, kalua pork, and teriyaki beef, supplemented with a small bowl of saimin and a side of palusami—coconut milk and onions steamed in a taro leaf wrap.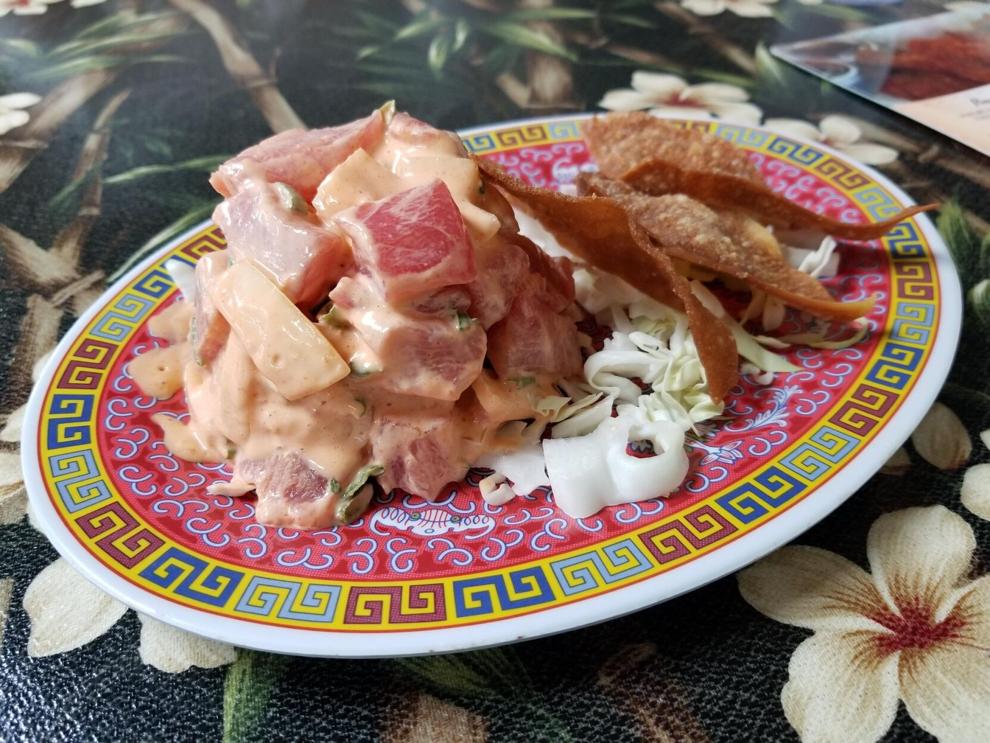 The poke consisted of chunks of raw ahi mixed with a mélange of onions and sauced with what appears to be a sriracha mayo. It wasn't very spicy and the tuna was not without bits of sinew, but this was a serviceable representation of a Hawaiian classic. The fried strips of wonton that shared the plate were a nice textural contrast along with a handful of shredded cabbage as everything combined to approximate an island-style alternative to a salad, if you will.
Moving on to my mega platter, the portions turned out absolutely massive, and the trio of meats were every bit as satisfying as I could've wanted. The kalua pig—Hawaii's answer to pulled pork and a staple of every tropical luau—was intensely smokey and extremely tender, with the fattier portions literally melting in my mouth. What impressed me was the fact that the pork was consistently seasoned, to the point where alternating between spoonfuls of rice was necessary.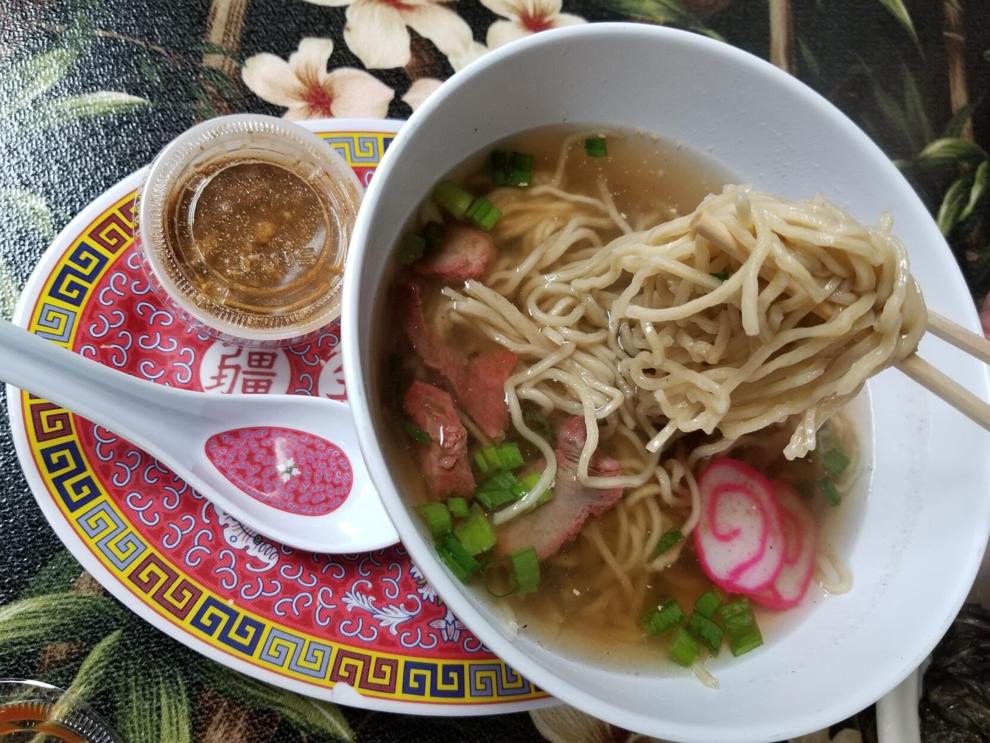 The chicken katsu retained a wonderfully crisp panko exterior that gave way to a an unexpectedly juicy cutlet. Not even a hint of dryness. In fact, I was downright flabbergasted as to how this could be mere chicken breast when it was as flavorful as the superior dark meat. Chicken katsu this good can only be achieved through tons of experience, and I'm certain this could be some of the best in town.
Slightly less successful was the teriyaki beef, which after having the toothsome pork and chicken katsu seemed a tad overdone in terms of texture. Regardless, the meat well was well-marinated and was reminiscent of kalbi, another Korean-inspired delicacy on Hula Hands' menu, which is appropriate given the restaurant's location that I personally dub "Koreantown". Did I mention they serve kimchi here?
This was my first time trying palusami, but anyone who's had laulau pork should know what they're in for—just substitute the fatty pork and butterfish for coconut milk and onions and you end up with a vegan twist, balancing the sweet coconut with the bitter taro leaves as a welcome change from all the heavy proteins.
Last up on a bevy of surprises was the saimin, which is best described as Hawaiian ramen, down to the bouncy noodles and dashi broth. I wasn't expecting much out of this one, but the noodles were cooked to a perfect doneness and the fragrance of katsuobushi and kombu was intoxicating. Call me crazy, but this was the closest thing to a satisfying bowl of ramen I've had in a while… don't skip this one.
The lasting impression I got after eating at Hula Hands is that I need to stop by more often. With winter well on its way and the state of travel being what it is, there's no better way to replicate the feeling of being on the islands than dining at Hula Hands, with its spartan interior that simply adds to its unique charm. Whether you're bonkers for loco moco or have yet to dive in to one of the OG fusion cuisines, there's a lot to love at this getaway for good eats.