With its ribbon cutting on Tuesday, Raising Cane's Tikhatnu became the 431st location for the chain worldwide, and in 27 U.S. states. But the story of the company has history that is entirely Alaskan with roots that were created long before the first location ever opened in Baton Rouge, Louisiana.
Todd Graves had always been interested in entrepreneurship. As a child he would work lemonade stands, and when he was attending college in the early 1990's he started dreaming of opening his own restaurant. While attending Louisiana State University, his initial partner Craig Silvey was enrolled in a business plan writing course. The pair created the plan and Silvey turned it in receiving a B- for the effort.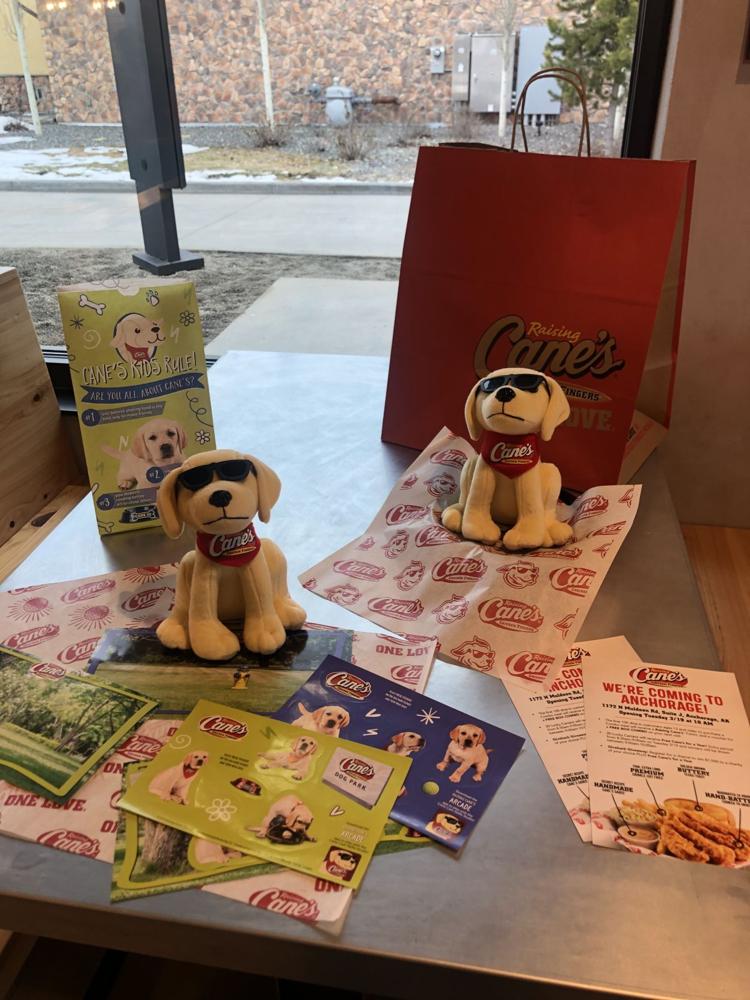 The goal was simple: Find one item and do it very well. Graves was undeterred by the reaction from the educators at LSU and after buying a suit and briefcase, decided to try and find investors his own way. Being met with rejection at every turn did nothing to slow the young man down, and instead, inspired him to work harder.
"He used the no's he received and that fueled his desire to continue down that path, chasing his dreams." said Zach Corbin, the Franchise Leader of Marketing. "He flew out to California and worked as a boilermaker, and he did that because he knew he needed to raise a ton of capital in a very short amount of time. But he wanted to make sure he really put his heart and soul into earning that money, and get him to the point where he could open the first Raising Cane's."
While working in California, Graves met a man by the name of Wild Bill who gave him some advice that would change his destiny. He was told that if he wanted to make a lot of money fast, he should go up to Alaska and fish. As soon as he could, Graves made his way to the 49th state, hitchhiked to Naknek, slept on the tundra, and soon enough was working on a boat with Silvey catching fish. After the time spent catching Sockeye, the men had enough start-up capital to open what would become the first location. Originally, they wanted to call the restaurant Sockeye's Chicken Fingers in honor of their time in Alaska, but after some advice from Graves' sister, they chose to name it after his dog, a yellow Labrador retriever that had been with him his entire journey: Raising Cane, or Cane for
When you enter a Raising Cane's location for the first time the décor tells the story of Todd Graves and his journey since 1994. Disco Balls on the ceiling allude to the Louisiana connection, and the logo itself was modeled after a mural that was found underneath the brick while they were building the first store. That Wolf's Bakery logo is still in place at the intersection of East State Street and Highland Road, outside the North Gates of Louisiana State University. A giant velvet painting of Elvis commands your attention from one corner; a nod to the framed beach towel of Elvis that was used as art in the first location. Just inside the door is a rainbow Sockeye, commemorating the work that Graves did here, and a reminder of where it all started. Throughout each location you will also find memorabilia specific to the location. Pennants from local high schools, or patches from Anchorage Police Department reference the commitment each store has to be a part of the community.
Graves started the business with a commitment to charity and giving back to each location that has one of his restaurants. Around 25 percent of the profit is given back to local charities, with focus on education, animal welfare, healthy lifestyles, feeding the homeless, and business development. The management team at the Tikhatnu location has already put their boots on the ground here with work at Bean's Café. On Sunday and Monday hundreds and hundreds of locals ate free box meals provided by Raising Cane's either in the restaurant or at the drive thru. While this gave the staff a great opportunity to train for what will likely be a capacity crowd in the first few weeks they are open, they were also taking donations. All monies raised during Sunday's hours were given to the Food Bank of Alaska, and Monday's gifts were given to Bartlett High School in an act of neighborly altruism.
Another aspect of giving that Raising Cane's is excited about bringing to Alaska is their activism in the area of entrepreneurship. The company participates in a program called Lemonade Day. This program teaches youths how to start, own, and operate their own business; a lemonade stand. This experiential activity looks to give youth tools such as business skills, responsibility, financials literacy, goal setting, and teamwork.
The history of the restaurant is also impressed on the staff, who receive gifts upon certain anniversaries of employment. After a year of being with the company, they are bestowed with a hard hat signed by each crew member. It's meant to be a reminder of the hard work that went into the creation of the "mothership" store, and Graves' time as a boilermaker. Upon five years of employment, a taxidermied Sockeye salmon is the gift, "to reinforce the commitment that Todd had bringing his dream to life." Corbin said.
The menu is very focused. Chicken finger box meals of differing sizes, all served with a special secret sauce; coleslaw that is made in-house daily, and a piece of Texas toast that is cooked to order. You can also get a sandwich made with the same sauce and fingers, or for tailgaters and parties, larger orders are available. The crew wants to spread their message of "One Love" to the locals here in the place where much of it all began. Judging by the crowds that were enjoying the free meals and donating to causes dear to their hearts, that message of love is already being spread.