I must be losing relevance in Alaska. Another new brewery escaped my foamy radar. I was informed of it opening by fellow beer writer Bill Howell from Soldotna. "Dammit," I exclaimed to myself. "Where have I been?"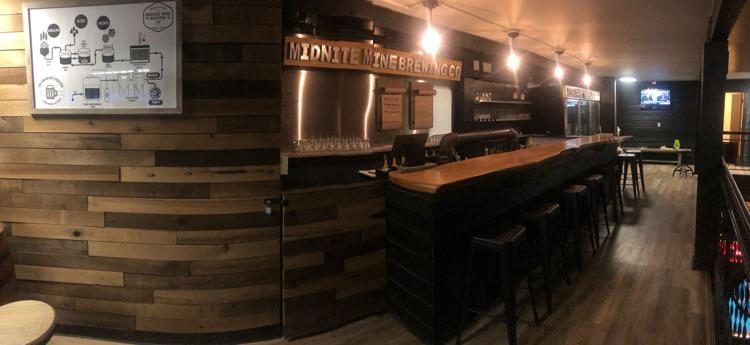 I've known about it for a couple of weeks now, but had a hell of a time connecting with owner/brewer Talon Hobbs after he opened the Midnite Mine Brewing Company in Fairbanks. That's not because he didn't want to talk to me; opening a brewery is a massive undertaking. This brewer and his family were hooked up like big brewing dogs when they converted the existing Midnite Mine bar in a forlorn corner of Fairbanks into Alaska's next craft beer producer.
"Right now, we have three bartenders, not including my aunt," says Hobbs. "My grandma is the back of house; she handles the money and the books. Grandpa will be building maintenance and figuring out logistics. Me and my fiancé are back of house too; she's the brand child of marketing and the message we want to send. She's way better at the vision of what a cool tap room looks like. She's the designer. Me? I'm the guy over the kettles," he says. Midnite Mine Brewing is definitely family inspired.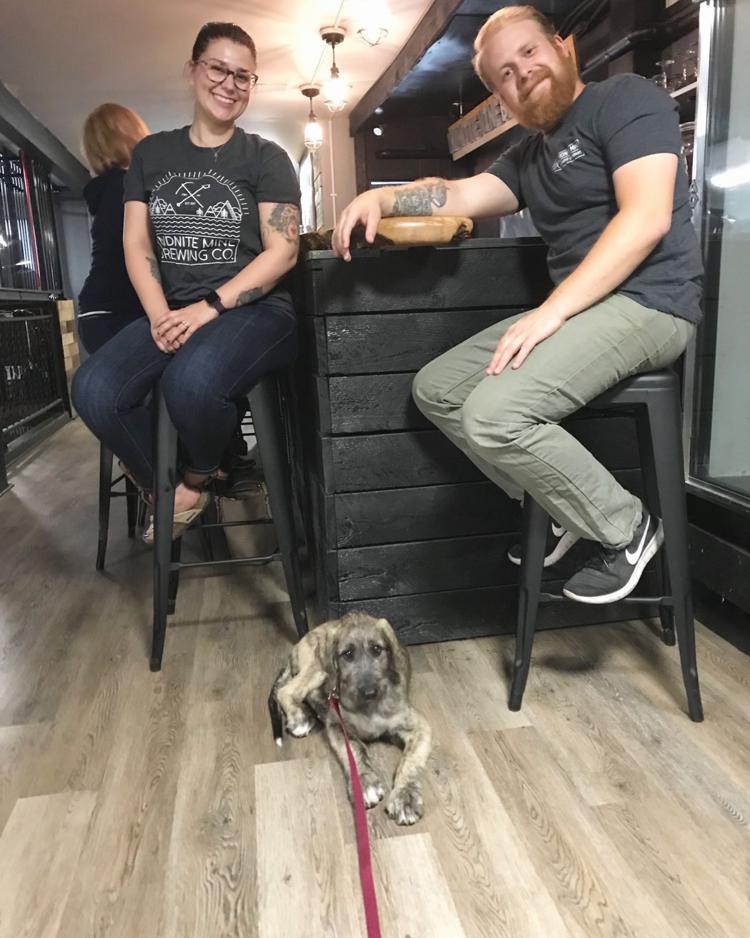 What is that vision? The previous owner of the Midnite Mine bar – Bob Maloney – had owned the bar for 45 years when Hobbs' plan to open a brewery started to gel and he and his family got serious in 2017. "Midnite Mine has been a local Fairbanks dive bar since the late 60's. It was a local gathering spot harkening back to the gold rush and mining days in Fairbanks' rich history. We saw this little dive bar that's super laid back and community oriented. Everyone that comes in here loves it and it aligns with our ideas of what we wanted a brewery to be in the first place; a community gathering place that's locally oriented and right next door to the visitor's center that can offer a neat Fairbanks experience," says Hobbs.
Hobbs describes the two-story place as rustic, darkish and "with dollars on the wall, old black and white Budweiser signs, moose horns and the whole works. It's very Alaskan," he says. "Our corner of downtown was one of the last ugly corners left after the vast Fairbanks revitalization. We really cleaned it up and everyone's super responsive to the changes we've made."
Hobbs' business plan's evolution is as quirky as the bar itself. "My story starts out like everyone else's," says Hobbs. "I started out as a homebrewer, the hobby grew into an obsession, and I got that crazy idea that I could brew commercially. Grandpa had been interested in operating a brewery since the mid '90's and my family has plenty of business experience, some of which is in the wine, beer and spirits world."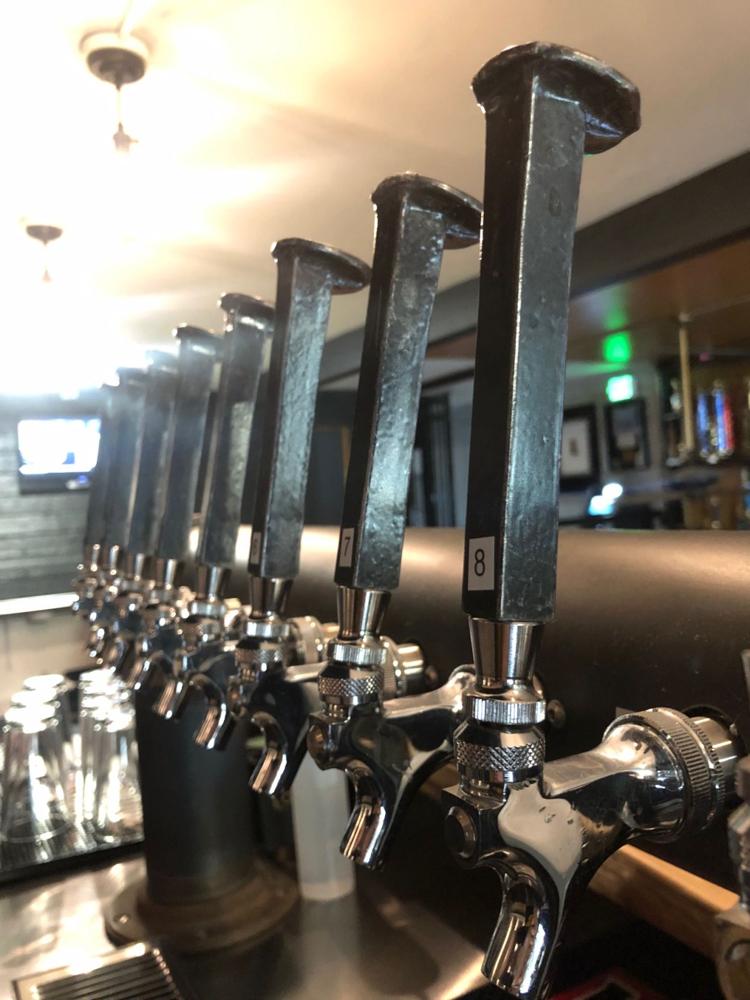 "It took a few years. We played the slow card. I originally started planning for a 10-barrel brewery. We had options and looked at land and building from the ground up. We looked at leasing and for a building to outfit the operation. We were approached by Bob to buy the bar and keep it as a bar and assume ownership. When we got in the building, it really came together, but the plan changed to fit the space. We are probably the only brewery in Alaska that planned to open with a 10 barrel system and ended up opening with a one barrel outfit," says Hobbs.
Hobbs and his family decided to take the unused upstairs part of the building to convert it into a small brewery and lost the idea of a big production brewery, although those plans are still intact for future possibilities as an attachment to the existing building or in an offsite location.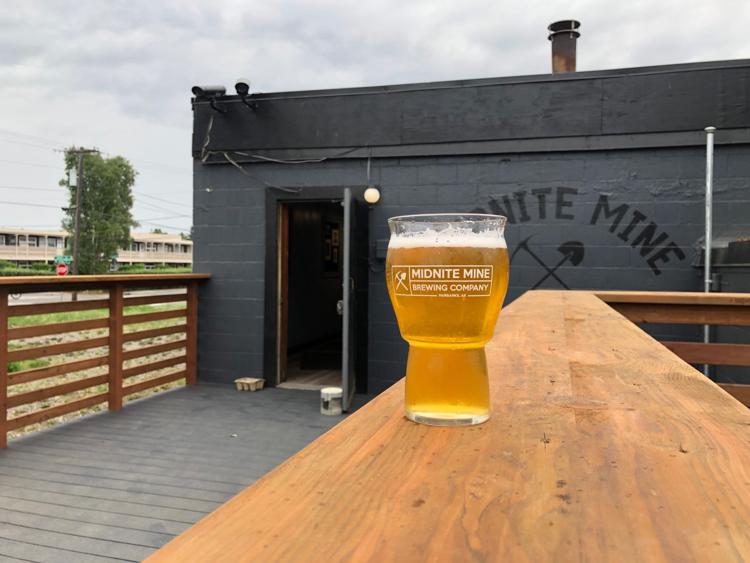 "The layout is definitely interesting. The upstairs has an opening in the middle where you can look downstairs into the dive bar. We totally modernized it. The upstairs is still dark-ish, but it has a clean, modern finish to it. So far we've been surprised and happy how well the melding has worked," says Hobbs.
Midnight Mine's license allows for diversity and expansion. The brewery has the ability to feature their own beer and other local beers and the bar's not limited to serving a maximum of 36 ounces like other breweries with just a brewery license. With a one-barrel system, "we can only make 32 gallons of beer at a time," says Hobbs.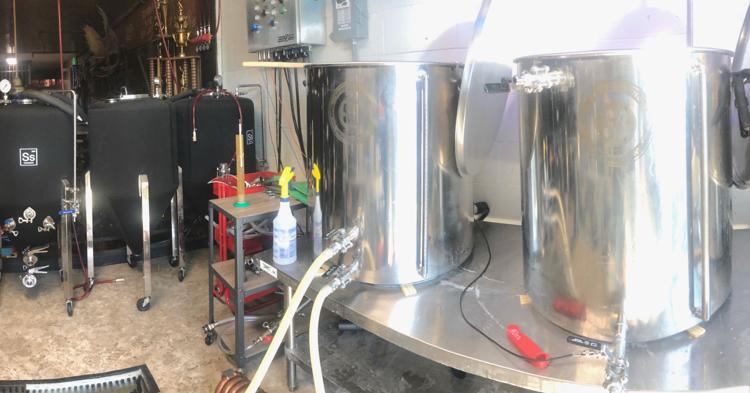 Hobbs isn't necessarily challenged by the brewery's size limitation. "The only way this works is that we have the ability to sell other people's beers. I never wanted to open a general beer bar. We have the potential to have 10 taps, and I want to split that down the middle with my beers, but to showcase local guest beer, especially those of our other nearby breweries that feature what our brewing friends helped pave the way for me to do," he says.
Midnite Mine joins HooDoo Brewing and the new Black Spruce Brewing Company in Fairbanks and Silver Gulch Brewing Company just north of Fairbanks in Fox. If my calculations are correct, Midnight Mine is Alaska's 42nd or 43rd operating brewery. Hobbs wants to feature his neighbors' beers because he's as proud of them as he is his own.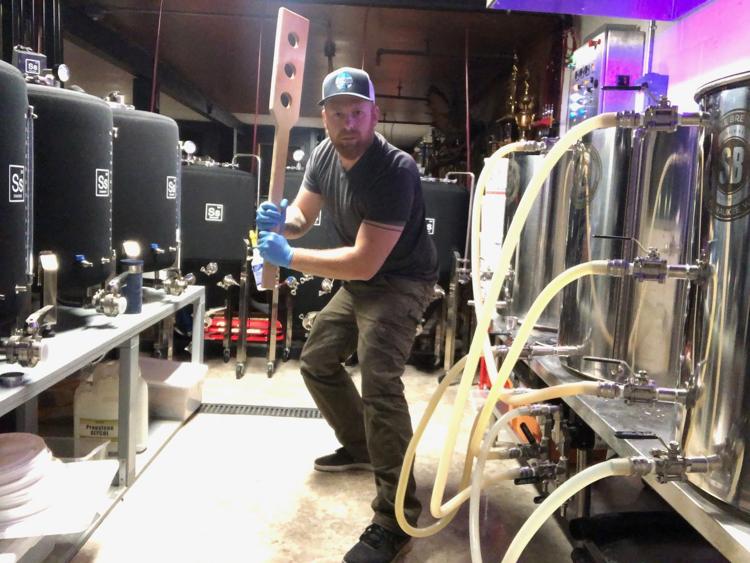 Hobbs is a self-professed hophead and shares my love for Northeastern style IPAs. He opened with his own Carbon Atom, an east coast pale ale, Refract, a crisp American blonde Ale and Confection Stout, a milk stout with toasted coconut, vanilla beans and hazel nuts. "It has a baked goods quality," says Hobbs of one of his favorite brews. Confection Stout is actually destined to be a series of more interesting, bigger beers.
"I can't produce a ton of beer, so every beer needs to be extremely deliberate and the quality has to shine over the quantity. We have to make utilitarian choices. We have to cater to every beer drinker, so I'm making approachable beers as well as super interesting beers at the same time. Down the road I want to be able to say 'hey, you like this blonde ale? I saved 20 gallons and inoculated it with Brett and put 70 pounds of mango in it.' I want to introduce people to our beers in an approachable way, but also feature some more inventive beers," says Hobbs.
In the works at Midnite Mine is a New England Style Double IPA brewed with Citra, Mosaic, and Azacca hops, a West Coast IPA brewed with Cascade and Centennial hops and an Amber Ale that leads toward the Irish Red style and there's more to come as Hobbs works to fill his tap line with Alaska's newest local craft brews while featuring those of his well-established neighbors.
Dive bars? Alaska's full of them, but Midnite Mine offers well established locals and tourists a unique perspective. Bob comes in every day; he's the bar's most devoted bar fly, and if I lived up there, he'd be sharing the bar with me, I'm sure.