Few foods speak to my soul quite like pizza. Among many reasons, there's the beautiful simplicity in its design, its convenient portability, and the fact you can find it just about anywhere. This fervent desire likely began in my youth, as I grew up watching hours of Ninja Turtles and celebrating the occasional birthday at Chuck E. Cheese.
It could just be that I'm just basic because everyone else loves pizza too.
I'm also a fan of saving money whenever I can. There are countless products out there to fulfill both my desire for pizza and to have it for cheap. I say without shame that I have consumed many a Totino's Party Pizza and that Hot Pockets permanently occupy my freezer. That being said, I managed to up my budget pizza game a few years back when I first heard about Luigi's Pizza and their daily special—$6 medium cheese and pepperoni pizzas.
My only experience with Luigi's so far has been this unbelievable deal on a great pie. I mean, even chain pizza can't be had at that price. It's been a while since I last stopped by, so I decided to treat myself on a bleh day by simultaneously curbing my pizza craving and exploring what else this nondescript pizzeria has to offer.
Oddly enough, the first thing that caught my eye was their selection of Philly cheesesteaks. This eventually led to an order of their "Luigi's Philly", which includes mushrooms, green peppers, onions, black olives, and cheese. To that, I added a medium chicken garlic pizza and antipasto salad, because I am obviously very health-conscious. I placed my order 30 minutes ahead before arriving at the restaurant, which is tucked away in an aging strip mall beside Lucky Market. Honestly, the interior is rather drab and it's clear they focus exclusively on takeout and delivery orders. But the guy helping me out was pleasant enough and the whole place smelled wonderful.
Not long after I arrived home, I tore open the Styrofoam packing to dive into the cheesesteak, which doesn't come with fries. No big deal, since the sandwich was hefty and only cost $9.99. A few bites in, I started to realize and appreciate how little bread there was compared to some other cheesesteaks I've had in Anchorage. For once, I could appreciate the thinly sliced texture of the steak, and even better, the meat was well seasoned. There was an ideal ratio between the soft bun, seared steak, and melted cheese along with everything else it contained. Even the green peppers offered some refreshing bites of bitterness. This was a pleasant surprise that fellow cheesesteak fans may be curious to try, though the traditional Whiz yet again failed to make an appearance—can somebody please fix that?
Let's talk pizza: the menu described my choice as having a "creamy garlic sauce". The flavor was very pronounced as the whole pie was studded with real garlic. Another thing that stood out is that this pizza is absolutely loaded with cheese. This was made more apparent by the lack of tomato sauce for these toppings. But thin slivers of white onion lent a bit of sweetness that helped keep  things in check.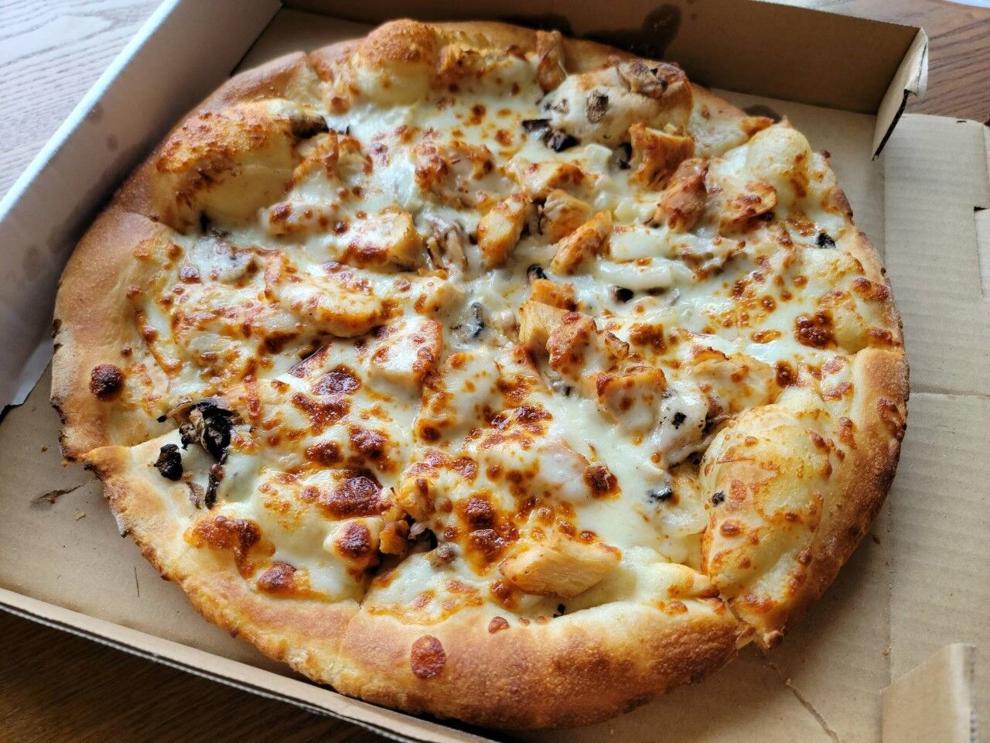 The crust was baked all the way through and had a spongy texture that reminded me of a focaccia; just without any excess oil. In fact, this could almost be described as a pan pizza that isn't completely saturated with grease. The flavor was remarkable as it tasted as if the dough was nicely fermented with a good amount of salt. I would go as far as to say that this was the highlight, and the resulting "bones" were tasty in their own right—haters be damned.
The antipasto salad was just about what I expected… okay, maybe not quite. My assumption was that it would be served with a zesty vinaigrette or something other than my least favorite dressing—ranch. Some scattered pepperoni and raw onions were a welcome addition, but overall, this isn't going to win any awards and served as a vivid reminder that there are good salads, and there are not-so-good salads.
Ultimately, I arrived at the conclusion that Luigi's serves up excellent food at bargain prices. I would recommend them wholeheartedly based on affordability alone, but the quality of their dough and shockingly good cheesesteaks puts them near the top of my list of best pizza spots in town. But don't take my word for it—got any spare change?