Hours: 11 a.m. to 10 p.m.
Ah, Korean food — the food of my ancestors and a defining characteristic of my childhood. I have fond memories of seeing my mother conjure up a pot of kimchi stew or gorging myself into a lethargic state with samgyeopsal—a feast of grilled pork belly wrapped in lettuce and accompanied by rice, garlic cloves, and chili paste. 
As something very near and dear to my heart, it prides me to see there's no shortage of options for Korean dining in town—though I still lament the lack of an all-you-can-eat BBQ. Regardless, eaters can expect to find a genuine representation at most Korean restaurants, though overall quality and level of service can vary. 
 Since my wife and I were recently invited by her parents to celebrate our anniversary at Korean Garden, I felt it was my duty to examine this restaurant through a critical lens and see how they fare. 
For starters, we were immediately greeted to the smell of grilled meat as we approached the building—always a plus. While we were the only patrons upon our arrival, the dining room quickly filled as the evening went on, including a large group of Korean tourists. To me, this was a good sign. 
One thing to note is that Korean food tends to be exorbitantly priced. Why that is, I may never know. But what helps justify the cost is the inclusion of banchan, or side dishes, as a standard part of each meal. Most of what you'll see is a wide array of vegetables, which are either pickled, fermented, or stir-fried, along with a few other oddities such as tofu and fish cake. 
Our party wholeheartedly demolished a modest selection of about eight sides, including standouts such as their cucumber salad. Their kimchi in particular did not disappoint, as it was pleasantly sour and well on its way to being ripely aged. Korean restaurants live and die by their banchan, and here they had solid offerings, although more variety is always welcome. And while some places may be stingy about banchan refills, I did not get that impression here.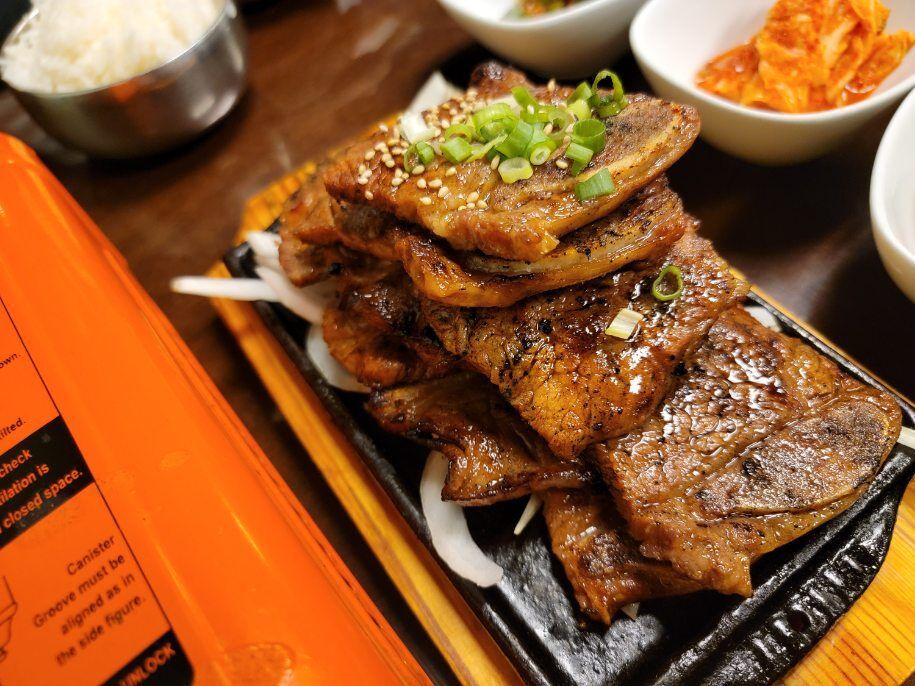 Fortunately, my in-laws are well-versed in Korean dishes and so we went straight for the good stuff: gopchang-jeongol (intestine stew), ojingeo bokkeum (spicy stir-fried squid), seolleongtang (ox bone soup), and finally, some good ol' kalbi (grilled short ribs). Working my way backwards, the kalbi was as flavorful as you could ask for and the fat had rendered down nicely—the only thing this could have benefited from is slightly more char. 
The best way to describe seolleongtang is that it's the undisputed king of bone broths. Marrow bones are simmered for hours until it becomes an opaque, snow-white soup that is prepared with sliced brisket, green onion, and a few shakes of black pepper. The finished product is usually left unseasoned for diners to sprinkle on salt according to taste. This comforting bowl is almost reminiscent of pho in its pure beefiness and simplicity, and Korean Garden's version is as tasty as it gets. 
Ojingeo bokkeum is my wife's all-time favorite and for good reason. Sliced squid is stir-fried with veggies in a gochujang sauce that's as spicy as it is addicting. The squid managed to retain its tenderness, and the sauce struck the perfect balance between hot, sweet, savory—of course, I was compelled to spoon remnants over some rice for maximum enjoyment. 
Finally, we reach the intestine stew which is very much what it sounds like—chopped cow intestines bubbling in a fiery cauldron set atop a portable burner. 
Visually, not the most appealing dish with tubes of organ meat floating around like some witch's brew. But anyone who appreciates offal would be remiss not to dive in and savor the chewy texture along with stewed vegetables and thick noodles all swimming in a rich broth. This is just the thing I want to be huddled around on a cold winter's night.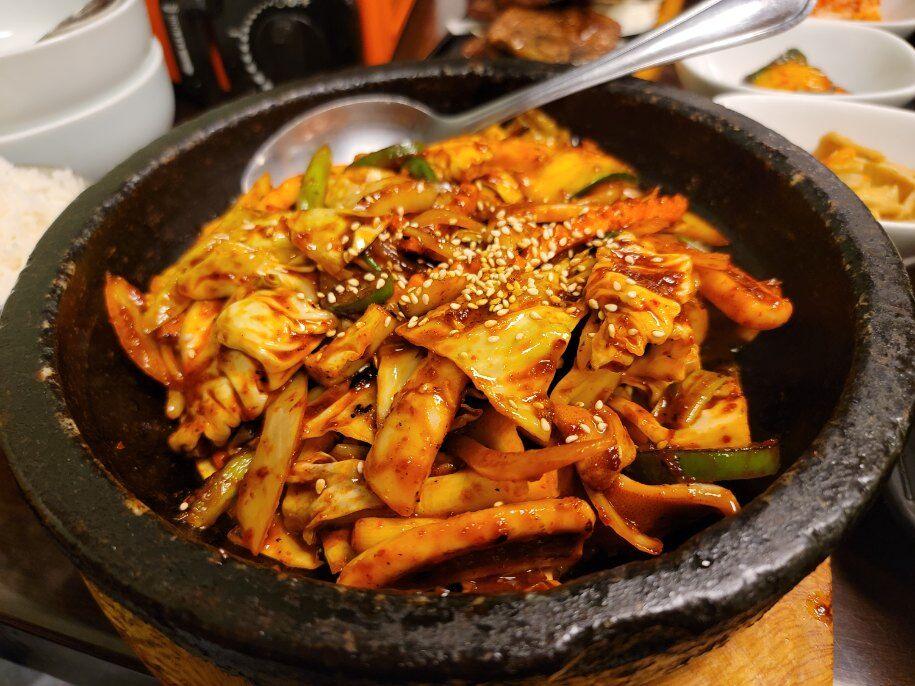 We finished off with a complimentary cinnamon punch that was the perfect palate cleanser after an intense meal. As we sat dazed over a jumble of emptied-out plates and bowls, I could think of nary a complaint. Though I'm clearly biased, few cuisines leave as lasting of an impression or a sense of fulfillment quite like Korean food. Fact is, I usually feel nourished more than glutted.
One doesn't have to look very hard to achieve such levels of satisfaction here these days. In the humble opinion of this proud Korean American, some of the best this town has to offer can be found at Korean Garden.