Kendall Greenleaf's vision is to capitalize on the vast natural resources in and around Delta Junction to see it identified as one of Alaska's primer contributors to a sustainable lifestyle and environment through responsible community development that includes a brewery, among other things. 
In terms of the brewery part of the equation, Greenleaf's almost there with the finalization of Big Delta Brewing Company's ability to pour beer, once the Alcohol Marijuana Control Office (AMCO) gets out of the way and issues a final permit necessary for him to proceed. 
"I need to be clear that I'm not pouring any of my own beer right now," says Greenleaf, who purposely doesn't even have raw materials in the brewery to avoid getting cross-threaded with AMCO. AMCO isn't after him; the agency's slow inaction is just holding him up. In the meantime, Big Delta is proudly featuring other local breweries in the restaurant-come-brewpub facility. 
"We have great relationships with the other breweries, like Valdez Brewing, Black Spruce, and HooDoo, all of which have been instrumental in getting us right in terms of craft brewing. These guys are just phenomenal," says Greenleaf of his relationship with others in Alaska's very supportive, non-competitive environment in the craft brewing industry up here, and further testimony of his love for local.
"Right now, I keep one or two on from Denali, Black Spruce and one or two from Valdez Brewing. They are small too and don't have big distribution, and when any of my people to go Valdez to go fishing, for example, they'll bring back a keg and we feature it."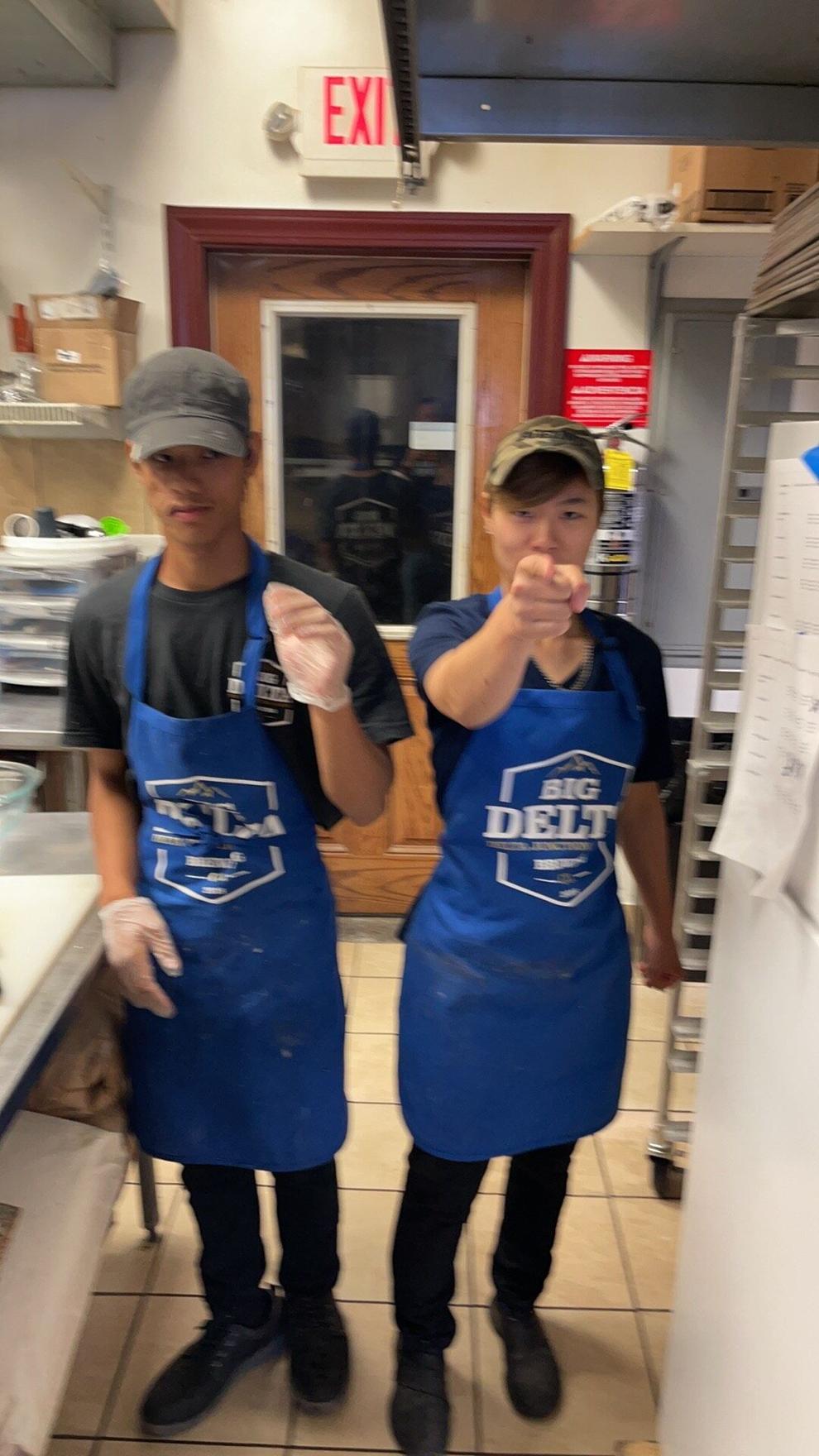 Greenleaf is a retiring Army Major stationed at Fort Wainwright, about an hour and a half's contemplative driving time from the brewer. Greenleaf came from a small New England town with dairy farm roots, and a huge respect for agriculture, farmers and a local living lifestyle that attracted him to the area that his military assignments introduced him to. 
"The first time I came up here was in February of 1998. I was here for six years, left, was gone for a couple of years and came back. I have almost 22 years in Alaska, with six in Delta Junction, which is now my home," says Greenleaf. 
"We opened our doors on December 12 last year, right in the middle of COVID," he says of his establishment that's grown exponentially, and oddly enough, from some unique pizza, not the beer he can't produce and sell yet.
"Yeah, it's grown," he says with an almost nervous, tired chuckle. "We started with three of us, and now we have 16 employees. We're permitted to seat 60 in the restaurant right now, and that will double once the beer garden we're working on gets put in and finished." 
Pizza? Delta Junction? Explosive growth in the middle of nowhere in the middle of a pandemic? How does that all work?
"With no sit down dining, and no beer, we cut a hole in the wall of the restaurant and turned it into a drive through pizza joint," explains Greenleaf of his and his family's auspicious beginnings in an unlikely place, that, even most lifelong Alaskans consider just a lonely outpost on a long stretch of asphalt between somewhere to somewhere else.
"On the first day, we were flooded with 400 individual pizza orders, and it almost shut down traffic on the Richardson highway," says Greenleaf of the instant cult following that developed, and ultimately caused him to send a friend packing out of state with $15,000 and a utility trailer to "go somewhere and find us a pizza oven that will support this."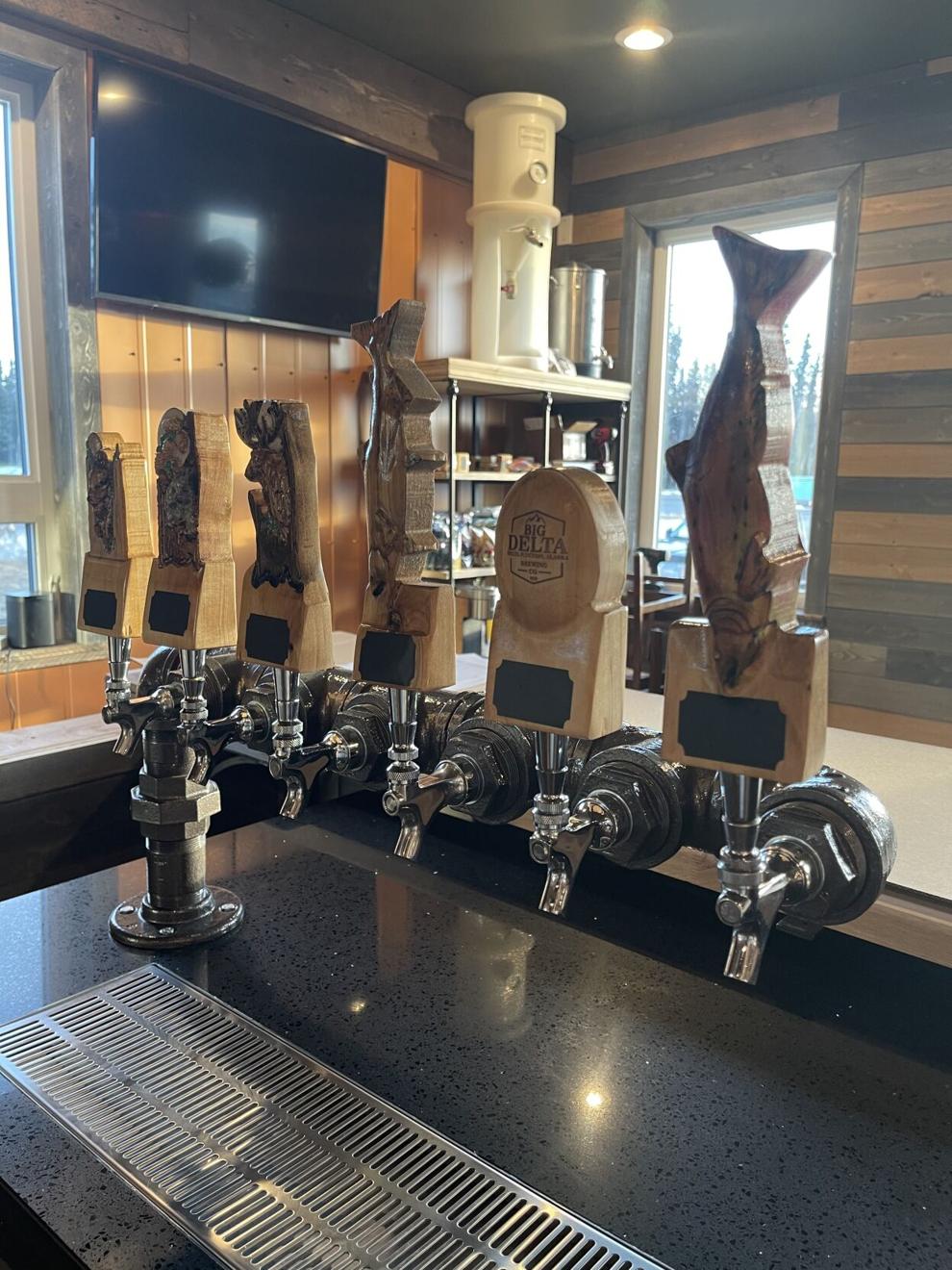 Ultimately, his friend came back with not one, but two pizza ovens, one of which can crank out about 20 pizzas in eight minutes, or 240 high quality pizzas an hour. The other one is set aside "just in case," or, for what I suspect will be future growth. That's how Alaskans do things, right?
The pizza's success isn't just because a pizza joint is novel to Delta Junction or the area; quality speaks and people vote with their dollars. It's also another reflection for Greenleaf's love for agriculture and love for local. 
Another of Greenleaf's aspirations is to become a maltster, or a grower and producer of the grains used in making beer. That's down the road, and part of a far bigger plan, but in the meantime, he wanted to do something with the abundant agricultural resource – feed barley - that isn't yet suitable for brewing but to which thousands of the surrounding area are devoted to. He wants to work with others to produce locally made cheese, but that's another story altogether. 
"We developed a couple of barley-based pizza crusts. They're vpretty unique. We've come up with thin, large, big pizzas in a thin crust style of pizza that's 33 percent barely and then regular wheat from Alaska Flour Company, also right here in Delta, on hand-tossed crusts, one of which uses fireweed honey that produces a very light, airy honey-like based that people can't get enough of," explains Greenleaf.
Greenleaf's passion for sustainability is reflected in his pies as well. "We use two or three farms for the pork, beef and sausages, and other farms for the other toppings. We can drive out to the firms to see what's going to be on our pizzas two weeks from now. The best part is that in the kitchen, nothing is pre-made, and we crank out 200-300 pounds of dough every day. All of the scraps of dough, pizza dust, discard vegetable scrap all goes into containers that local farmers use to mix in the ground to grow vegetables with or feed livestock. Nothing goes to waste, everything comes from Delta, and even the compost is coming from here and is continuously re-used," he says. 
The pizza sounds so damned good, I almost forgot about the beer. 
"We'll be different with beer too," says Greenleaf. We want to focus on a British, almost Celtic style." 
Like every other homebrewer gone commercial, Greenleaf credits a lot of very talented people that nudged him along the path to opening a brewery in central Alaska. "I did an MBA with an entrepreneurship focus, and actually built the brewery on paper and used the same business plan to start this place," he says.
The beer style isn't necessarily complicated, but Greenleaf has to have it exactly right, because that's part of his passion. "I put out a classified ad in Scotland and Great Britain: 'is there anyone that can show us how to brew British style beer?' I hired a guy; he'll be here next month," says Greenleaf of his onboarding of Liam Scoffham, with experience at the noteworthy Camden brewery in London, and additional global experience in Australia and New Zealand. 
Greenleaf's brew crew will be rounded out by him, his son in law Patrick, and a local high school teacher, all of which are gaining professional brewing certifications through the St. Louis University Brewery Operations and Fermentation Sciences program that Greenleaf's nearly completed, and the noteworthy Siebel Institute for the others as they come on board when the brewery opens. 
And when it does, "we have six beers right now for the primary line up," says Greenleaf. "We've come up with our own 'Dock Beer' line, which reflects my research into the 1800's beer styles and learning that back then, there was no access to good water, and everyone was drinking beers that were malt-forward, with a lot of brown ales and darker beers in the mix that were robust, but with lower alcohol."
"The kind of beers back those days were the kind of beers that the working class could enjoy two or three of at lunch, then return to work and not die," he says. "I'm focusing on one high alcohol Scotch ale, Liam's bringing in his version of a Great Britain porter, we're making a Moose Magnet Double Bock, my version of a lighter dopplebock, and of course, one IPA, a New England style, then dark lagers and stouts," says Greenleaf of the beer lineup that he could start producing any day now. 
In all, expect 12 taps at Big Delta Brewing Company when the beer finally starts pouring. 
Greenleaf and his family, including his wife as a partner and a newborn daughter don't live in Delta Junction by happenstance; they know they belong there. "The craft brewing community in Alaska is a wide open market, and I'm here with a blank slate for craft beer in the right place at the right time," he says. "My end goal is to be a brewpub, yes, but I really want to bring a lot of attention to Delta Junction as a community for its cultural and agricultural value, and especially the potential to grow brewing grade barley."
Greenleaf is clearly passionate about his relationship with his community and he wants to help take charge of, not simply react to, the abundant opportunity surrounding him.
It's not just words, its actions that sets Greenleaf and Big Delta Brewing Company apart. Hiring 16 people in a remote, small community is no small accomplishment. Having pizza that's defined by the surrounding area and reflective of the community taste isn't either. I'm certain that his beer lineup will also make Delta Junction more than a bump in the road where you hope you don't have to stop and buy gas just to move beyond it. 
"Delta is growing, and we can't just sit back and watch it turn into something we don't like. We can create the right, sustainable workforce with what we have right here, right now. We have the opportunity to make Delta Junction what we want it to be. We want to be a part of shaping that growth," says Greenleaf of his brewing, agricultural and community development aspirations. 
Delta Junction's now on my foamy map as a destination, not a pass through, so I'm dreaming up excuses to head up that way when the beer starts pouring, and meet this man with an incredible local dream.