In a world riddled with food mediocrity, one man is brave enough to roll out in search of America's greatest diners, drive-ins, and dives. I speak of none other than the Mayor of Flavortown, Guy Fieri, who was recently spotted in Anchorage; presumably to film an episode of his show. So how does this Italian deli fit into any of the aforementioned categories? No idea, but to stay on air for 41 seasons must require some liberties be taken.
For all his eccentricities and bronacular, I actually consider Guy to be one of the less grating food personalities. Love him or hate him, anyone who's seen Triple D is likely to come away with the impression that praise is all but assured, even if the food doesn't look all that great. So, I thought it prudent to get the jump on this goateed guru to provide my own fair assessment of this lunchtime favorite.
Granted, I have eaten here before—as far back as when they first opened at the Metro Mall. That's not to say I've had everything on their menu, so wouldn't this be a great chance to try something new? With my mission clear, I set out in my blocky Hyundai SUV, about the furthest thing from a gleaming '68 Camaro.
Stepping through the red brick façade makes you feel as though you've wandered off the streets of Rome, at least according to my overly romanticized viewpoint. They've got a clean industrial vibe with bright accents and shelves stocked with all manner of imported goods for sale, including 00 flour and San Marzano tomatoes for the pizzaiolos among us. Having ordered ahead of time, I quickly grabbed my order and turned to leave before glimpsing an all too recognizable headshot emblazoned on the wall, graffiti style. It then struck me that I was treading on hallowed ground, so bowed my head in an act of reverence before parting to enjoy my meal.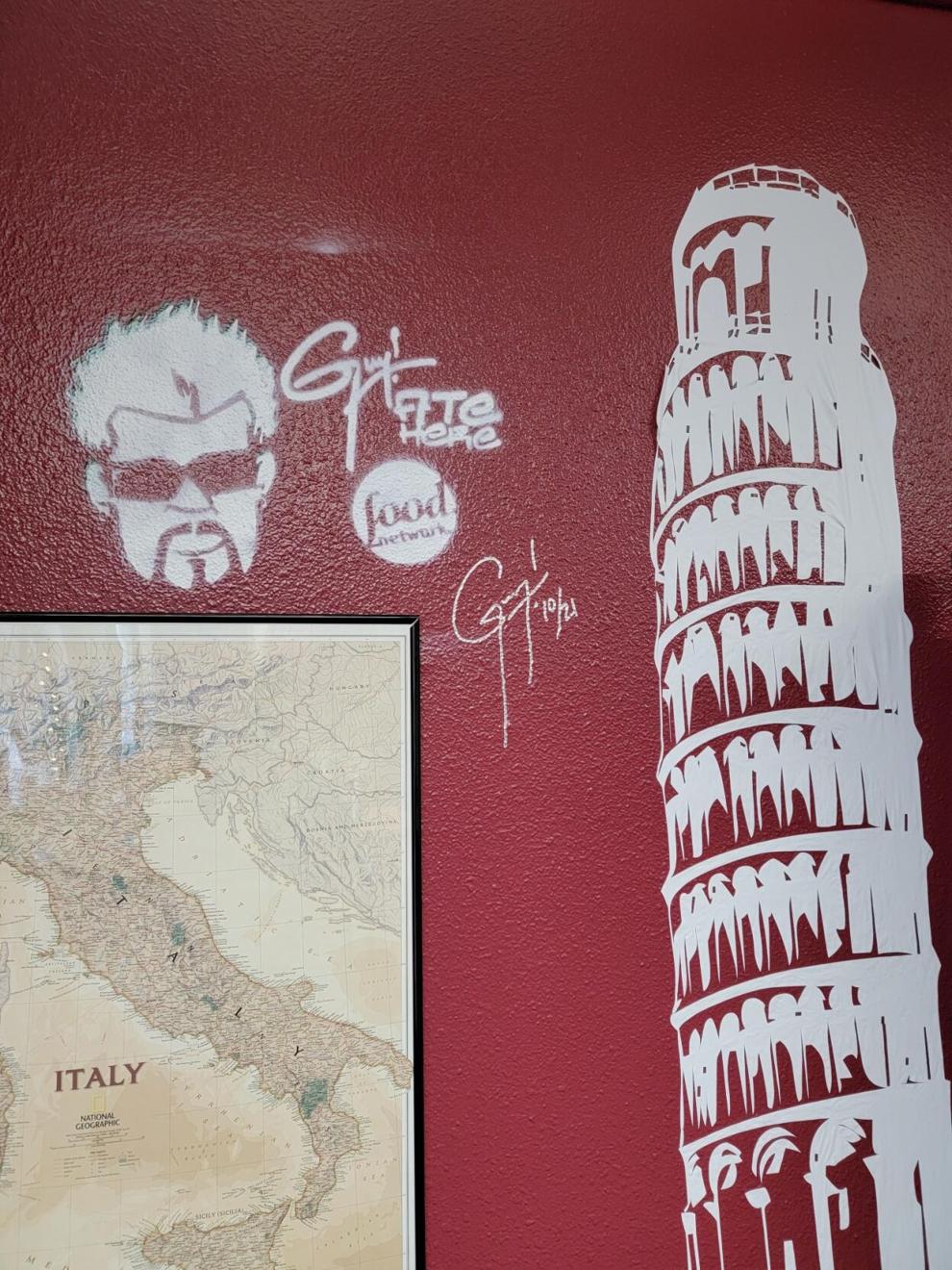 For starters, I went with something foreign—a piadina, described as an Italian flatbread with cheddar spread, prosciutto crudo, mozzarella, and mixed greens. It came with a small side of lentil soup—earthy and warming. I could've easily devoured an entire bowl's worth, but I made short work of it before tackling the piadina.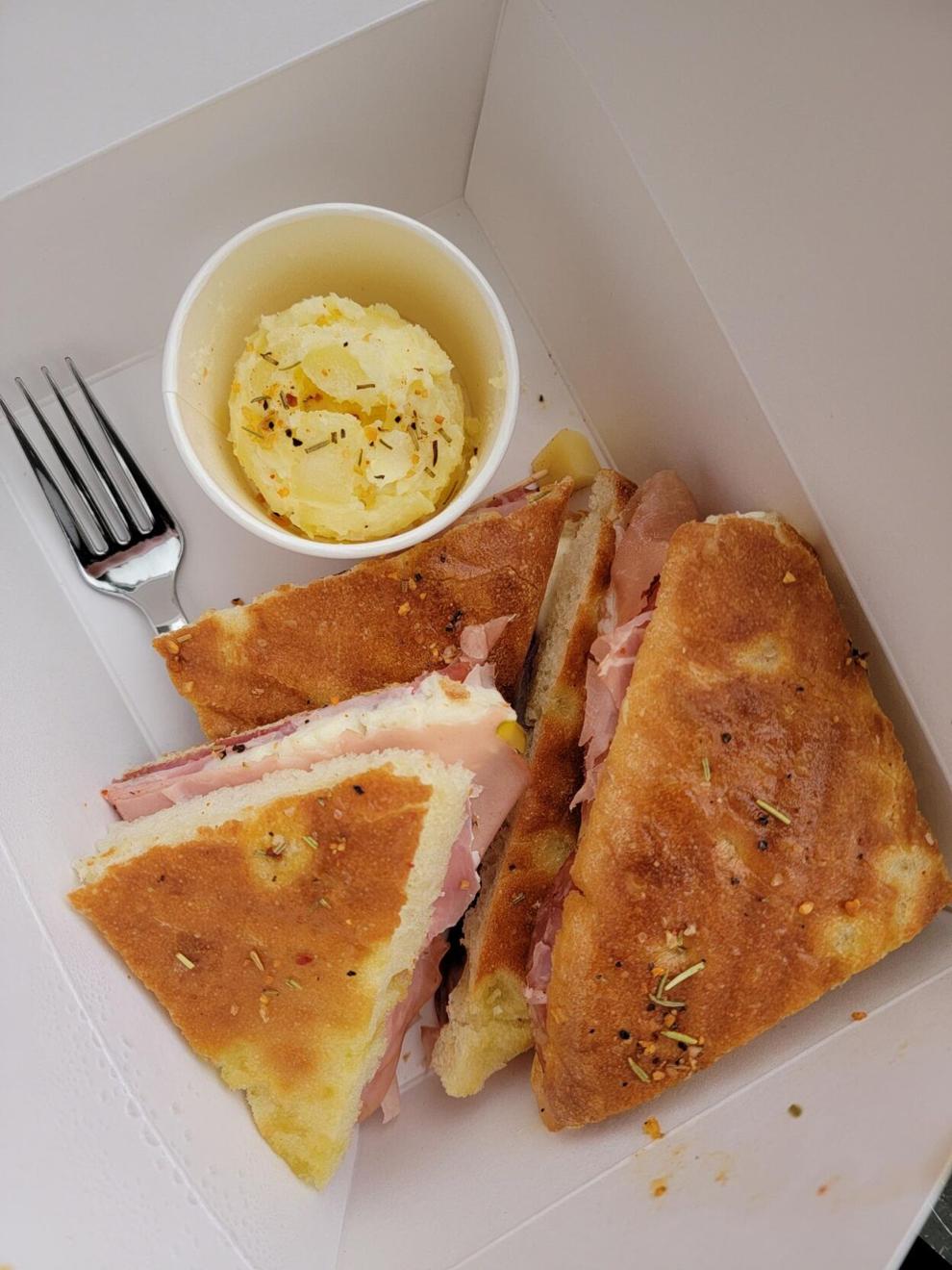 The flatbread was thoughtfully constructed with a morsel of smoked gouda for garnish. Each bite contained a mouthful of salty prosciutto, which contrasted well with the mild mozzarella. The mixed greens lent bitterness and a little bit of crunch. In search of the cheddar spread, I was unfortunate enough to stumble across a stray hair which was prompted removed. It happens, and I sure as hell wasn't going to throw away $16 worth of food, so I quickly regained composure before resuming. The flatbread itself was crisp and chewy while serving as a sturdy vessel. Overall, I'd give high marks for this one and would gladly try it again, sans hair.
I'd take focaccia over flatbread any day and knowing full well just how tasty their sandwiches are, I ordered a full serving of The Godfather, made with two types of prosciutto, salami, spicy coppa, mortadella, and mozzarella layered in between two slabs of focaccia. The sandwiches here are doused with some EVOO and a smattering of herbs, rendering the use of napkins a must. I was initially taken aback by the flavor of the mortadella, which resembled Vienna sausage in a surprising turn. This wasn't exactly unwelcome, and it worked just fine in conjunction with the remaining ingredients.
As a whole, the sandwich was bursting with funky sweet flavors from all the cured meat and herbs. The oil seeped further into the focaccia as time passed, imparting a floral essence to an already impressive bake. Originale's sandwich game is unquestionably strong, as to be expected from a cuisine known for utilizing simple, high-quality ingredients.
Sandwiches aren't the only thing on offer here, as Originale features a menu of "pinsas", the Roman variation of exactly what these sound like. I nabbed a take and bake pie for later, topped with a spicy pepper sauce, soppressata, and peppadew peppers along with shredded cheese. Upon examining the vacuum sealed contents, the dough looked to be parbaked, needing only a few minutes at 500 degrees to finish. I cranked my oven and plopped it onto my baking steel before eventually going in for a bite. The crust was crisp and bubbly while the toppings brought a surprising amount of heat—so much so that a pungent, fruity aroma filled my nostrils. Again, the ingredients exuded a level of quality unmatched by any ordinary pizza, making these a premium choice for a busy weeknight with their convenience factor. 
It's obvious the owners take pride in their food as they rightfully should. Though being featured on Guy's show is deservedly a huge honor, you don't need his opinion (nor mine) to see that their food is imbued with passion—one that can only be derived from a true Italian heritage. Good food speaks for itself, and that's made no clearer than at Originale, which stands as the primo destination for sandwiches, pinsas, and more.