Dinner: 4 p.m. to 10 p.m.
Of all the things one could do to ward off this ongoing pandemic, opening a restaurant is not likely to rank high on anybody's list. But that's exactly what Sanjay Shrestha did in opening Mandala Restaurant roughly one year ago in south Anchorage. And the city is all the better for it, having previously lacked in what is quickly becoming one of my favorite cuisines. 
Mandala continues the local trend of offering a hybrid of Indian and Nepalese foods, although the former does most of the heavy lifting here. In fact, the only uniquely Nepalese dish I could discern are the momos—plump little dumplings filled with lamb, chicken, or vegetables which are steamed and served with a dipping sauce. In other words, the perfect gateway app for the uninitiated, as the rest of the menu is arguably a little daunting.
I decided to forego the familiar this time and order something completely off the cuff. I settled for the pappadi chat and was rewarded with one of the most bizarre flavor combinations I've experienced in a long, long time. It could best be described as a perplexing mashup of chickpeas, onions, potatoes, and fried sheets of dough akin to wonton strips, all topped with a fruity tamarind chutney, cooled yogurt, and spices such as asafoetida, which lent quite a... pungent odor to the entire affair.
Frankly, I've never had anything like it. Bite after bite, I soon developed a craving due to its textural complexity and biting heat, only to be tamed by the occasional hit of dairy. This was one wild concoction that I'd be happy to revisit time and time again.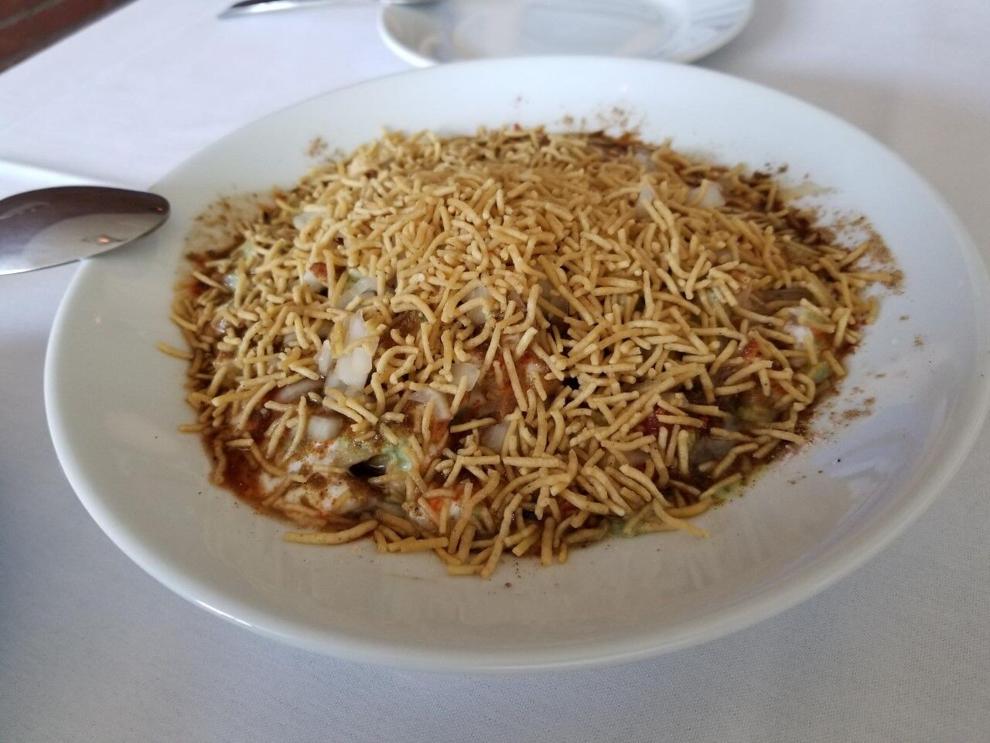 And that was just the beginning. Sure, there's the well-established chicken tikka masala or butter chicken—both of which I've enjoyed here and highly recommend for first timers—but I'm all for adventurous eating and I was already on a roll. Naturally, I went with the achari chicken which was described as a "spicy pickle flavored curry". In reality, it was rather straightforward with a nice acidity and deep vegetal backbone. Most impressive was the fact that the chicken remained tender in spite of expectations. The only thing I felt was missing was any sort of spiciness, which could've taken the dish to a whole 'nother level. But upon reviewing my receipt later on, I noticed each item we ordered was designated as "mild". We were never informed otherwise—something I'll be sure to rectify on future visits.
The dal makhani was craveable in its own right. Rich, earthy, and creamy with lentils interspersed throughout, this was the perfect accompaniment to the sizeable portion of perfectly fluffy basmati rice. Think rice and beans with South Asian flair.
Sadly, one disappointing facet to this meal was the cheese naan. While the bread itself was pleasantly crisp and could certainly stand on its own, the cheese was sparse and amounted to nothing more than a thin, near imperceptible layer. 
Guess that's a win for my lactose intolerance.
There's so much more to this restaurant that allures me, from its ample dessert selection to its tandoori meats, which appear to be served on a sizzling platter à la fajitas. To bring this full circle, the prevailing thought I had while dining at Mandala is how fortunate I feel to dwell in a diverse community full of risk-takers willing to defy societal catastrophes to shed light on their culture through its food. 
Though it may not have the mainstream appeal of some of its predecessors, Mandala has plenty to offer for those who heed the call for intrepid eats.