There's a new beer machine around. I like beer machines. I like anything that has to do with beer, but being a guy, cool machinery has some extra special appeal.
JJ Tranquilla is the lead man in the popular local band I Love Robots. He's a great musician, but he's also a professional beer drinker — like me. We've been friends for a long time. He's got deep roots in the beer and hospitality industry and since I'm probably that industry's biggest consumer when it comes to visiting places with beer, our paths have crossed many times and we've become fast friends over the years. Beer makes a great common bond.
Tranquilla's always been an idea man. Back in August of 2013, he came up with this super cool idea to create a mobile device application that connected me to all of our local breweries in a real-time fashion and kept me instantly in tune with what was new and what was on tap. His unbridled excitement was contagious, and I even tagged along with him on what was my first ever trip to Kodiak to join him and one of his compadre's as they worked with Ben Millstein at Kodiak Island Brewing Company to capture the fermented goods from that brewery to include on the application.
Tranquilla never quits thinking about beer.
The other day, Billy Opinsky, one of the owners of the Humpy's empire, shot me a video of what at first appears to be a fire truck, but closer up, opening one of the side panels of this off-road fire suppression rig reveals six draft handles all standing tall and ready to pour beer.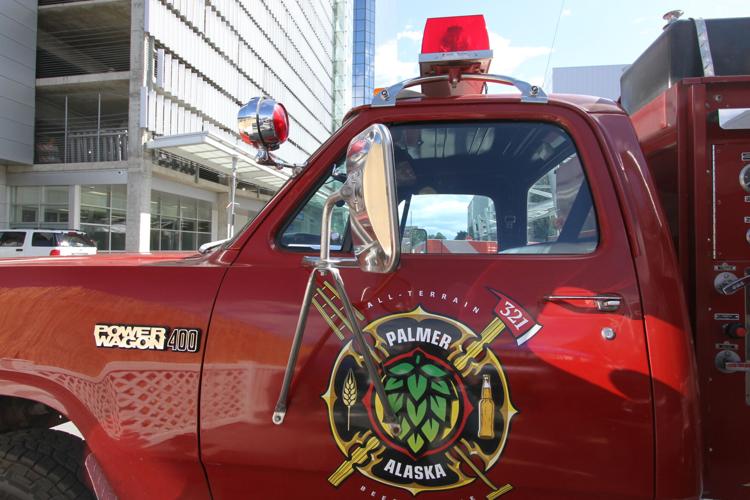 On Monday, I was in place in the afternoon on F Street between Humpy's and Williwaw in the new beer garden on the blocked off street to experience this masterful machine in person. Any vehicle that's pressed into service to serve beer scores big in my book and I just had to take this all in.
Tranquilla was on hand to give me the back story.
"I was driving through downtown Palmer last July and saw this fire truck just sitting there and it looked super-cool just like it was. It was for sale. I thought, 'wouldn't it be cool to convert that into a beer truck and put some tap handles in a compartment on the side of it?' Before I knew it, I bought the thing and started tinkering with the idea of converting it into what I'm calling the All Terrain Beer Engine.".
Tranquilla's an idea man and not necessarily a mechanic, welder, fabricator or draft system expert; all trades necessary to bring his idea off.
"I had no idea what to do with it and didn't realize the amount of work it would take," admitted Tranquilla, who was ultimately resourceful enough to harness the horsepower of friends and acquaintances eager to be part of the project. "It was like deconstructing a fire truck from the inside out and building a bar with a draft system from the outside in, including a state of the art temperature control system, all in a massive four wheel drive vehicle that served as Palmer's off road fire suppression vehicle – Engine 321 – until it just got sort of old and outdated for what it was supposed to do."
For the techno dweebs in the audience, like me, this 1979 beast has dual locking axles and is sitting on a Dodge W400 Power Wagon with a four barrel carb "that probably gets 6-8 miles per gallon on a good day," says Tranquilla of the historical unit designed for power and crawl-ability at the expense of comfort and economy.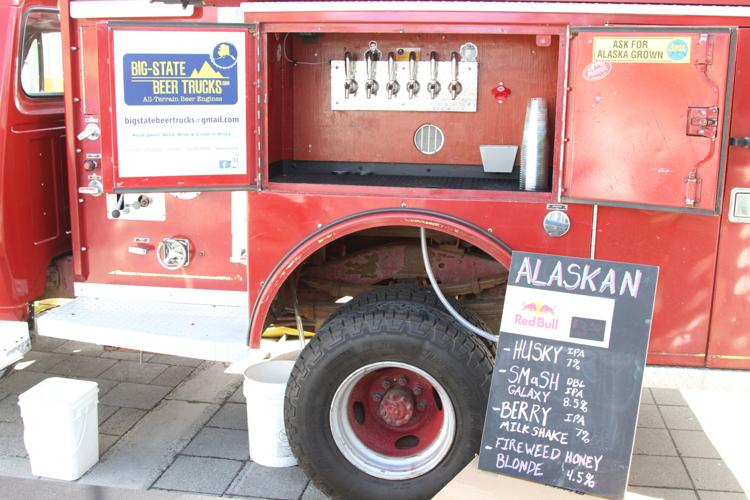 "Man, this thing was sitting there with original off road tires and it only had 9,600 miles on it. It had been impeccably maintained, of course; that's what the fire department does, but it rode like a tank so the first thing I did was change the tires out so I could drive down the road at 65 miles an hour and not worry about my kidneys shaking loose when I deliver it to a gig," says Tranquilla.
Tranquilla's retrofit was designed entirely with beer service in mind. One of the high end taps is set up for nitro or to serve wine, or even soda. Future plans include taking another panel in the truck and converting that to a drink well with shelves for booze and a well for ice for mixed drinks.
The logo on the truck's side panel is a tribute to the engine's stalwart service in Palmer over the years. "The seller was stoked that I was keeping it as a fire engine. The logo was designed by my keyboard player Greggo Wright and has the original emblem design with the truck's number on it, but also a beer paddle and hops along with the obligatory fire axe," Tranquilla said.
Tranquilla is renting the rig out for weddings, beer festivals, special occasions and other public and private use functions where beer is a prominent feature and this vehicle becomes an instant attention grabber.
"Before COVID, I had a bunch of weddings lined up," says Tranquilla. He'd even tried to get it on the floor at last year's Alaska Craft Brew and Barley Wine Festival, but he'd seriously underestimated what it was going to take to get the rig ready to pour and that didn't work out.
"Hey, this thing can go anywhere. Are you doing at remote wedding at some cabin out in the backwoods of Sutton or having some sort of remote, gig? I can get it there. It's got shore power or a generator. It's set up for cold weather use too; I can keep the beer from freezing in subzero temperatures too. Look for me at the start of this year's Iditarod in Willow," he explained as an example.
Certainly COVID has closed bars and breweries, but this vehicle is fit for purpose for the increasingly outside beer service afforded by our shuttered beer establishments. Humpy's was the first to put it to use, but it's not specific to any brewery, brand or particular use.
"It's perfect," says Tranquilla. "Humpy's is using it in their COVID-compliant beer garden for a curb side growler dispensary and pick up system right now. People can pull up and get a fill and grab and go."
"The hard part is over; making a beer truck was a bitch, but now it's turning fun and I have to design the portfolio to feature what can be done with it," says Tranquilla of the website that's in design that will feature the engine's beer prowess and availability. "Any brewery or private party can use it. I can deliver it and drop it off and come back and get it for private or public gigs and there are many options available and plenty of free advice on where to get the beer to fuel it."
The best way to check it out, other than head to Humpy's for a fill where the engine sits for now, is to hit Tranquilla's bigsatatebeertrucks Facebook site or email bigstatebeertrucks@gmail.com.
This isn't the end of the road for Tranquilla's beer vehicle ideas. "Oh, I see this as one in a series," he says. "I want to do another one, but an easier retrofit," he says. " I'm thinking about a panel van or an ambulance or something."
I suggested a 1966 to 1970 Country Squire Station Wagon — or better yet a hearse. Tranquilla warmed up to both of those ideas. See what the thought of mobile beer does to guys?