June 13 will mark 25 years since James Maurer and Billy Opinsky first opened Humpy's. Whether that silver anniversary celebration will be one of joy or sorrow for the business partners who've been friends since their days at West High, may hinge on what happens Friday at the Nesbit Courthouse in downtown Anchorage.
There, federal bankruptcy judge Gary Spraker will comb through the ballots cast by the creditors of Humpy's, aka Hook, Line and Sinker, Inc., which includes not just the iconic restaurant and bar, but the adjacent Flattop Pizza and Pool and SubZero Microlounge. Also at stake is the fate of Fish or Cut Bait, LLC, the property across F Street, which features Williwaw Social, Steam Dot Coffee, the upstairs Blues Central speakeasy and a rooftop bar, which is open during the summer months.
Maurer and Opinsky are majority owners in Hook, Line and Sinker, Inc., where business partners Bob Jurasek and Dylan Buckholdt are minority owners. The reverse is true at the Williwaw property where Jurasek and Buckholdt are majority owners and Maurer and Opinsky have a minority stake.
The collective enterprise filed for Chapter 11 (reorganizing) bankruptcy in February of last year and spent the year devising plans to pay back debtors over time. In December, however, the Fish or Cut Bait contingent of the partnership presented a new plan of its own. Called the "Jurasek Plan," it would immediately satisfy the largest of the creditors — the Salamatof Native Association, based in Kenai — by granting it 50 percent ownership of the company. This exchange would come with an immediate cash infusion of $420,000 to satisfy creditors, but that ownership share would come at the expense of Maurer and Opinsky, who would be booted out entirely.
Ever since the introduction of the Jurasek Plan, both sides have been frantically distributing ballots to all of Humpy's debtors — those owed sums both large and small — and persuading them to vote for their particular plan.
Maurer and Opinsky believe they have shown that the original repayment plan is tenable because they say Humpy's/SubZero/Flattop — where they invest almost all of their managerial time and effort — made a profit of nearly $1 million, while the Williwaw complex, which opened in August of 2015, lost more than $1 million in 2018.
The Jurasek Plan is buoyed by a letter of recommendation from Michelle L. Boutin, the attorney representing the creditors as a whole. In the letter Boutin writes — and underlines — "The Committee believes that acceptance of the Jurasek Plan is in the best interests of the unsecured creditors and best chance for 100% payment."
For purposes of full disclosure, the Anchorage Press was among the smaller creditors owed by Humpy's, and when approached by Maurer and Opinsky last week to approve their ballot option, we did so.
"The best case scenario is our plan gets confirmed by the judge and the other plan gets turned down and we continue to run the business like we have in years past, but mostly like last year where we were very profitable and everyone was really happy — we paid our bills on time," Maurer said. "The worst-case scenario is ours doesn't pass, theirs does and we get kicked to the curb. They'll bring in the old management that got us in trouble in the first place. For sure they'll kick me and my wife out. They'll want to bring in another person and run it like a Native corp and attorneys would run it. We still want to run it the way we run it and make money — we've proven it."
Jurasek was contacted for comments but did not respond in time for the newsprint version of this story.
Creditors had the option of voting yes and no or yes and yes or no and no on the two proposals, which had to be turned in to the court by close of business on Wednesday, two days ahead of Friday's hearing in which Spraker could make a ruling. That looming possibility has the Humpy's founders hitting the streets with a heightened sense of urgency.
"This is my livelihood, my family's livelihood," Maurer said. "I work here, my family works here. We don't have a big nest egg. My retirement was going to be this building — this was going to be my retirement."
Maurer said he finds sympathy when talking to creditors who are also small business owners.
"They start to realize that could happen and they're very firmly in our corner," Maurer said. "Everybody thinks the boss is rich, but I got news for you, the boss ain't rich. I rent my house and live very modestly."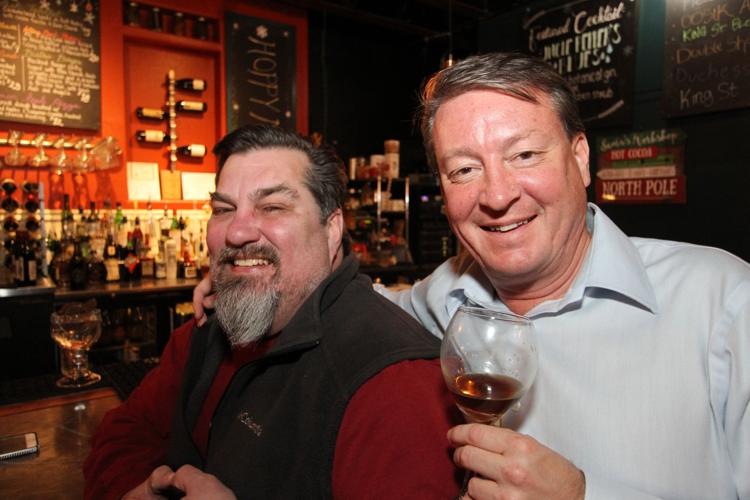 After high school, Opinsky went to college at the Colorado School of Mines and Maurer to Arizona State University. By chance the two met again when Opinsky walked into a bar in Phoenix where Maurer was working. They stayed in touch and after college moved in together for a winter, with a third friend they knew from high school.
"I was going to leave in the summer. I had plans to open a place with an ex-boss back in California… but Billy talked me into staying through the summer," Maurer said. "He said, 'you can't stay here all winter and then leave before the summer — that's crazy."
"We had like 40 different kinds of mustard in the fridge," Opinsky recalled. "We'd drink beer and stay up as late as we wanted, talking about opening a bar and that's how it started bubbling to the surface."
With some investment from their roommate's family, Opinsky and Maurer began scouring for places to open their bar, which would focus heavily on microbrews and craft beer, which was just beginning to take hold nationally with the rise of Pete's Wicked and Samuel Adams.
They looked at getting into the spot on 6th Ave. where Pangea restaurant is now, but instead that was turned into a Subway. Maurer said the landlord there turned them on to a building just down the way. A boring, gray, concrete structure that had been a municipal print shop, but was mostly being used for storage.
That became Humpy's, right across 6th Ave. from the Performing Arts Center, which had opened just a few years earlier. Back then, Downtown Anchorage wasn't the swanky and sophisticated destination it is now. It's an upgrade in neighborhood that Humpy's and its adjacent campuses — SubZero (2001, later to become Bootleggers and SubZero once again in 2018) and Flattop (2013) — played no small role in.
"Downtown back then was a lot of really rough bars and everybody either went to Koot's or midtown," Maurer said. "We'd all hung out at F Street, but you had to get there early and if you didn't, F Street was full and you could go to Darwin's, but that was a little more of an old person's bar. The Pio was a real old person's bar and full of day drinkers. Sometimes we'd get off work out of our place and run to Bernie's because it was so close."
To this day, Humpy's remains the only true sports bar in downtown, insomuch as it's the only place a football fan can theoretically watch every NFL game simultaneously. But the first must-see TV event in Humpy's history happened well outside the lines when Hall of Fame running back O.J. Simpson and friend Al Cowlings slowly evaded a caravan of police down L.A. freeways with helicopter cameras capturing the whole subterfuge. That was on Humpy's fourth day of life.
"People were running into the new place looking for TVs and we had it on everywhere!" Opinsky said.
Humpy's spent the end of the 20th century growing and growing until it outgrew its space and broke through the wall into what is currently SubZero, and at the time was called Lucero's, a pizza and Italian food restaurant. Stephan Fine Arts was located where Flattop is now, and across the street was Covenant House, which provides services to homeless and needy youths.
When Covenant House left for its current destination on A Street, Maurer and Opinksy, along with their partners Jurasek and Buckholdt, purchased it, and in August of 2015 Williwaw opened.
Though a popular nighttime spot, Williwaw and its various attractions never proved profitable. Maurer and Opinsky said they had little to do with the Williwaw endeavors despite holding 40 percent of the operation. They say they were too busy with the Humpy's Hawaii restaurant, which opened in 2010.
Opinsky said missing out on most of that first summer in 2015 was unfortunate.
"That was the first big failure; you don't open in August… we should have been open in March," Opinsky said. "Then almost simultaneously the economy (oil prices) went straight downhill, but you can't blame that."
By the time 2018 came along, the Humpy's properties and the Williwaw properties were, for all intents and purposes, competing with one another, even though they shared the same owners and the same ledger.
This hit a crescendo in July when Opinsky and Maurer turned Bootleggers back into SubZero Microlounge, directly competing with the upstairs cocktail bar across the street. Shortly thereafter, they were able to recruit master mixologist Cory Leicester, who had been at Blues Central before leaving for Denver.
"We just felt it was time… Bootleggers had had its shot," Maurer said. "It's doing a lot better than it was as Bootleggers. I think it was gone just long enough. People are excited about it. There's still some finishing touches to put on it with Cory and his cocktails; we're kind of easing into it. As far as the bankruptcy goes, our sales are climbing over here and we're going to see them climb a lot more. We're getting back that clientele, a lot more ladies, a lot more people dressing up a little bit."