I decided to get a booster shot of the COVID vaccine this week, prompted by rising case counts and general hysteria wrought by this pandemic. I don't regret my decision in the slightest, but my reaction this time around rendered me into a pathetic state. Chief among my symptoms were a throbbing headache, intermittent chills, and joint pain of all things, though the last one could easily be attributed to my increasing age.
This left me craving not only soup, but something spicy to help numb the pain. It wasn't long before I settled on pho, which I consider to be one of the greatest soups of all time. Anchorage appears to be somewhat of a hot spot for pho, so my options were plentiful. After sorting through some options, I went for Gia Dinh, where I recall having one of the hottest chili pastes in recent memory. Granted, I haven't stopped by in some time, but I was hopeful about coming away refreshed and rejuvenated before calling in a to-go order.
Gia Dinh's menu is divided into several sections, including a few varieties of banh mis, a handful of rice entrees, and of course, several types of pho. Pho was on the forefront of my mind, so I elected for the pho combo, which comes with cuts of thinly sliced beef, meatballs, and beef tendon. Also on my wishlist was a grilled pork banh mi, based solely on the fact that their menu touts fresh baguettes made daily in-house. Lastly, I ordered their "new" spicy wonton soup, which contains handmade wontons swimming in a variation of their beef broth. 
The first thing I tried was their complimentary side salad, which came with lettuce, shredded carrot, and slices of cucumber. It was unremarkable in terms of appearance, but managed to surprise with a light dressing that was tangy and slightly nutty. This salad, deceiving in its simplicity, was a great accompaniment to the next order of business—the banh mi.
At first glance, I felt somewhat shorted when I first laid eyes on its modest size, though my concerns were quickly allayed upon remembering that this was handcrafted bread, and nearly guaranteed to be of higher quality. True enough, the loaf was hearty and lent a nice chew. The grilled pork was meaty, cut into thick slices and supported by bright, pickled vegetables, while a thin smear of mayo helped keep everything moist. My only critique on this is that that restaurant doesn't seem to serve the traditional fillings of pate, pork loaf, and head cheese. However, the DIY nature of their beef and eggs option certainly sounds like it may be worth a try.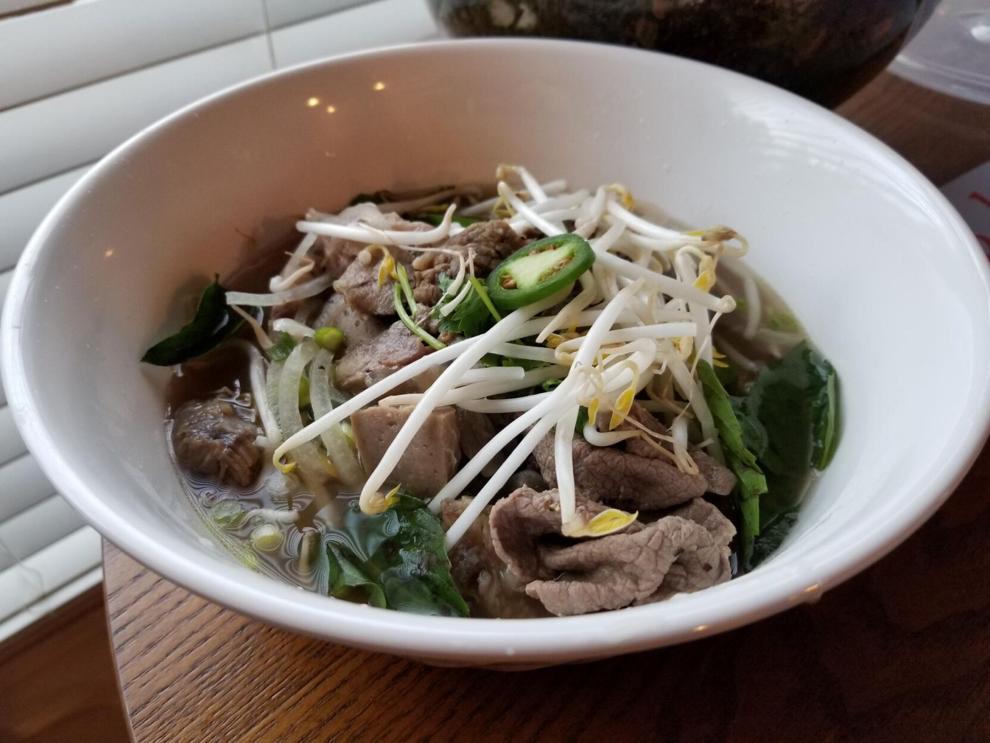 Moving on to their wonton soup, I was expecting a full-blown heatwave that my sinuses would have appreciated based on its menu description. However, I was more than a little disappointed to find that it contained naught but a whisper of heat. The wontons themselves were pretty good, being thin-skinned with a plump, juicy filling. Desperate for an endorphin rush, I added liberal heaps of the spicy chili paste that was included in my takeout order.
This proved to be a minor improvement, as it paled in comparison to the orange-hued, nuclear concoction I remember having last time I was here. That's not to say that this particular batch was bad—in fact, I was impressed by its umami-ness and found it to have considerable depth of flavor, almost like a spicy chili crisp. I would love to have more of this stuff stocked in my pantry.
The best way I could describe the pho is that the broth had a very pure and distilled essence to it, producing wafts of cinnamon and star anise. It leaned more towards the sweeter side, presumably thanks to the addition of rock sugar as a typical ingredient. There was also a distinct lack of seasoning, which I believed was meant to accommodate tableside additions such as sriracha and hoisin, as many diners are wont to do. The tendon was rendered down to a gelatinous state, and the spongey meatballs were especially savory. The rice noodles were well past al dente, but this made for quicker consumption as I imagined myself looking like Son Goku gorging himself after a decisive battle.
Gia Dinh manages to deliver when it comes to freshness and providing a nourishing experience, but I must admit—I was bummed about them stepping back on scovilles. With a few tweaks here and there, I firmly believe Gia Dinh has what it takes to become a premier destination. For now, you'll find some unique dishes (pho burrito, anyone?) and warm hospitality as Gia Dinh lives up to its namesake as the Vietnamese word for family.