There are two types of people in this world: those who have dined at a strip club, and those who haven't. I used to belong in the latter camp, that is, until my wife and I decided to explore the new food options at Mad Myrna's drag show. As for the slight misnomer in my opening statement, I think it's fair to say that a good amount of stripping takes place on the premises.
Sure, there are negative connotations associated with eating at such an establishment. But we were in desperate need of grub after a brewery crawl leading up to the show, and I had scoped some reviews that spoke highly of the food now served after an extensive remodel. Well, if there's a place for being open minded and taking risks, it's Myrna's.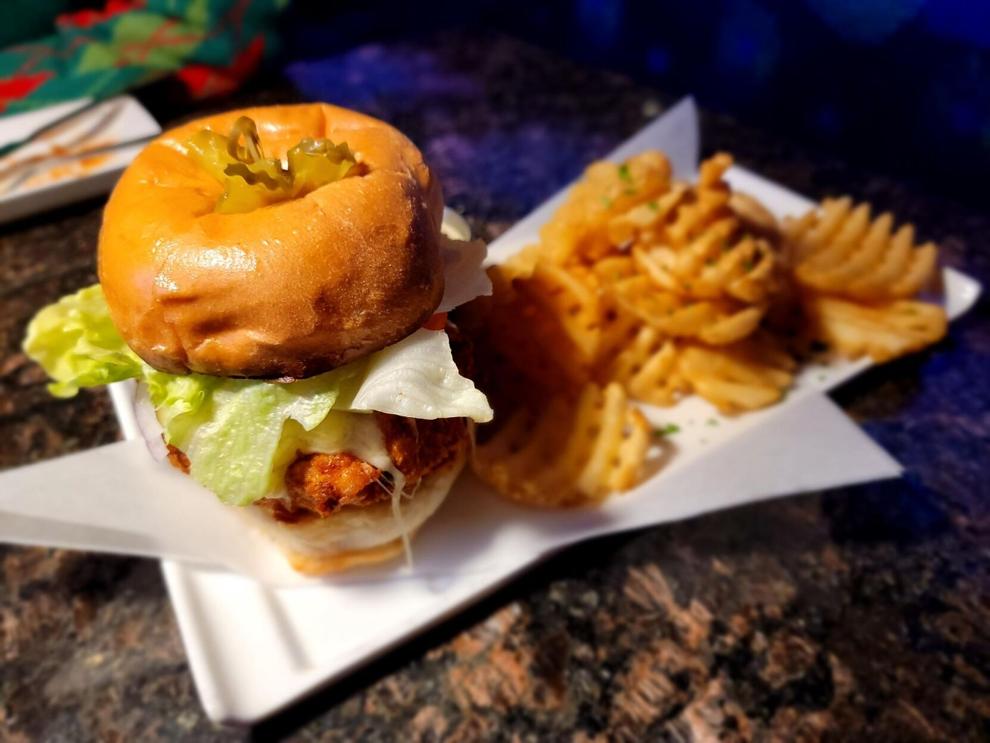 For starters, the new interior looks fabulous. Gone are the dingy wood panels and divey elements once shrouded in darkness. This is a glow up in the truest sense, as soft purple hues now illuminate every corner and the bright fluorescent carpet feels appropriately gaudy, evoking a bygone era of plunking quarters at an arcade. The central area, in particular, looks great, with massive TVs lining the walls, all synched to the groovy beat of 80s music videos.
I was already sold on the vibe here, and it wasn't long before our menus arrived. Right from the start, diners are called on to "make your mouth wet." Beyond that provocative line, there was a surprising shortage of double entendres and sexual puns, which, in hindsight, may have helped with taking their food seriously. As for what's on offer, bar food staples make up most of the menu, with a few eclectic choices to round things out: a Japanese-inspired soba noodle bowl, a full breakfast platter, and even a slice of birthday cake for dessert, which manages to elicit a spark of joy in my cold, jaded heart.
We began with an order of their arancini—hilariously dubbed 'Diva Balls', which calls into question just what exactly goes on in those dressing rooms. As I've yet to become desensitized by the ongoing fast-food chicken sandwich wars, I wanted to try Myrna's take on the bird. We capped off our meal with a pizza—the Mad Mario, topped with pepperoni, spicy Italian sausage, and red pepper flakes.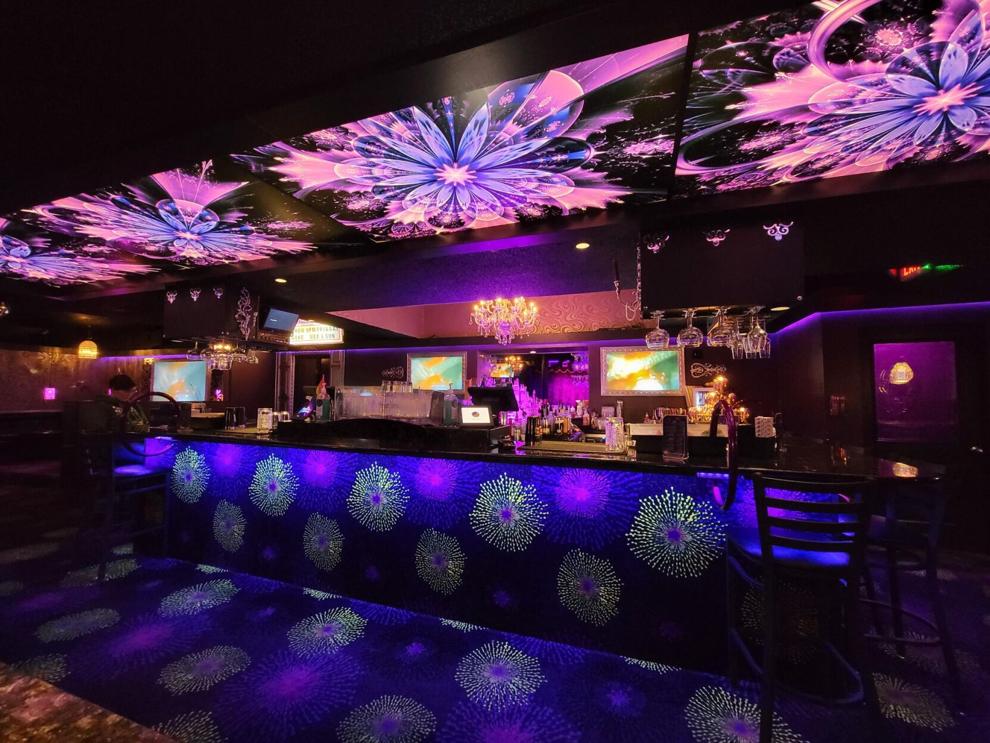 My dumb ass wanted to keep the party going, so naturally, we got more drinks. However, I was not at all prepared for the jumbo chalice that is the "Classy Trashy"—a concoction of mango vodka, fruit juices, and an entire can of champagne perched precariously upside down. It was unabashedly sweet but very refreshing, and I'm positive downing a couple of these will guarantee a memorable (or forgettable) evening.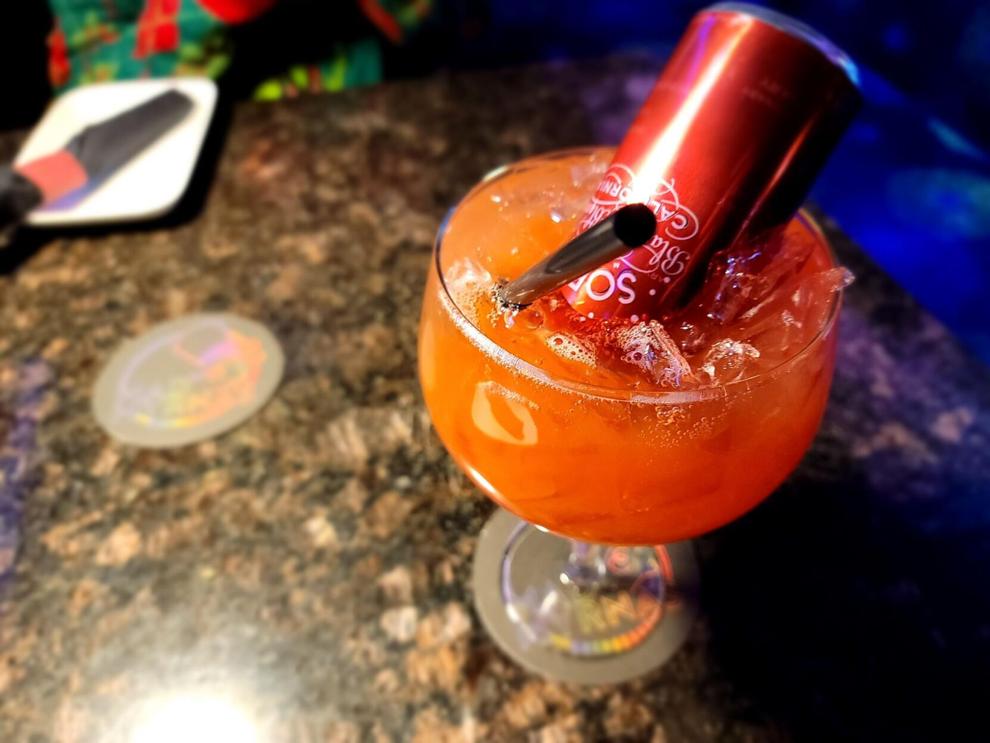 The Diva Balls were the first to hit our table. These were served in a pool of marinara sauce, with nothing more than a sprinkling of parsley to break up the drab color palette. Biting into one revealed a crunchy coating with a cheesy filling that just oozed everywhere. Some rice was interspersed throughout, but the ratio definitely favored the cheese. The sauce helped by keeping things bright and acidic, and we ended up demolishing the plate, our vitality now restored.
Next to arrive was the chicken sandwich, stacked impressively high along with an entourage of beautifully golden potatoes. The fries were flawless—save for my own mistake of pairing them with a blue cheese dressing that made for an unhappy marriage. Speaking of which, I apologized profusely to my wife, who maintains that the union between ketchup and fries is sacred and holy.
The sandwich, itself is decent, if not great, from the buttery toasted buns to the fresh produce, or at least as fresh as tomatoes can get in the middle of December. Chicken strips were employed instead of a single cohesive piece, which only resulted in there being more crunchy bits. The chicken was incredibly juicy and flavorful enough on its own without the thick blanket of melted cheese (per my request), making for one hell of a gut bomb.
Without knowing what to expect out of the pizzas, I was happy to see a decently sized pie; enough to feed at least four. The crust was folded over at the edges in an odd design choice, but the pizza was very savory with an underlying sweetness that balanced things out. It may not win any awards, but this was just right for the occasion.
From there, we proceeded to enjoy the rest of our evening in the company of Hank Van Dickerson and his lovely divas, from the captivating Lamia Monroe to the understated powerhouse that is Reyna. I already settled on the belief that Myrna's is one of the better choices in town for a night of debauchery. But after witnessing their incredible transformation and having a taste of their dining options, you'd be mad to think more fun can be had elsewhere. Good food and adult entertainment are rarely thought of as going hand in hand, but Myrna's deftly handles both as a shining jewel in downtown Anchorage.