By Beer by James 'Dr. Fermento' Roberts
Like most Americans, when I think of the Fourth of July I think of hot dogs, baseball, beer, apple pie and big American trucks. It's also the one time of the year I drink Budweiser. Forget about the beer; there's something about the red, white and blue can that just bleeds patriotism for me, regardless of the marketing hype, the insipid stuff in the container and the maker's goal of global domination in lieu of a great brew.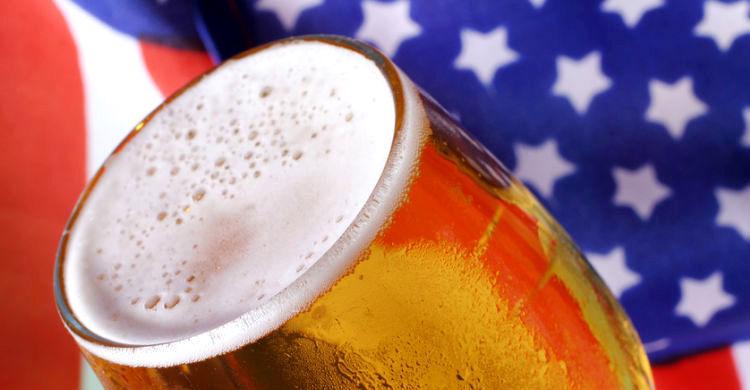 Let me step back and give credit where credit's due. Budweiser isn't a bad beer. It's a great beer, in fact, and a superior beer, if marketing statistics are at all telling. Let me clarify.
I would challenge any brewery to make a beer that's as flawless as Budweiser and one that's so consistently produced across the globe. I didn't say I liked it, but, just because I don't like a beer doesn't mean it's a bad beer. In some respects, Budweiser gets a bad rap, but that's not my concern. The American light lager style is one of the most difficult beer styles to make well and make well all the time, so I applaud Budweiser for pulling it off all these years whether I like it or not.
People like Budweiser. If you base popularity on sales, Budweiser's number 2 and Bud Light is number 4. That was in 2018, of course, but the brand does have some staying power for what it's worth.
For the record, I just drink one big, Budweiser tall boy every year. It just feels good to me for some reason and it's become an annual tradition.
I used to drink a lot of it. In fact, there was a time that I was a dyed-in-the-wool Bud loyalist. Not only did I consume the stuff in mass quantities on a regular basis, I had a Budweiser emblazoned credit card. I wore Budweiser tennis shoes, the treads of which left the Budweiser logo on the ground in my footprints. I got permanently 86'd from the Salty Dawg in Homer for drunkenly standing with one foot on a table and the other on the back of a chair to try to steal the "Alaska, This Bud's For You" neon sign from the wall. My Budweiser beach towel that I've had for years – who uses those in Alaska, right – covers the tattered cushions on the sofa in my mining camp.
What changed? My palate. What changed my palate? Craft beer. Somewhere along the line – well, exactly 45 years ago – I tasted a beer that forever changed my palate. I was a barfly at a restaurant in San Francisco. In 1972, as a sophomore in high school, I tasted Anchor Steam Beer for the first time. Craft beer as a movement hadn't happened yet – it got kicked off in the mid 1980's – but Anchor was a stand out in an ocean of swill. Anchor Brewing Company is one of America's heritage craft beer breweries.
I started drinking it. Then I started drinking a lot of it. By happenstance, I met the guy that was making it and he gave me my first lesson in what was definitely a pioneering craft beer before its time. He asked me what I liked about the beer. I told him I didn't really know, but that "well, it's got more flavor for one, there's this sort of neat 'spiciness' to it, and, well, it's even kind of thicker." This was at the bar in my watering hole when, back then, no one really cared that I was just a teenager drinking beer with a bunch of old guys at a bar.
Anchor Steam Beer's Fritz Maytag – who'd rescued the over 100 year old brewery from certain demise in 1965 – looked down at me and said "son, the beer's got more flavor because it's made with all malts and grains, not adjuncts like corn and rice, the spiciness comes from hops and there are more hops with flavor in them in this beer than you're probably used to, and the thickness is right; you're drinking a full bodied beer that's probably a little 'bigger' than what you're used to."
I was smitten. I visited Maytag's brewery the next chance I had and he showed me around. My recollection is seeing eight long haired guys hand packaging bottles of Steam in cardboard cases. There was a batch in the brew kettle too, and the smell of the malts and hops was pure magic to me.
I learned that Anchor also made a porter. I wondered what the heck that was, but I was eager to try it if it had flavor and moxie the Steam did.
Maytag knew he was brewing something different. I wondered where I could find more beers that were like his, if he didn't mind me asking. "You'll have to check out the imports, son," he said. "I'm not thinking there's a whole lot of this stuff around."
He was right. Sierra Nevada Brewing Company — another, perhaps more recognizable American heritage brewery — didn't open until 1980. New Albion Brewing in Sonoma, California was a flash in the pan craft brewery in 1976.
Maytag sent me packing with some steam beer and porter and some sage advice. "When you try a new beer, give it the respect it deserves, and study it," he said.
By study it, he meant to evaluate it and write down my thoughts. He told me to jot down characteristics including the beer's aroma, appearance, flavors and even how it felt in my mouth.
Maytag didn't realize he was giving me a gift. Although I wasn't organized, I was a scribbler back then and would fill spiral-bound, college-ruled notebooks with my thoughts on just about anything, including the people that surrounded me, what I saw and how I felt. It was a series of long, rambling diaries of sorts. Maytag not only taught me about beer, he ultimately gave me a solid subject to write about.
It was until 22 years later that I'd fully unwrap Maytag's combined gift. And, oddly enough, it was 22 years ago today that I wrote my very first beer column for the Anchorage Press. Stranger yet, that first column was about Budweiser. Since I started this column, I've seen 36 local (Alaska) breweries come and nine dry up, attesting to both the staying power and volatility of beer up here. Right now we have over 40 breweries operating the state and more in planning.
Looking back and looking ahead I wonder what my relationship with beer will be 22 years in the future. I'll be pushing 83 years old then and I'll always love and drink it no matter how old I get, and hopefully I'll still be writing about it my liver doesn't shit the bed and I can still write.