It's no secret that people love F Street Station. Some may tout its status as one of the oldest bars in Anchorage to be the main draw. There's also the mystique and infamy surrounding their cheddar cheese block along with the allure of their French dip special served only on Fridays. Its rampant popularity correlates with the fact that it's no small task to find a seat at peak hours as you're forced to wade through a sea of humans on any given night.
It's enough to rattle your COVID-conscious brain, but the world seems to be in a better place now as far as the pandemic is concerned, prompting me to dine here with my brother this past week—he's what you might call a regular, which is weird to say about anyone classified as a millennial. I, on the other hand, can't remember eating anything here outside of their French dip, which everyone already knows to be a bona fide classic. And so for this occasion, I thought I'd take a dive and see if F Street is truly a trove for seafood lovers as I've heard.
Our visit began with the customary wait time, though it wasn't too crowded for a Thursday night. We initially participated in the competitive, almost tribalistic ritual in hunting for a spot at the bar or one of several high tops. Fortunately, we found a corner table with the help of a server known to my brother. With this tenuous connection, I fully embraced the illusion of having achieved elite status and felt downright pampered as our table was frequently checked on to ensure our cups never ran dry.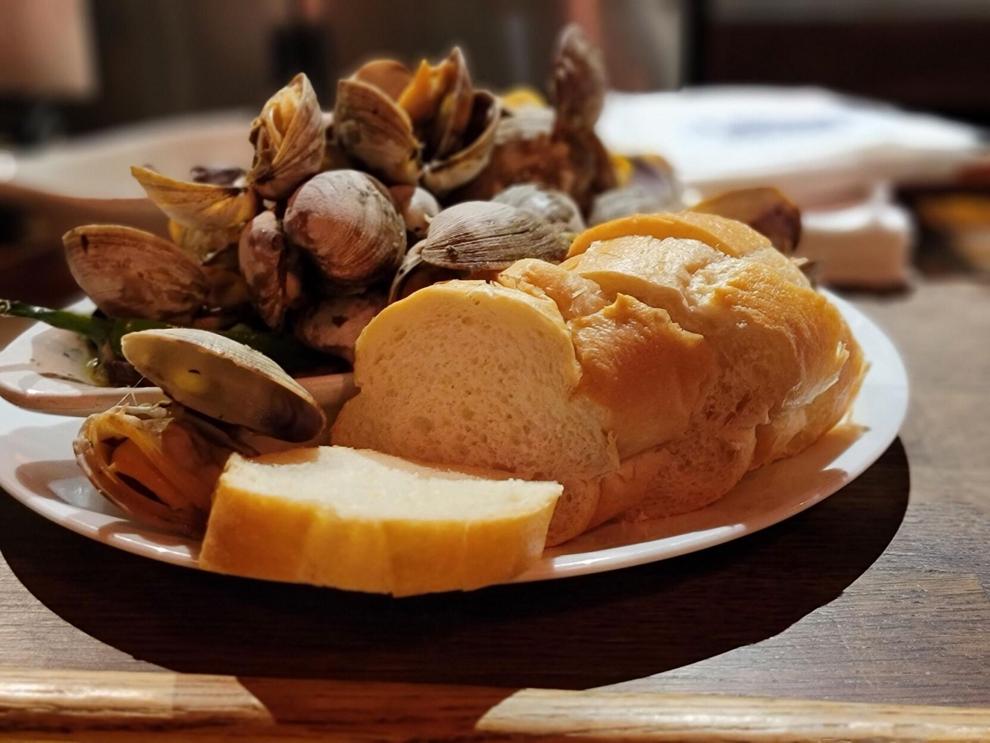 Speaking of which, my poison this evening was a couple of Long Island iced teas in yet another losing battle for my sobriety. These came loaded with plenty of ice, but no amount could have dampened the toxicity of these extra-strength concoctions as felt through an especially painful morning-after. What may have led to my demise was opting out of a heavy, deep-fried experience in favor of trying their sauteed scallops (with rotini pasta for an extra dollar). Of course, no seafood excursion is complete without some fresh oysters, which ended up being an even greater blessing upon realizing ours was the last batch for the night.
The oysters were as fresh and briny as they come, though I was a little caught off guard upon witnessing my brother commit the heinous act of dumping out the precious liquor. Regardless, these were some of the best oysters I've had in recent memory—so much so that there was no need for the accompanying cocktail sauce which would've otherwise detracted from their natural, oceanic essence.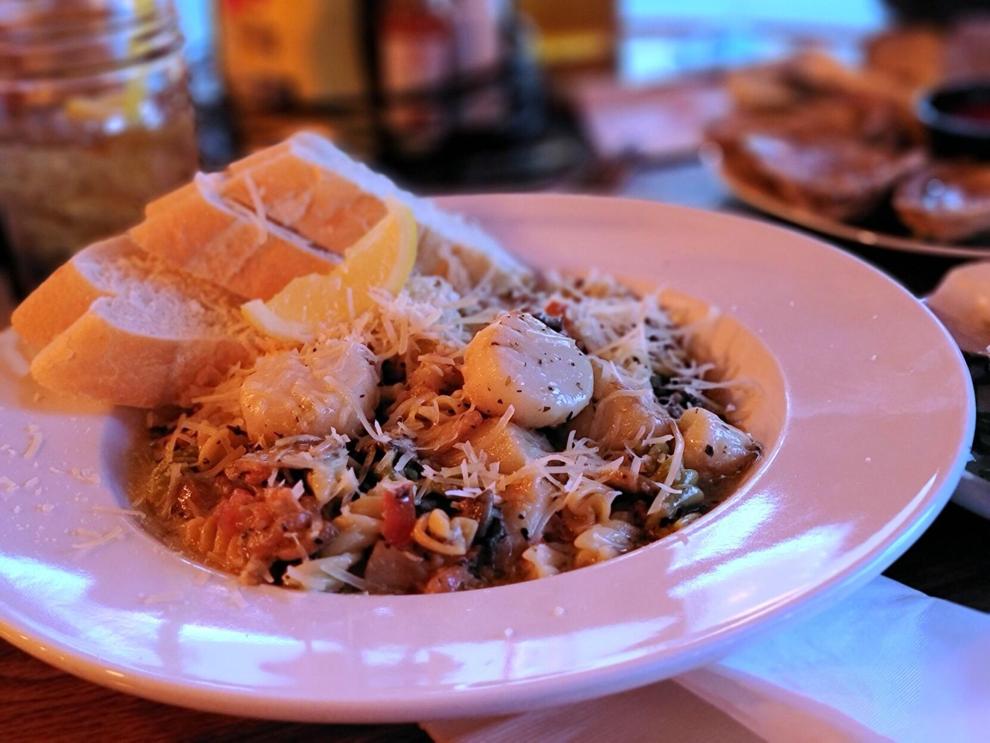 The shellfish soiree continued with the scallops, which were sauteed with garlic, shallots, mushrooms, and diced tomato. Sadly, this fell a little flat. Mollusks are at their best when prepared close to raw, but these were rather firm and surprisingly bland. A sprinkling of grated parmesan did little to help as the dish was saturated in oil and largely under seasoned, with only a hint of brightness coming from the tomato. The rotini was overcooked and amounted to nothing more than mere filler, and its inclusion paired with the intense oregano almost gave the impression this was a pasta salad masquerading as something greater.
While I had an enjoyable time overall, I couldn't help but feel this wasn't the best representation of what their kitchen has to offer. So, I ended up making a return trip later to go straight for the good stuff—namely, fried halibut and steamed clams. I'm glad I did, because I would not want to have missed out on these standout entrees, both served in generous portions. The halibut came with a stack of freshly cut fries and consisted of hot, flaky chunks of filet encased in a crisp beer batter. And can somebody please tell me what goes into their homemade tartar sauce? Because I could honestly drink that stuff straight.
The clams were phenomenal and could very well be the highlight of their entire menu. That's if in-house bartender Andi is to be believed, as she happened to disclose this dish as being her favorite. You haven't lived until you've experienced the beautiful alchemy that is garlic butter combined with clams, and it's done exceptionally well here. Even the bread on the side was appreciated just to be able to sop up the remnant juices. In other words, this was simply divine. 
F Street may come up a few clams short of channeling absolute seafood nirvana, but at the end of the day, they've got it where it counts. With an ardent fanbase that keeps this place filled to the rafters, there's not much that hasn't already been said about this local institution. Come around often enough, and you too may find yourself wishing you were a regular.