It occurs to me that Filipino cuisine is one of the least recognized out of all the foods originating from Southeast Asia. That's in spite of the fact that Filipino Americans make up a significant portion of our nation's AAPI population—most notably in Alaska cities such as Kodiak and Juneau.
It's clear that many are familiar with pho or pad thai, but few seem to know anything about sinigang or dinuguan. Which is a shame, because both standout dishes represent cooking that expertly blends salty, fatty, and acidic flavors—oh, and not to mention sweet. Filipinos love sugar, as exemplified by their banana ketchup—a uniquely Filipino ingredient that's liberally applied to a homegrown version of spaghetti. Whatever the reason for the lack of spotlight, there are many surprises to discover within this food realm deeply rooted in Spanish and Chinese influences. 
At least there appears to be more Filipino restaurants cropping up in Anchorage these days. While most seem geared towards takeout or serve cafeteria-style in a concept called turo-turo—or "point-point" in Tagalog—Bahay Kubo on Minnesota offers traditional dine-in service along with the fact that they might just be the longest running Filipino restaurant in town.
I am fortunate to have been introduced to this cuisine by marriage into a Filipino family, so I can proudly say I've been acquainted with such delights as lechon and pancit palabok. Still, I must admit that I'm a relative novice, so I enlisted the help of my wife to sample some of the food of her people at this unassuming eatery.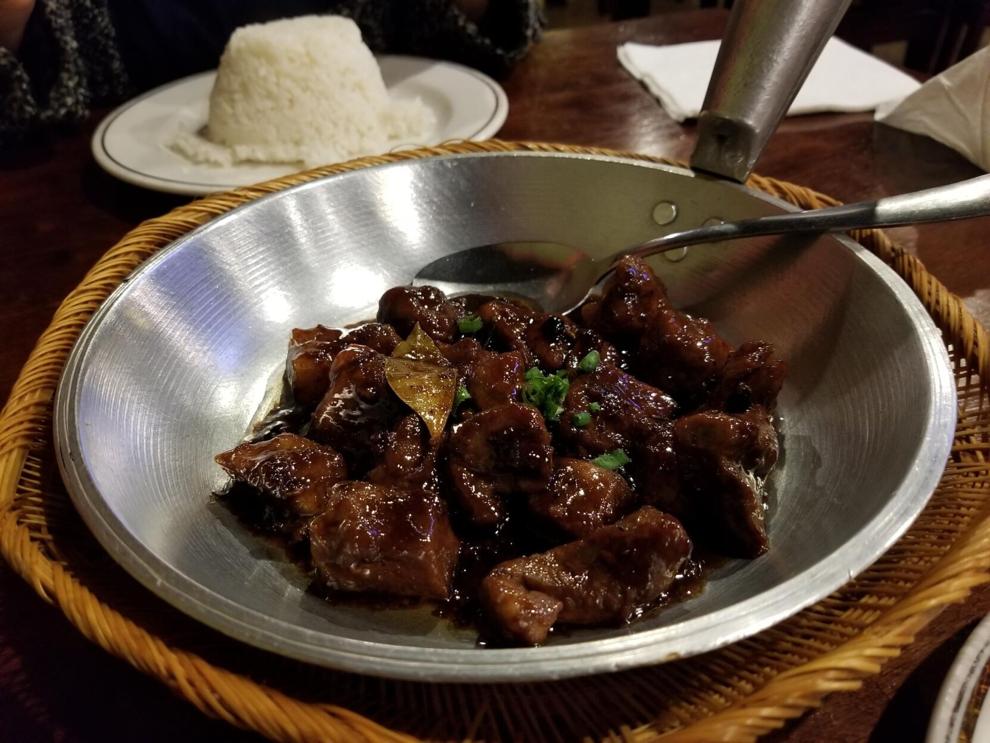 Our meal began on a muted note, as the restaurant was either understaffed or their service simply inattentive. Nothing too egregious, although it may have been worse if we weren't the only patrons for most of our stay. Anyway, I was kept occupied by the pulpy Filipino show playing on their television, which showcased perhaps the single longest shootout ever put on film. I am inclined to say this was worth the visit alone, but I digress.
Adobo is probably the closest thing to a national dish for the Philippines, so I was eager to try this restaurant's signature take compared to some of the homier preparations I've had before. Kubo's adobo stands out with a thick, syrupy glaze that coats chunks of slow braised pork. It's absolutely essential that this be paired with white rice, as there's no denying just how much of a salt bomb this was. Yet a touch of vinegar helped liven things up and the combination results in an umami knockout that's impressive considering how few ingredients are involved. My wife, however, thought it could have used a bit more acidity; this was soon rectified by her adding some splashes of tableside vinegar. 
Another comfort food staple we landed on is kare kare, traditionally made with oxtail and tripe stewed in a savory peanut sauce with hearty vegetables. This version substituted a lesser cut of beef, but it managed to retain the textural contrast and earthiness that makes this "curry" so addicting. While the sauce was a tad underseasoned on its own, further enhancement could be made with minor additions of the accompanying bagoong—fermented shrimp paste—which is best described as the culinary equivalent of a kick to the face.
Finally, we arrive at the genius invention known as sisig. Sisig is a mishmash of the less desirable parts of a pig—mostly the face and ears—diced up, seasoned, and served on a sizzling platter with onion and chiles before it's finished with a freshly cracked egg and some citrus. In other words, it's the quintessential drinking food. Chewy, gelatinous, and crunchy all at once, Kubo's offering represents everything that's great about this scrappy dish that the late Anthony Bourdain once praised as the perfect gateway into the cuisine. If the idea of consuming fried off-cuts of pork doesn't appeal to you, then I'm sad to say that you are already lost.
Kubo doesn't redefine the genre of Filipino food, but rather highlights its strengths as a source of pride and reminder of home to millions around the world. Although the service here could certainly use some improvement, that hardly matters when the food is this enjoyable. My wife was understandably reluctant to say that it surpasses her mother's cooking, though not everyone is lucky enough to have a proper nanay or tita. Thankfully, you won't be settling for less by experiencing some of the Philippines' best eats at Kubo.