My palate really doesn't know what to do with me; it's as confused as I am these days. Last Sunday, I mowed my lawn. I didn't do it to adjust the height of the grass. I did it to suck up the leaves that were blown from the trees, then covered with snow prematurely this year, after which we've been experiencing the transitional melt/thaw seesaw that sends everyone scrambling for winter tires. That's not the point. October 24 is the very latest I've ever mowed my lawn in my 43 years in the state. 
What's the point? This is a beer column, right?
Changing seasons usually alter my taste for the beer that's so central in my life. When the seasons are slow to change – like this year - my body feels it, kind of like how my bones feel different when the cold weather starts to set in. Without the climatic signals, or at least experiencing them slower in coming this year, I don't know what to drink.
Well, that's not necessarily true. In fact, it's silly of me to say it because I always know what to drink, I just remain undecided on the various formats, since our local brewers, like the weatherpeople, like to predict the change of seasons and brew accordingly.
Midnight Sun Brewing Company got it completely dialed this year. This was first evidenced when head brewer Lee Ellis nailed it by releasing the 2021 version of Termination Dust, a Belgian-style barleywine, almost perfectly coinciding with the first sight of the famous white line on the Chugachs that sometimes comes and goes, but is one of the most sincere harbingers of the onslaught of winter around here. 
I didn't dash right out and grab a copy when it hit the grog shop shelves. Stupider still, I passed up a glorious opportunity – even while standing right there with it under my nose at the bar in the brewery's famous Loft – to engage in a tasting flight of vintage Termination Dust pours from the cellar that were on tap last week. I did focus on the 2021 version, which helped to partially rest my palate for the coming season.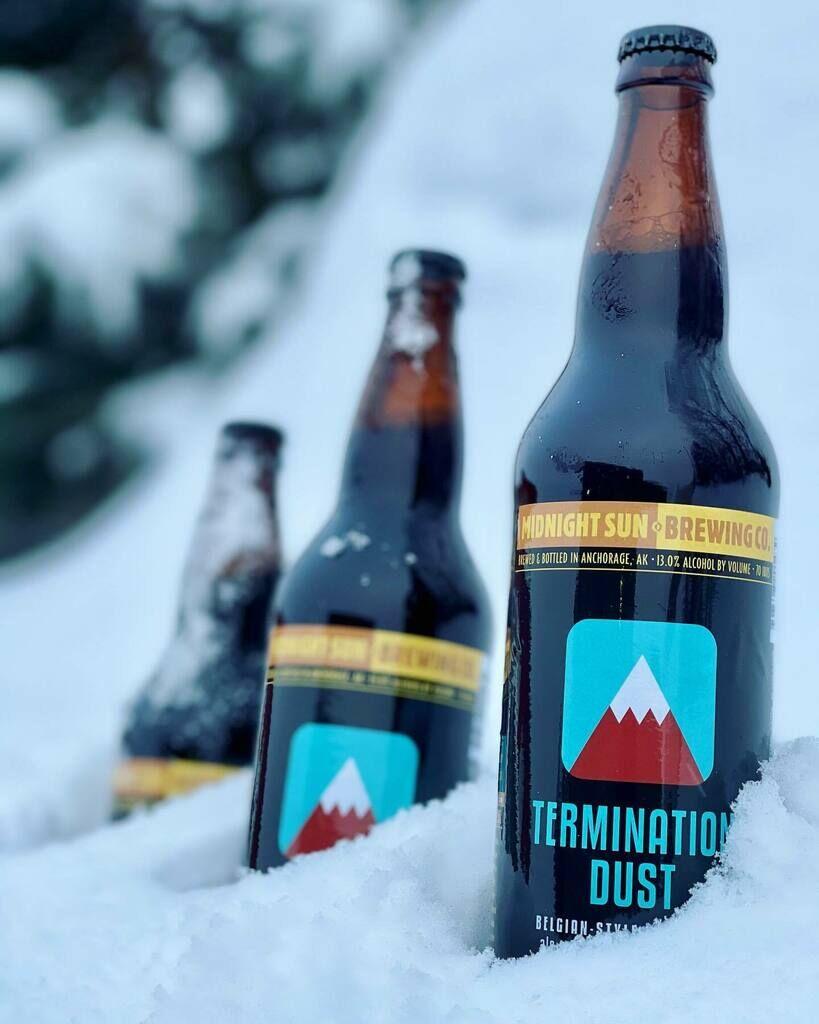 Termination Dust weighs in at a hefty 13 percent alcohol by volume, and downing four of them in quick, linear succession – despite them being small pours – would have been disastrous because I was driving around Anchorage that night, seeing what I could dredge up in fall-like, or approaching-winter beers, and didn't want to slam my palate door shut on my second stop. I'd intended three more stops that evening, after all, each of which would have involved multiple beers. "Safety First!" yelled this beer warrior, as I tipped the glass back, and was content with a slightly taller pour of this year's version.
Instead of easing you into the season, Termination Dust drop-kicks you over the winter goal posts in terms of full-on deep robust flavor riding on a medium-to-full mouthfeel in an appropriately lower-carbonated rich brew. Never drink this stuff straight up out of the bottle (unless it's an emergency and you're stuck in the wilderness or somewhere sans glassware. I say this because I've had to myself). Pour it into medium sized snifters and share it with those you care about. With its potency, the dark brown, opaque brew is made for this kind of presentation.
The beer's aged in oak bourbon barrels, and that feature's pretty obvious when you haul the glass up to your nose. Poke around and pick out hints of figs, raisins, other dark fruits, leather and plenty of caramel and brown sugar, along with a light peppery charge, indicative of the Belgian twang the beer's famous for. 
The flavor is a faithful follower with the same heavy, rich dark beer notes, where all of the actors take their places in the sweet-centered beer. Bourbon plays a more subtle background part, and the dark fruits and malts blend center stage across the palate. Vanilla's appearance in the beer here is a little more than cameo, and booze doesn't quite steal the show – it's got a significant presence in the overall presentation - but well short of making the big beer hot or solventy. 
The warm-ish swallow is a reminder of the beer's muscle, but it goes down very smooth and almost velvety, but far from slick - which can be the sensation with other big bastards like Termination Dust. 
Another solid seasonal contender this year is Midnight Sun's Smoke Season. I welcome this style every year as another solid brewer's barometer of changing seasons. This is a fun beer that I didn't expect from Midnight Sun, so the beer turned out to be another nice seasonal surprise. Of late, I love drink Smoke Season alongside sizeable rations of 49th State Brewing Company's award winning Smok, formerly Smoked Marzen.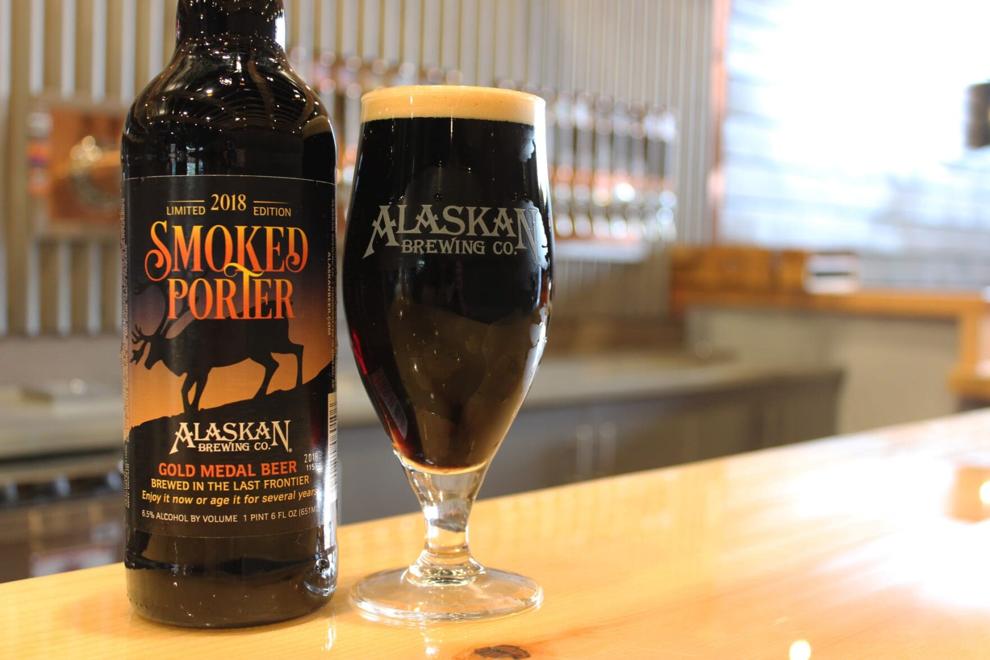 This is while I wait for the internationally famous Alaskan Brewing Company Smoked Porter to come out - like a 16 pound bowling ball - and knocks the other smoky pins asunder, not so much with potency, but intensity in flavor. 
If anything 49th's Smok and especially Midnight Sun's Smoke Season are the tamer cousins, focusing on balance in terms of the smoke flavor's contribution instead of it being the dominating feature as it is in Alaskan's version. Look for Alaskan's Smoked Porter to hit the shelves coinciding with or right after the First of November. 
I'm not intending to rack and stack here; all three of these brews are outstanding in their own right, and fit different niches across the palate, depending on a drinker's both tolerance and taste for what's considered a very aggressive beer style. Barleywines and smoke beer have a bigger presence in our state than anywhere else. It's fun to be an Alaskan for a lot of reasons, and our bigger beers contribute to that air of superiority when we glance at our southern neighbors.
Smoke Season is Smoked weissbier. I appreciate the fact that instead of the estery profile associated with a true Weiss, Smoke Season is tamed in that department with a bigger wheat grain bill and a German ale yeast strain to spotlight the light addition of smoked malt rather than force it to compete with a weissber's normally defining elements. Simply said, Smoke Season is a light (both in color and body), easy drinking beer that balances the three crucial elements in the style in my book: it tastes like a beer first, it nods respectfully at the base style's presence, and the smoke flavor and intensity is contributory rather than overwhelming.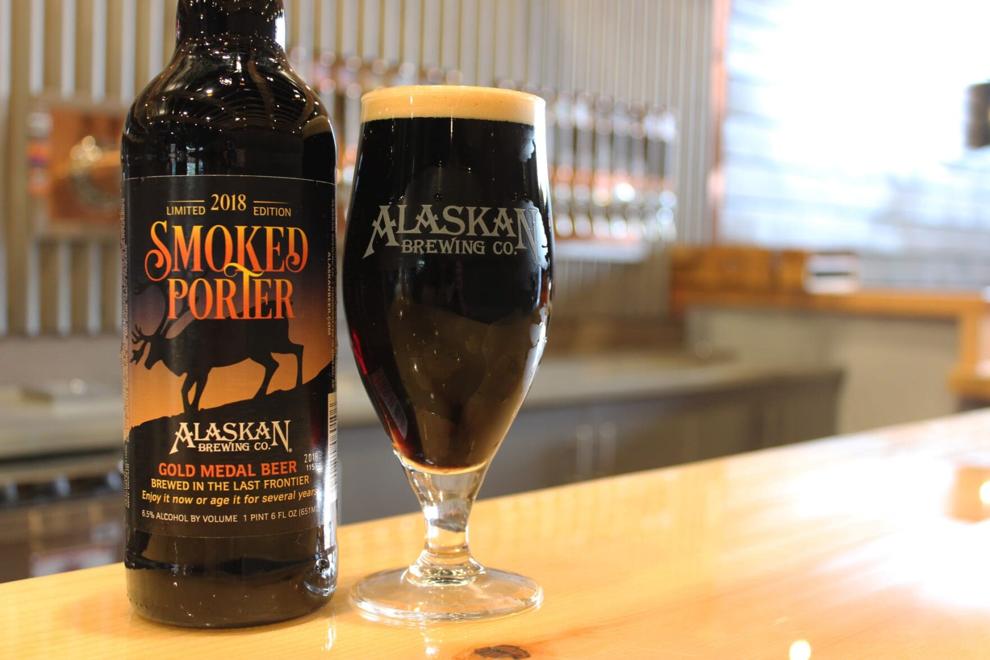 I won't dwell on the style too deeply until Alaskan's Smoked Porter comes out and I can enjoy all three – and possibly others side by side, but suffice to say, these are excellent choices to hug a campfire with on late season forays into your favorite camp areas with friends. Oh, and one last thing: despite how they sound, these aren't huge beers: the three of them average 6.2 percent alcohol by volume. Don't' forget the snifters.
Midnight Sun continues to lead the pack in celebrating seasonably with a strong, continued transition to bigger, bolder beers. Bigger, bolder beers at this time of year are a hallmark for the brewing institution, and this year's no exception.
Starting yesterday, Midnight Sun launched Cellarween, a celebration of rare vault beers that extends between now and Halloween. Expect at least 15 knee-knockin' classics to be dredged up through this event with temptations that include the brewery's release of the last draft versions in existence of 2017 Arctic Devil Barleywine, 2015 Suicide Run and Crew Brew. "Backer-uppers" to these beyond noteworthy brews include giants like three different vintages of Berserker Imperial Stout; Dark Night, a winter warmer, and T.R.E.A.T., or "The Royal Eccentric Ale Treatment," an imperial pumpkin chocolate porter; one of the more anticipated beers of the season, and certainly one not to be missed. 
If you need a sudsy drop kick over the goalposts into winter, Midnight Sun Brewing Company is the best playing field so far this year, but other breweries are in the game, so keep your mug to the wall for what's coming as we slide into winter.