It looks like we are heading into what will be a beautiful Alaskan summer, and the crew at 49th State Brewing Company on 3rd Avenue is getting prepared for busy days full of tourists and locals. Ellen Maloney, director of promotions and events, is excited to bring back many of the special happenings that customers enjoyed last year. She is also anticipating the rollout of some new features, while remaining true to the ideals and values that have made them a popular destination ever since the launch of the Anchorage location in 2016.
Following a successful new annual event called a "Cellar Raid", where loyal beer geeks got to dive into some of the exciting beers that have been aging, Maloney is now looking at the summer cocktail program which will be rolling out in the coming weeks. This program will be thoughtful with consideration to upcoming events such as First Fish. Copper River Seafoods has always held the special day when the salmon start rolling in, and while it has traditionally been done on the tarmac at the airport, last year it moved to 49th State. This year will be at 49th again, with local chefs coming to get their hands on that first piece of the fish that has helped make Alaskan cuisine so well known. Guests will be able to get tickets for this event, as they make their way through and try out different culinary styles. It's just one part of the local fare that is offered.
"A large portion of chicken in the restaurant is local Alaskan, from Polaris farms, and we have plans to eventually make it completely local. It's more than just buying local; we make it full circle. We take our spent grain, give it to the farmers, the animals are raised on it, and we buy the meat back," Maloney said. "Moffat farms, with the beef and pork, we have an Alaskan beef burger with local bacon. Everything on that burger is all Alaskan. We have Alaskan yak, and that started up in Denali."
49th State also features Alaskan salt, spice mixes, seafood like oysters and shrimp, and in the shop the printing is done locally on the merchandise for sale. Another feature for this summer is that in addition to merchandise, they have a bottle shop featuring beers, liquors and wines that people enjoy while dining.
A promotion that the bar is participating in right now is the Game of Thrones Scotch Whisky Map. Customers can get a print of the different regions in Westeros and as they try each whisky, they will get their stamp. Upon completion, fans of the HBO show can turn the map in for a Game of Thrones goblet. The scotch set for this collection adds to what is objectively one of the best collections of whiskies in the state. Both the Healy/Denali location and the Anchorage restaurant have over 300 bottles that are proudly on display. Part of the reason for the collection goes beyond the liquor itself and brings it back to the brewery and food side.
"It's not just a love for whiskey, but it's also the barrel aging the beer," Maloney says. There are also whiskey dinners that will be happening on a semi-regular basis. Recently they had a bourbon dinner and coming up shortly there will be a meal paired with Japanese whiskey.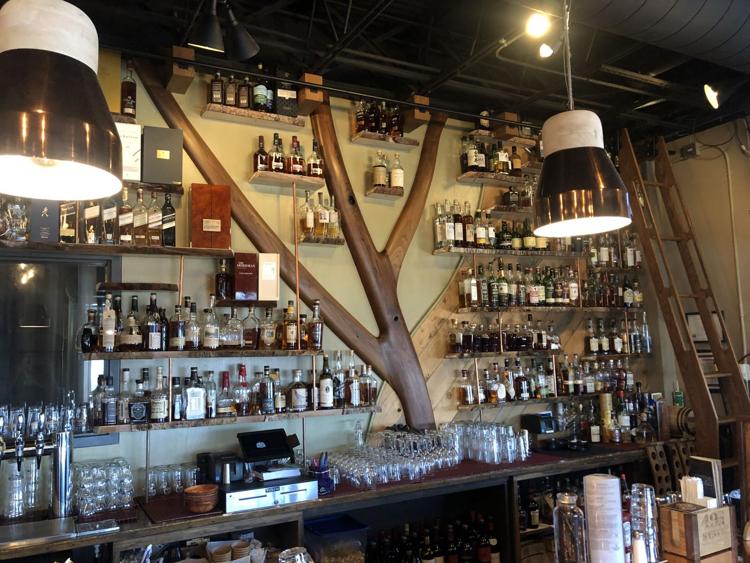 Another reason that 49th State has remained so popular is that the venue can become so many things beyond an eatery.
"We really do think of it as a community center. We have non-profits, Scared Scriptless, Alaskan World Affairs groups, and so many more. We have had ambassadors from the Czech Republic giving a speech, and the next day there is a wedding, and then the next day it is a high school reunion," Maloney said. Maloney also pointed out that, even if it is not a scheduled event, the setup in the bar area is always ready to seat large parties and groups. "We always try to remind people; we have big community tables," she said. "We can handle large groups. Not a lot of places have two twelve tops that are permanently there." In addition, there are a few tables in the bar area that can easily sit groups of 8 to 10.
Behind the bar on the whiskey wall there are a few elements that speak to values and history that the company holds dear. The wooden tree that decorates behind the shelves is from a local furniture maker. The story continues to when that craftsman found out that he lived in the childhood home of one of the owners, he ended up using materials from that owner's father's woodshed to complete the functional art installation.
Brewer-turned-bartender Jack Carpenter works in front of that art and enjoys the challenges and fun that the job provides. Whether he is busy, or he has more time to spend with each customer, he finds the joy in it.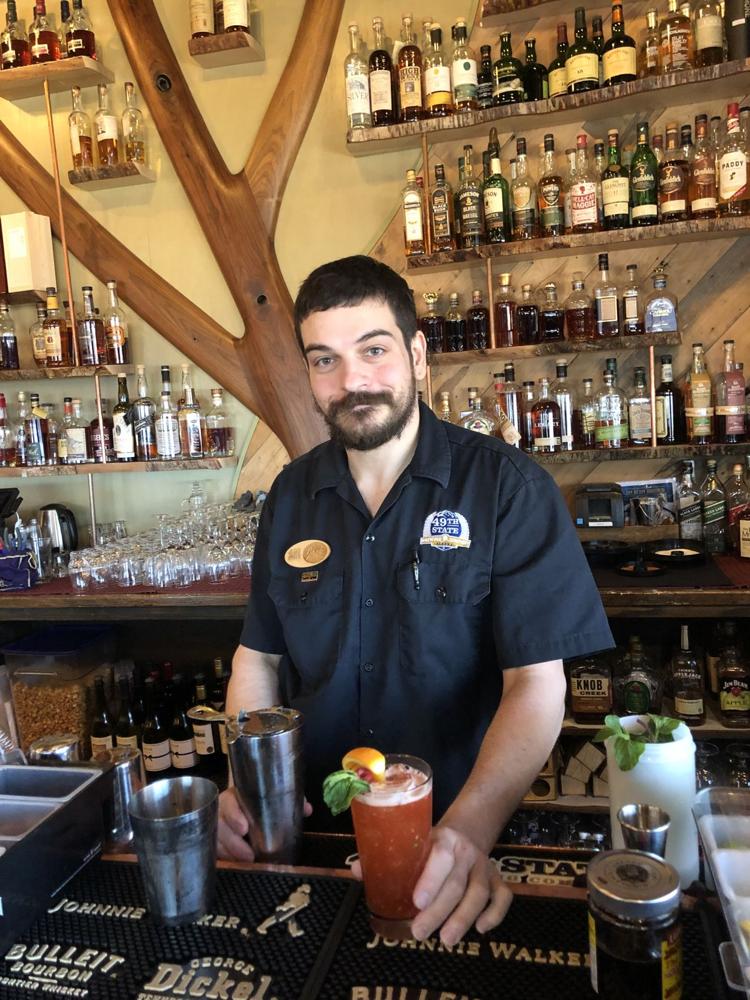 "I love having the opportunity to guide someone and get them there." he said. "I like finding what somebody wants. I like it when someone doesn't know what they want, and you get a read on them, and you ask some questions, and finding what they didn't know they wanted."
Carpenter has been in the industry for quite some time and made the switch from creating beer to serving it around six years ago. Working for 49th State gives him a chance to combine his knowledge of beer and his love for people.
"I appreciate it for the social outlet, to be creative, and the hours are flexible, and at a location like this, the volume is a good thing," he said. He is also grateful for the company itself and thrives in an opportunity to strive towards great customer service. "I love this company because from the top-down these are smart guys with a clear vision of how they want the guest experience to go. That is where they started. They started with an understanding of what outstanding service is and making a memorable experience with the guest. That's the focus every time. Being a part of that team, sending people out of here in a great mood, and making them happy to be in Alaska, it's the fun of work. It brings significance to a job that could be tedious."
Maloney and Carpenter are excited to be part of the 49th State Brewing Company team for another summer in downtown Anchorage and beyond all the special events, music that will be happening, and cocktail and food menus that will be presented, it all comes down to the customers. As Carpenter said, "Showing people love, patience, and making their day better with food and maybe some drinks, is fulfilling and it's good work."
Muddled Raspberry and Mint