Situated on historic 4th Avenue in downtown Anchorage, Haute Quarter Grill is not ostentatious and will not stand out among the brightly colored signs promoting the tourism aspect that is known in this area of the city. Find your way inside and you will discover the same type of atmosphere. The simple wood and brick décor feels inviting, and the ample dining room welcomes you to come enjoy favorites that are created and served with care and precision. The staff at Haute Quarter clearly enjoys their jobs, and with their experience levels, they know that they are talking about.
Bartender Iris Currey has been in the industry for close to 20 years and has been a bartender since close to the day that she was able. "I have been bartending since I was 21, so it's been around 13 years. I have been working in restaurants since I was 14."
This mixologist, with her bright smile and fun personality enjoys her job at the downtown eatery for many reasons. "I love our regulars. We have a lot of them, but I really love the kitchen. I love love love our kitchen. It's so nice to work for a place where you don't have to worry about the quality of the food, and it comes out consistent every time."
Her coworker, Jared Hayes, another regular face behind the bar, echoes the sentiment, saying "The staff is all very seasoned. I have worked a lot of places. This is probably the best kitchen that I have ever worked with."
Both bartenders have different favorite dishes, with Currey leaning towards the seafood offerings — her favorite dish is the scallops. "They are always amazing," she says, while Hayes leans to the turf side. "The blackened prime rib," he says. "It comes with a creole hollandaise sauce, a cilantro cream — it's delicious; one of my favorite steaks in town."
Server Christine Simonsen also loves the kitchen staff and the fare that they offer. She gives a lot of credit to the hours that the restaurant operates and the smart scheduling by management. With hours being so limited, the staff is able to ensure that the same person that made your jambalaya last night will also be making it next week, and it is a comfort for a small staff to be able to trust one other and the product that they are providing.
Both bartenders do have one thing in common, and that is whiskey. Currey and Hayes both enjoy the spirit when they are on each side of the bar. Currey says "Bourbon and Rye. I am an Old Fashioned and Manhattan cocktail type of bartender." Hayes agrees saying "I drink whiskey and I like to make whiskey cocktails." Currey finishes by saying, "Whiskey, notice the correlation?"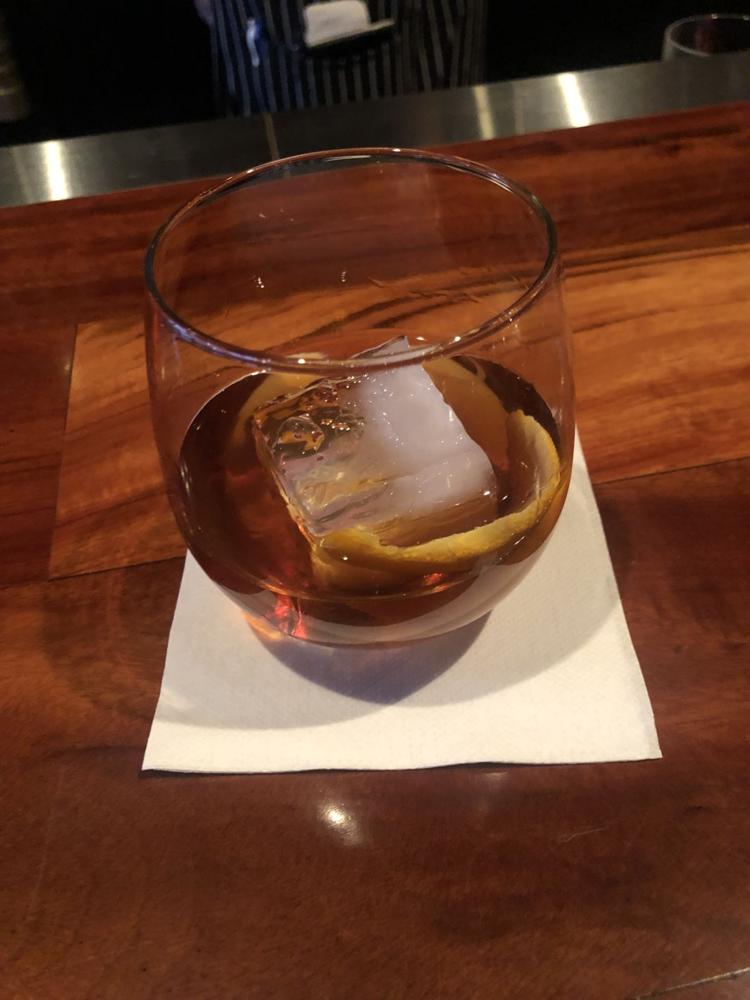 The staff agrees that their take on the Old Fashioned will always be a highlight of the restaurant, and that it is probably their most popular drink. The classic drink is a strong one, and usually not taken lightly by any 'tender worth their weight in spirits. A mix of sugar, bitters, fruit, and American whiskey, this classic can be made hundreds of different ways, and only your customer will know if it is correct for them. In the Haute Quarter interpretation, it is made with mass appeal in mind, but also done with the kind of twist you would expect from this dining establishment that is the perfect mix of high-end and casual dining. Currey explained the "Oldie but Goodie" saying "That is our play on a classic Old Fashioned. It has a rye instead of just a bourbon, with black walnut bitters, and a caramelized orange peel with simple syrup, it's simple and clean with a lot of flavor." Hayes added that it is one of his favorite cocktails to suggest to folks when they are asking for recommendations to pair with the blackened prime rib.
Another suggestion offered by Hayes is that customers check out the wine list that is offered. A centerpiece of not only the decoration but also the libations is the beautiful glass wine cellar that is prominently displayed next to the bar. It pairs well with the extensive offerings of spirits that the bar has to offer. Simonsen pointed out the classic spirits at reasonable pricing saying "We have a huge whiskey selection and great prices on our high-end liquor. You can get great whiskey for a great price. We have high end tequila like Don Julio 1942 and the Avion for great prices also."
She is also well versed in helping people find a draft beer that will be to their liking. While the bar only has local offerings on tap, she is confident that she would be able to even help a Budweiser fan find something to their liking. "We have a variety from really dark to really light, but we have a local pilsner so that is what I would recommend. It is the easiest to drink. If you wanted a little more oomph you could go with the Alaska Blonde or if you like wheat, we have the Kassik's Hefeweizen, or the Alaskan White."
While Haute Quarter Grill is only open for dinner service from Tuesday through Saturday, the staff is always happy to come to work and consistently looks forward to seeing their regulars. Simonsen is looking forward to some slow down in tourists for the winter but always gets excited about the change in the summer.
"We get such a drastic change between winter and summer seasons. Once you are sick of everything being dark and chill and cold in the winter you turn around and it's bright and crazy and there are tourists everywhere! Every time you realize you are getting sick of the season it's about to change and I look forward to it."
Hayes knows that sometimes those same regulars wish that the location was open more but ultimately puts his faith in the owner to do what is best. "A lot of people wonder why, but we figure that Alex has been in business for over 20 years and he knows what he is doing."