Last Friday at Matanuska Brewing Company's midtown location, every got lei'd.
As Anchorage diners are embracing patio and outdoor dining Matt Tomter and his crew at the location off of Northern Lights and C Street have decided to lean into the mandate and have a little fun with it.
"The worst decorations in all of Alaska!" said Tomter "Have you seen what we did in there? You can't get any tackier!"
With a combination of typical and unusual decorations the tented off area is reminiscent of a high school prom committees' choice to throw a luau-themed affair. "Full Tiki drinks just like you are in Hawaii," he continued "If you have to sit in a tent, might as well make it as weird and different as possible."
In addition to the décor, the brewpub decided to add an island inspired food menu as well. Common dishes like Kahlua pork sliders and tacos, a Big Kahuna burger, and an Islander Pizza are available, as well as menu items that are becoming increasingly popular around Anchorage that feature Poke including a salad and nachos. One menu item that is sure to become a craving for many is the Mango Lava Wings for anyone that loves the combination of sweet and spicy.
To pair with the Hawaiian inspired food there is a cocktail menu of island drinks that are more on a global scale. While the Tiki itself comes from Maori culture in New Zealand, variations can be found in Hawaii as the ki'I, in Tahiti as the ti'I, and similar stories that inspire the Tiki can be found in the Cook Islands, Marquesas Islands, and Easter Islands.
The drinks on the menu seem to be inspired by all island culture and flavors. With 12 different drinks it will be difficult for some to choose a favorite. There are twists on classics like the Blended Mojito which is a favorite drink from Cuban bar culture but blended for more of the beach life that people find in places like Honolulu. It's often difficult to find blended drinks in Anchorage, but Matanuska Brewing goes beyond the mojito and has two different daiquiris on the menu; a classic strawberry and a mango daiquiri that may need to stay on the permanent menu. The most creative blended drink is the Lava Flow with a triple pour of lite rum, blended with coconut and a lava flow of strawberry. Alaskans are very familiar with volcanos, but the island flair is more enjoyable when experiencing one.
A twist on the Long Island is the Hawaiian Island Tea with three kinds of rum and a pineapple iced tea. Any time that a cocktail has Iced Tea in the title you should be careful, and this concoction is no exception. Be careful with this heavyweight libation. Another exciting option is the Pirate Juice with a vanilla and spiced rum, soda water, and a float of chila cinnamon rum cream. It refreshing to see a cocktail on a menu that is island inspired that does not only rely on tropical fruit flavors to stay true to theme.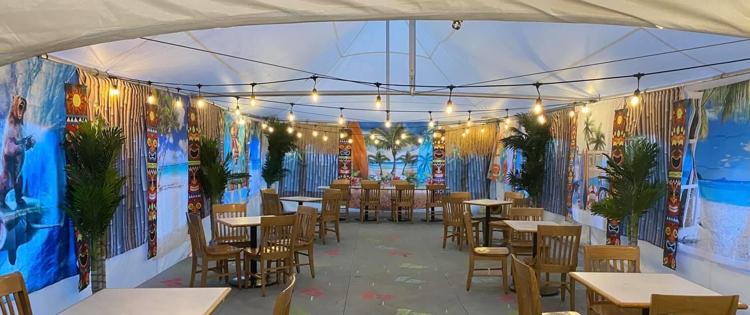 One drink that is very true to theme but also has a creative use of flavors is the Your Passion It. With passion fruit rum, key lime rum, lite rum and orange juice it is the perfect combination of flavors to transport you to the Caribbean, the addition of lemon lime soda and a splash of dark rum and the bookend flavors needed to turn this creative item into a classic the people will be trying to copy every time the temperature starts to rise on an Alaskan summer.
Tomter and his crew are doing their best to take the new normal and have the most fun with it. Rather than a log that customers sign into when arriving they are given an entry form for a drawing that they can be entered in as long as they put the proper information needed by the municipality. When they must have their service under a tent in the parking lot, they turn in it to a cheesy island experience, complete with Tiki glasses and even some ceramics shaped like parrots. Even the water and soda glasses are set to the island theme, and as summer continues, they may find even more ways to have fun in their new parking lot paradise.

Restaurants around Anchorage are finding ways to make outdoor dining the best experience they can for their customers. It won't be easy, but it shows the care that these proprietors have for their customer base, and the creativity that is required in order to thrive in these troubling times.
As Tomter said "We all just got handed a big bowl of lemons a couple weeks ago. When Matanuska Brewing gets handed lemons, we make them Hawaiian."
You could also add one of those slices of lemon to a Matanuska Brewing beer which are also always available in the Tiki tent.