When Alex and Lynn Perez were thinking of a name for their second restaurant, they chose to pay homage to Haute Quarter Grill, their original venture that had brought them success. One booth became the most desired seating for the many groups of family and friends to Haute Quarter, given it's proximity to both the kitchen and the bar. The decision to carry over the name of this booth, but also what it meant to them led to what is now a staple for casual dining in Anchorage. "Table 6, Where friends and family meet."
When you first walk in to Table 6, located in a strip mall off Denali street, the décor alone will tell you that this is going to be a unique experience. One side of the eatery is all glass walls and high-top tables. On a wall closest to the kitchen is a mural of sandwiches playing strip poker. Multiple flat screen televisions are tuned in to all the sports channels, and natural light floods the area. On the other side, most of the seating is booths, and the walls are covered in funky murals and quotes. From images of farm animals eating chicken, steak, and pork chops, to the famous words of Dr. Seuss, it's apparent that what is being offered will be familiar, but always with a twist.
In the center of the space is a unique and inviting bar. Curved wood and metal are covered in bottles of liquor that display a level of taste and are sure to satisfy even the highest end of palates. On the highest shelves, is the extensive collection of whiskeys. For Erin Galles, these are her personal favorite saying that she likes the "brown stuff. Whiskey, it's my favorite. I like rye's. I also like scotch, big peaty scotch." You will find Galles working most of the day shifts at Table 6, and if you have been a regular for any amount of time, you have probably been greeted by the friendly bartender as you arrived. Her full sleeve tattoo of the characters from "Where the Wild Things Are" seems to blend in with the rest of the look, and her genuine smile makes you feel right at home.
Galles has been at Table 6 since around three months after they opened, working about half of her 14-year bartending career behind that bar. It is the people that keep her smiling each day while she works, both the customers, and her co-workers. She also loves what she gets to do, and the selection of beverages that she can offer the clientele. "I love our bar, we have so many good beers, and we have so many IPA's, which is everyone's favorite!" she says. A focus for Table 6 is to purchase items for local sources whenever possible. This is apparent in their beer choices with offerings from Midnight Sun Brewing Company, Kassiks, Kenai Rivers, and Denali Brewing, just to name a few. They also offer the new Denali Cider, as well as Double Shovel Cider Co. Galles also hopes to source another local item for a unique offering this summer. "We use everything that we can local. I am trying to get local kombucha in here right now to make cocktails with!"
The libations menu at Table 6 also matches the feel of everything else. The adventurous Adult Iced Tea is a combination of peach vodka, blueberry shrub, cinnamon and black tea. There are also classics like a House Margarita or a Moscow Mule. Then there are the drinks that take a little bit from both sides, like the Blood Orange Old Fashioned, and mix a traditional American cocktail in an entirely new way.
The Old Fashioned has been a standard since 1881 at the Pendennis Club in Louisville, Kentucky. The original recipe was said to have been invented in honor of Colonel James E. Pepper, who was a prominent bourbon distiller. Later the recipe was brought to the Waldorf-Astoria Hotel in New York City. In 2015, Louisville named the Old Fashioned as it's official cocktail, and during the first two weeks of June hosts "Old Fashioned Fortnight". A celebration of bourbon and cocktails featuring the whiskey.
For the Table 6 variation the staff has fully utilized the knowledge that whiskey and citrus are a fantastic pairing. For Galles a simple rye whiskey with grapefruit juice will always be a go to, while other drinks on the menu like a Fashionable Late dive into the flavor of fresh lemon. For the Old Fashioned it is Blood Orange that makes an appearance, and the sweetness comes from a muddled Bordeaux cherry.
Contemporary American, classic, and comfortable. Whether you are stopping by for some happy hour munchies and a glass of wine before a movie or coming out on Sunday mornings for some brunch and sports, Table 6 is the place to meet up with your friends and family.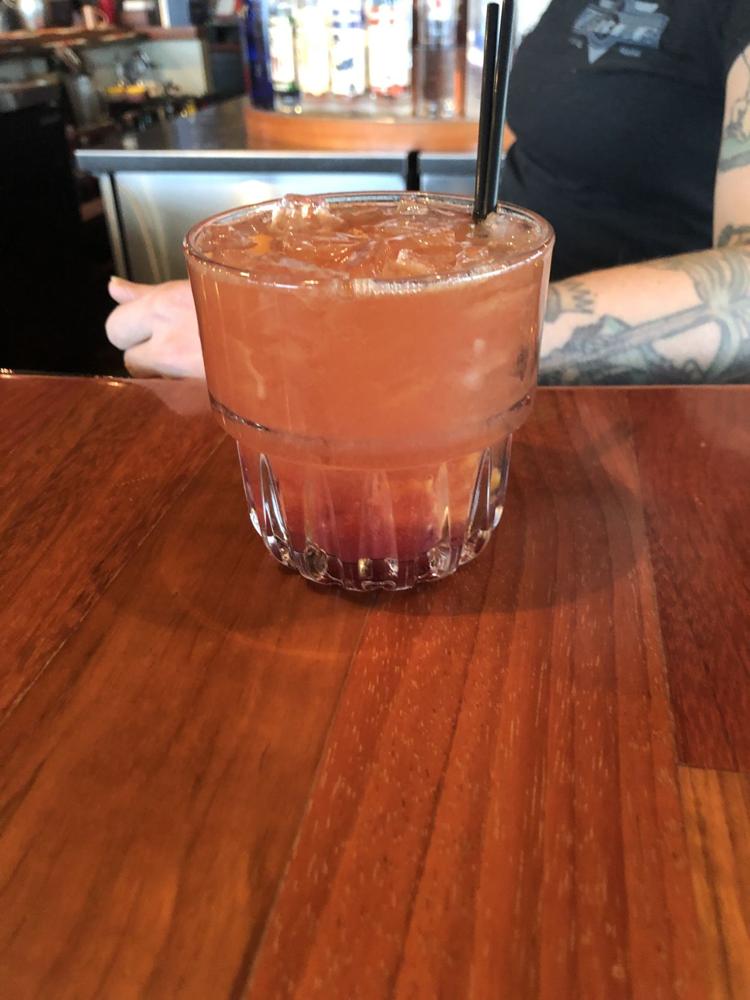 Blood Orange Old Fashioned