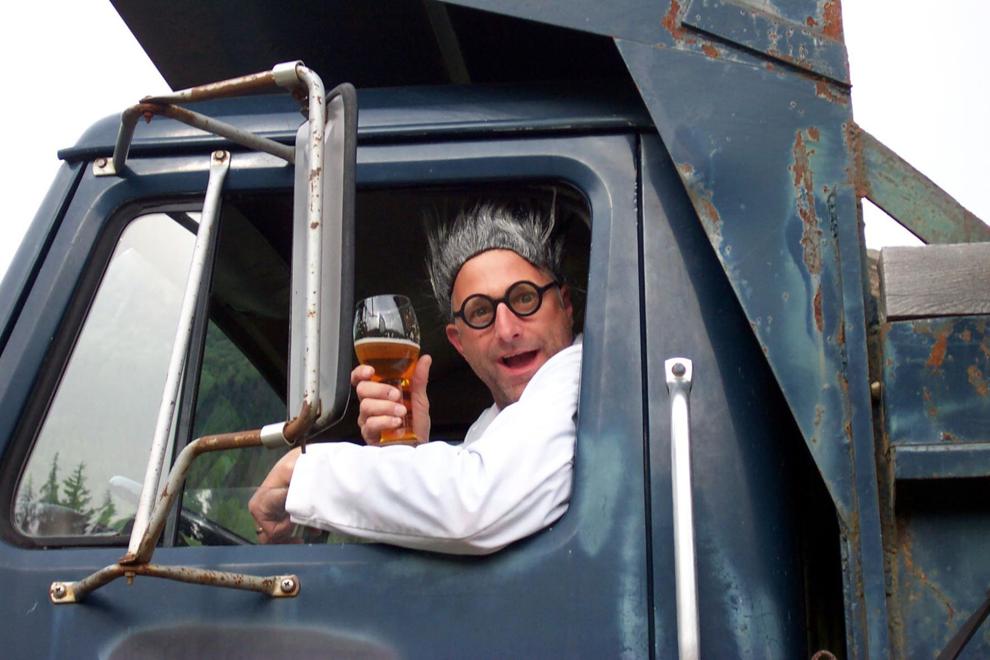 Most people know me as the beer guy. I am that guy, but I'm also a foodie. Food and beer are inseparable, and the only reason I don't write about food as well as writing about beer, or exclusively, is that I don't have the vocabulary.
I've consulted on beer and food pairings before. I've consulted on which beers should be on a new restaurant's draft line to accent the food style at the establishment. In most cases I can read a food menu and identify what the dish is, but sometimes it's a stretch, so I stick with writing what I know about best, and that remains beer. 
Never has this void become more apparent until I recently started studying the food trucks around here, and dammit, I love food trucks! They are as diverse as it gets, convenient and generally serve some very seriously great food I can't get anywhere else. 
Food trucks offer unparalleled variety. Since I spend a lot of my time at breweries, I see a lot of them. Sometimes I'm not even hungry until I see the food truck. Just the sight of one gets my hunger hormones raging. 
Food trucks offer a world of cuisine discovery that even restaurants can't provide. And, like with many other things in my life, the hunt is as satisfying as the kill. Chasing my favorite food trucks around Anchorage is like big game hunting to me. If I had more bandwidth, I'd write about food trucks too. 
Food trucks love breweries and breweries love food trucks. I sensed a symbiotic relationship and talked around in my craft brewing circle about this, and made some new friends in the food truck world at the same time. 
Food trucks fill a void for our craft breweries that don't serve food. Obviously, places like 49th State Brewing Company downtown, Glacier Brewhouse, and Midnight Sun with its Loft kitchen, don't have much use for a food truck, but consider the likes of Cynosure, Turnagain Brewing Company, Onsite Brewing, Magnetic North, and even the larger King Street Brewing Company – to name a few – that don't have a kitchen. A food truck is a welcome arrival, and one the breweries actually depend on to add a new dimension to the drinking experience with a food menu that's typically flexible and changes much more frequently than a static in-house venue might. 
Brewery patrons need to eat; it mitigates a buzz and adds a great dimension to the brewery visit experience. 
There's more. Like our craft breweries, food trucks grow a very loyal following, and have patrons that chase them around like clinging ducklings. This brings new customers to the breweries – many of which become fans – and new followers to the food trucks. More than once, I've grown a hankering for a specific food truck cuisine, then researched social media to find out where my choice is hanging out that day so I can chase it down. 
"Symbiosis is a really good word to describe the relationship between food trucks and breweries," says Turnagain Brewing owner Ted Rosenzweig. "We can't do as well without each other. They draw to a varying degree of clientele. Some food trucks have very sophisticated social media presences, and bring their fans to us, and they get bleed over from the folks that follow their business. We advertise for, and feed each other. I do feel like the food trucks improve our business; that's for sure," he says. 
"I have a great relationship with Jason Anderson at Melt," says Magnetic North Brewing Company owner/brewer Jeremiah Christianson. 
As a relatively new startup in Anchorage's craft brewing scene, Magnetic North's getting a foothold in the midst of a pandemic became a major challenge. "Last year was tough, but it would have been a lot tougher without an outdoor food option," he says.
"Magnetic North was our first brewery last year," says Anderson. "We showed up over there and Jeremiah ended up selling out of beer because of the people that came. I guess that's a good and a bad thing."
"We developed over a thousand followers even before opening up on social media, and maybe 50-75 percent of the people that showed up at Magnetic North that day had no idea what Magnetic North was. After that, his sales have been exponentially higher," says Anderson of the relationship. 
It works both ways. "For us, the food truck provides an extra value-added experience for our customers," says Cyndi Drinkwater of Cynosure Brewing, tucked away on Potter Drive and away from nearby eating venues. "If you come to Cynosure following a food truck, you can enjoy their food, but also get a great beer, sit inside at a different venue and make a new discovery."
"We definitely get people that come for the trucks because they know they're coming," says Drinkwater. "Customers are used to this option. People call to find out of the foot truck will be there for a certain night, so they combine opportunity for the overall experience."
Craft breweries and food truck operators are amicable and very supportive of each other, but at the same time take each other's businesses very seriously.
"The relationship is amazing," says Grizzly Dogs food truck owner/operator Jeff Otto. "Breweries reach out to us quite often to fill voids in their schedule. They get calls daily to see if there's a food truck at their brewery and who it is. Tourists love it, and almost expect it from where they come from," he says.
Otto knows an invite to a brewery is a serious commitment. "As independent as we all are, we have the obligation to the breweries that support us. If you commit, you have to be ready to go and show up and serve when you say you will. Having your food at a brewery translates to the brewery having given you the opportunity to fill that space. It's a serious commitment. I really believe I owe it to the breweries I serve. My job is to make their customers and my customers happy, to look respectable, and do my part to make the brewery look good." 
I wondered if the average brewery customer at a food truck was any different that a food truck customer in an industrial area or at a food truck carnival. One thing the food truck operators all agreed on is that craft beer drinkers are more laid back because usually, the brewery's a destination, and not just somewhere to grab something to eat and get back to work. 
According to Whit Parker of Mochileros, a Guatemalan-themed food truck, "about half of our business goes to our breweries. Ana does the social media side and there's a huge following, and they follow us to the breweries. We bring them business."
According to Ana Florez of Mochileros, "it's a different vibe with a food truck at a brewery. More people are going slower, enjoying the experience and they are more chill. You get to know them and they make you feel more welcome. With the carnivals, we have to move very fast, sell as much as we can in three hours. We take an order, and call it out when it's ready," she says. "We never get to know many of those customers, but brewery patrons spend time with us, talk about how they like our food, and about the adventures they just had."
Erica Stimaker of the well-known Yeti Dogs food truck – this will be her ninth year of operating primarily at Kincaid, but at breweries during the off time - echoes the brewery patron vibe sentiment. "I think the crowd at the breweries are just more laid back. They are there to enjoy an experience; no one is in a rush, unlike places where people have like 30 minutes for lunch," she says.
"There is a group you see. We have a small brewery community. You see the same people over and over again. I really enjoy it. They become regular customers, and I get to know them. I really appreciate this small town vibe," says Stimaker.
As a parting nod, "I will add that I'm very grateful that one small business has another small business to work together to get product out. I don't feel I say thank you to the breweries as much as I should, and for all food trucks. Breweries don't charge for us to be there. It's nice, especially when you start out; you can depend on a brewery venue at a set time or when you can. The breweries themselves; the owners, the workers and their guests, are welcoming with open arms," says Stimaker, summing up how my informal research reveals that the food truck industry as a whole is amicable, and mostly non-competitive, mirroring our small craft brewing industry whose members are very supportive of each other too. 
The symbiosis of the food truck and craft beer industry is a great example of the cross-pollination that small businesses here in Alaska strongly support. Next time you're out for a beer or a bite, but can't decide what familiar place you want to visit, pick one with a food truck. You'll go away happy and no longer hungry, and having made some new friends to boot.