If you've become accustomed to driving certain routes through downtown Anchorage, you may have to switch your routine. Specific portions of downtown streets have been blocked off for the foreseeable future, and for the best possible reason — to make room for more safe seating at your favorite restaurants and bars.
F Street at West 6th is now street-wide patio shared by Flattop and Williwaw, with tables and fencing stretching nearly half a city block. G Street at West 3rd? It's now designated "The G Street Walking District," complete with giant checkerboard and cornhole as well as several picnic tables for your outdoor enjoyment.
Back at Flattop, owner James Maurer says the idea for expanding patio seating for the sake of social distance came to him from above.
"The Downtown Business Partnership asked if we'd be interested; we said, 'let's give it a shot,'" Maurer says. "We waded through the red tape and we'll be ready this weekend."
Maurer says there will be more than enough space for social distancing guidelines, as well as a mini-bar dedicated to serving the patio. He also says the city was generous in working with businesses to work around new health concerns. "We had to go through the liquor board and health department; it was a little confusing at first but we got it," he said.
This isn't the first time that F Street has closed for a special event, but this may turn out to be the longest stretch.
"They've talked about making this a walking corridor for years, but it's never gotten done. We use it all the time for obvious reasons," Maurer says. "If the weather holds up this weekend, we'll be really happy."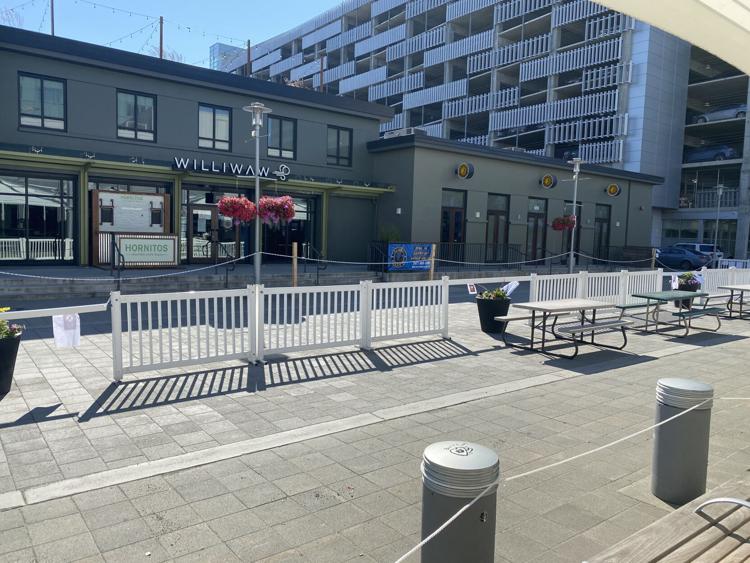 Recently, the Anchorage Health Department released a list of bars and restaurants where COVID-positive patients had recently visited. The owners of several of the named establishments told the press that they had been unfairly singled out. Just before that, the nation's leading infectious-disease expert, Dr. Anthony Fauci, told a U.S. Senate committee hearing, "Bars — really not good. Congregation at a bar, inside, is bad news," Fauci said. "We really got to stop that right now."
So what difference does patio seating make? What exactly is the science behind outdoors being safer than indoors? Dilution.
Experts say that just six feet of distance appears to really be all it takes for enough fresh outdoor air to dilute virus particles down to levels your body can fight off.
"A single virus will not make anyone sick; it will be immediately destroyed by the immune system," says physicist Eugene Chudnovsky. "The belief is that one needs a few hundred to a few thousand of SARS-CoV-2 viruses to overwhelm the immune response."
In May of this year, contact tracing with over 7,300 COVID patients in China revealed only one case of person-to-person transmission outdoors.
Contrast that with Harper's Restaurant and Brew Pub in East Lansing, Michigan, where over 107 cases were linked over eight days this month.
The science is in — loud and crowded indoor gathering spaces like bars appear to be high-risk for the spread of COVID. But the science also says that maintaining a social distance of at least six feet, outdoors, is lowest-risk even without a mask.
The bottom line is that compliance with necessary health mandates forces local businesses to risk untold economic damages. We should applaud the effort from Anchorage Downtown Partnership and the City for improvising and working together to keep would-be patrons as safe as possible while still able to enjoy our favorite spots.