After nearly a year hiatus, a pair of local farm boys reopened Bleeding Heart Brewery under the water tower over the weekend.
As of Nov. 6 at 3 p.m., Bleeding Heart Brewery became licensed to serve beer in Palmer at their new location on South Denali Street in the back of the Alaska Picker building and did so this weekend with a soft opening to Bleeding Heart fans who had been deprived of their beer since the start of 2020.
"We were like holy cow we're ready to do this, we are legally allowed to do this, now let's start making beer," said brewmaster Stefan Marty.
Marty and local teacher Zack Lanphier started Bleeding Heart out of a steel garage on the Marty farm on Springer Loop. For the last four years, Lanphier and Marty have brewed over 125 beers and expanded their products to collaborate with other breweries around Alaska. Bleeding Heart stopped serving from the farm at the end of 2019 and worked on building their new location in the heart of Palmer. In September of 2019, the Palmer City Council unanimously passed Ordinance 19-015 that defined microbreweries and permitted microbrewery businesses in Palmer city limits.
"I have grown up here in Palmer. My family is still here in Palmer. I have invested in this community and this city emotionally, physically, mentally and financially. My heart is already in Palmer, I just ask that my business be allowed to be as well," said Lanphier last year.
While Lanphier and Marty were preparing to build and open Bleeding Heart under the water tower, the coronavirus pandemic of 2020 has changed the way that in-person services are rendered, particularly at dining and drinking establishments.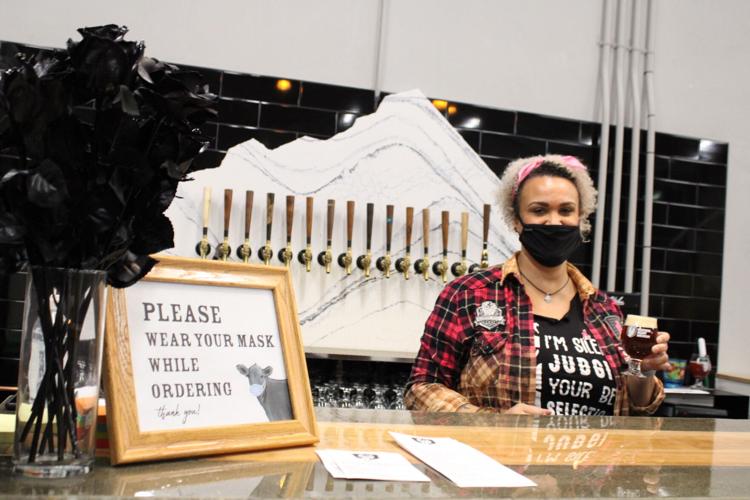 "As far as social distancing goes, obviously people because we've been used to this for almost a year now will separate themselves. It's a lot of standing area so people can have their own space. At every entrance as well as the bathroom there is hand sanitizer and disposable masks available," said Marty. "I want people to realize and remember that this is still pandemic Alaska. I know that that has become a partisan thing to say but we require and encourage people to wear a mask when they're ordering beer. Obviously when you're sitting at your table and drinking beer, take your mask off duh, but I really just want to hammer home that we need to be respectful to each other."
For the last three years, Bleeding Heart has been the smallest production brewery in Alaska and plans to offer more beers from their new, larger space, which has over 1,000 more square feet and 15 tap handles. Ordinarily, Bleeding Heart would serve their four flagship beers and four rotating beers. Marty added Rick Polzin to the team as another brewing expert who has a flair for tracking down recipes to recreate historical beers that have made their way into taps. During the pandemic, Lanphier and Marty collaborated with Sam Arrigall-Watkins of Seward Brewing for a beer that was served in Seward.
"We're going to continue to try to keep our essentially sporadic, unique take on beer while also producing a good consistent at least four to six beers for people that really just like coming in and having the same thing over and over again," said Marty. "We're not going to run out of our flagships anymore. We're going to have the specialties that everyone likes and has loved from the old place and then we're still going to have another four tap handles for experimentation so we're hoping to add consistency while also maintaining some classic crazy stuff that we do."
Bleeding Heart and Alaska Picker have collaborated on community events frequently, including the Running of the Beers and lighting of the water tower downtown. For the fourth year in a row, the water tower will be lit up at the end of the race with an additional eight strands of lights. The strings of lights were placed by Alaska Picker owner Kelly Turney and Bleeding Heart beer ambassador August Naranjo, who took great pride in the responsibility. Bleeding Heart and Alaska Picker have also hosted two drive-in movie events.
"The fact that we have this opportunity to be in the same building is only good for not only both of our businesses but in my opinion good for the community at large, because both of us are [Alaska Picker and Bleeding Heart Brewery] are very much community minded and we believe that we have a unique opportunity here to provide something for the community that just isn't there without us," said Lanphier. "We have the opportunity to be the heart of Palmer and I'm excited about that."
Also making the first appearance at Bleeding Heart Brewery's soft opening this weekend was a menu of food items concocted by Mason Minturn, who runs the kitchen. During construction, the Bleeding Heart boys have been without the interaction with the community that was so often found at the old location on the farm. Beginning work to brew their beer as soon as legally able, Marty and Lanphier are excited to continue to cultivate a friendly atmosphere at their new location. Familiar sights around the brewery include a phone booth from Adak Island and a statue of the Virgin Mary that Lanphier's wife found at a random storage shed in Wasilla. The church pew that sat in the original location has been refurbished and the old wooden bar has been made into tables featured at the new location.
"We're weirdos to be honest with you, me and Zack are not your regular business owners out here and for some reason the people that live here have just rallied around that and really enjoyed us and helped us flourish and I feel like in different but also in certain similar ways, Kelly at Alaska Picker has catered to that group of people and I think that we are both just super stoked to be together because we like this city and that's I think that's dope for both of us and everyone else," said Marty.
Over the course of Bleeding Heart's existence, fans have become friends that now work for Marty and Lanphier. Polzin is a beer fanatic who helps push Bleeding Heart brewing in the most odd direction possible. Taylor Raftery assisted with bookkeeping and accounting, Monica Giannulis served at a moment's notice and Cicerone certified beer taster Sarah Perez designed the tap system that she now serves from. Marthy also thanked Andrew Kehler and Dan Hardage for their expertise and Axys Construction for building the new location. Die-hard Bleeding Heart fans Naranjo and Robbie Warner are featured in custom-made wallpaper on the bathroom walls.
"Everybody has gotten us where we are. We are merely the people that tell people to help us but we are surrounded by amazing people," said Marty. "Both of our wives have been I don't even know how to describe how supportive and helpful they've been through this process between painting, design, they've been great."
In December, Bleeding Heart and Alaska Picker plan to host their annual race prior to the start of the Colony Days Parade in Palmer. This year's edition will be titled "Running of the Beers: Dumpster Fire." The entire property that both businesses sit on will be licensed to serve and heat trees and tents will be provided to prevent indoor crowding. Lanphier and Marty said that preparation to move to the new location began over one year ago, but Bleeding Heart has plans beyond serving both food and beer under the water tower.
"We want to get back on the farm man. Our roots are in farms. We grew up out on the Springer System, we are farmboys," said Marty. "I want to make the first Palmer whiskey."
Lanphier and Marty hope to eventually put an estate style brewery on a piece of farmland in Palmer, growing ingredients that would then be brewed. Bleeding Heart is in the process of becoming licensed as a winery and eventually hopes to get Bleeding Heart Boozery licensed as a distillery in Palmer.