It's been a long time coming, and somewhat overdue as far as I'm concerned – I'm always impatient for good beer — but Bearpaw River Brewing Company is expanding to include an additional 8,000 square-feet of production space, a beautiful beer garden in the making, and a diverse food menu that will keep thirsty patrons happy during visits at a new, additional brewery on Railroad Avenue in Wasilla.
The new "Railroad location" brewery is affectionately called Big Bear, and the existing, smaller, 3,200 square foot brewery at 4605 E. Palmer-Wasilla Highway is now referred to as Little Bear. The owners will have two separate brewing licenses for the locations and businesses, but that's invisible to the consumer. 
Outwardly, what beer lovers in Alaska should experience, is more of Bearpaw's excellent beers, in multiple formats (draft, cans, and specialty bottles) in a bigger market, experimentation leading to potential new beers both at the brewery and where the beer is distributed, and the addition of a super fun new location with a great food menu, all of which doesn't detract at all from the smaller, always charming original space.
According to Jake Wade, one of three owners, behind the scenes, "some of the positive things that are about to happen very shortly include bigger tanks; we've almost completed moving them all over to Big Bear, the creation of a lot more badly needed room — one of our biggest challenges when moving around in a very small brewery ,much greater brewing efficiency, and of course, better ability grow the brand, and at the same time, to experiment and play with new recipes at Little Bear while ramping up production at Big Bear." 
Jake is the boots-on-the-ground guy when it comes to brewery operations, but his brothers – Jed and James — are no less contributing. 
"We started making beer six years ago. It's been an amazing journey with my brothers," says Jake of the culmination of family effort that put Big Bear in a position to part pouring beer within a couple of weeks. "My brothers are incredible people to work with, and as we get closer to opening, I'm thinking about how well we work together and how very proud I am to be working with my family and how we're able to do it together so successfully."
The name Bear Paw comes from the family's homestead in the namesake river north of Denali in the Kantishna Hills. "My dad built our family homestead there in the 80's," Jake told me in a November 2014 interview. "We grew up going there. We're drawing a lot of energy and enthusiasm from that," he says of his and his brother's experience growing up in and going to school in the Palmer-Wasilla valley, and their trappings north of Denali that inspired his brewing dream. 
The dream's evolved. It's matured, and it's making the Valley an increasingly popular beer destination on Alaska's rich craft beer map. 
"I didn't have any 20 year plan," says Jake of the realization of more brewing space. "But, I wanted a substantial presence in the Valley from day one, to live out my dream. That's why I got into this in the first place. Yeah, there's a lot about beer, but it's not just about drinking beer. I wanted a bigger, more substantial footprint, but admit I had no clear path to get there. We were a year and a half in, and realized we were popular, growing, and needed to make some decisions. It was all about an overall bigger economic, brewing and positive social footprint out here."
As for the new location, "we gained all the square footage, of course, but we also went to a 30-barrel brewhouse with much more breathing room," says Jake. "We're moving our 30-barrel tanks from Little Bear to Big Bear. We were triple-brewing into them before. We can single brew into the 30 barrel tanks. We brought on some 60 barrel tanks, and have room for three or four more 60's, 90's or even 120's."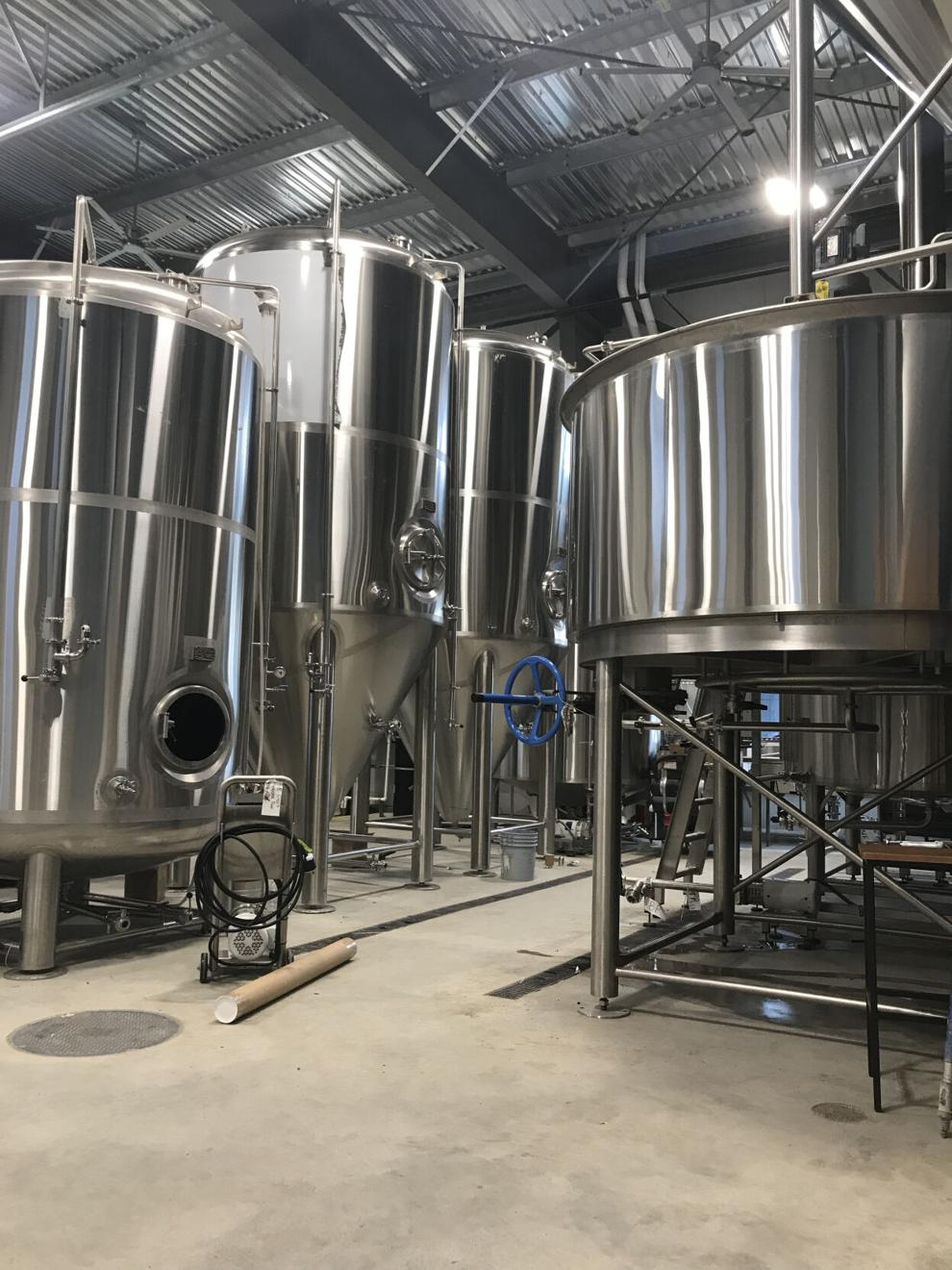 Efficiency's a big thing in any brewery, but especially for Bearpaw River with a very thirsty distribution account through Specialty Imports that's constantly waiting for the next shipment of one of Alaska's most popular brands.
"It takes us all week to package a 30-barrel tank of beer on our current canning system in the existing brewery," says Jake.
Another significant feature of the new brewery is a very high end, state-of-the-art canning system and a bigger walk-in cooler, which makes for fresher beer that's easier to move around in anticipation of Specialty Imports' weekly demand. 
"Our new CODI canning system, and brewery set-up make us a lot more efficient," says Jake. "We can now crank out 60 cans a minute instead of 11. Although we've recently hired 15 new employees to support the restaurant side of the operation at Big Bear, we haven't hired one new employee for the brewery side, meaning that effectively, we can make three times as much more beer with the same labor."
"You can say we're going to start slow, but new 12 packs of our canned beer are coming, and so is more variety and more presence in the market," says Jake. "We'll have more diverse beers because have essentially a brew lab now at the Little Bear, and if recipes are promising, we can take them to Big Bear for production. It really opens up what we can do with efficiency and flexibility."
The outside beer garden, another huge feature at the new location, is the same size as the building. "Landscaping will be a multiple year operation," says Jake of the plans. "The beer garden is on the side of the building, and it's massive. Right now, when we open, we'll have picnic tables out there, but next year, with the help of a local greenhouse company, we'll have cherry trees, apple trees and perennials all over the property."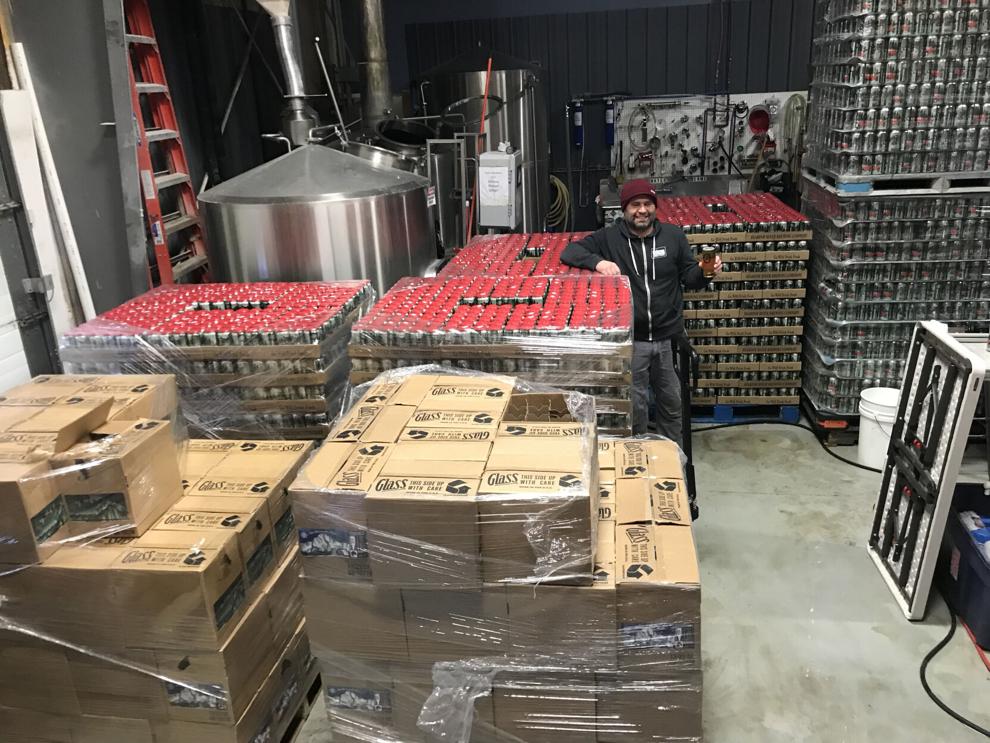 The new building is licensed to accommodate 99 people, "but that doesn't apply to the beer garden for people that love to sit outside, says Jake of the expansive, customer-friendly layout.
The food menu at Big Bear will evolve just like the beer has since Bearpaw River Brewing opened.  "We've been developing the menu for some time. We'll start with 10 pizzas, maybe five salads, some garlic knots, but we're plumbed in for fryers and more menu items,"  says Jake. "We'll mainly be a pizza restaurant — that's the primary focus, but we want to develop the menu to add things that seem appropriate, and just grow at the right pace, which is exactly how we started with beer 5.5 years ago."
"I want people to see that we legitimately care about the mark we put in the community through the presence we have and the product we sell, which is how we make our lives" says Jake of his and his family's passion for what they do where they live.  "You think about some of the iconic breweries in the world; it's multi-generational stuff, and if they aren't good people that feel like they want to be good at what they are doing, they wouldn't have been there that long. My dad always said if you're going to do something, do it at 100 percent, otherwise there's no point it doing it at all. We care about what we do, how we do it, and how it fits into where we live."
When can you head to the Valley to check out Bearpaw River Brewing Company's new Big Bear location? Soon. 
Keep your mug to the wall: Jake told me there's beer in the tanks at the new brewery, which means that pouring it is imminent, but beer tells the brewer when the beer's ready, not the other way around. The exact opening date is to be determined. Instagram and Facebook are the best way to monitor progress toward the projected mid-August opening date.