Mike Jipping didn't start out as a local craft soda manufacturer when he was putting plans together to launch Beach Tribe Soda Works with the goal of "brewing fresh artisanal craft beverages to inspire a local adventure community."
I know Jipping from his homebrewing aspirations years ago, and as the Events Manager at Bear Tooth Theatrepub. Jipping's a super-great guy and we stayed in touch over the years. I loosely consulted with him when he thought he might want to open a brewery in south Anchorage at one point, but as I shared with him during our conversation earlier this week, "things sure do change over time, don't they?"
"Over the past year, I've been working on launching a craft soda business permitted under the Broken Tooth Brewing Company to make craft sodas and sparkling waters using cold pressed juice, honey and other natural sweeteners as an alternative to cane sugar," he says.
At the time Jipping was working at the Bear Tooth, he picked up a couple of hours at the Broken Tooth Brewery, the brewing operation that supports the "Tooth" chain of establishments (Bear Tooth and the Moose's Tooth Pub and Pizzeria in midtown) with fresh, inspiring local Alaska craft beer.
This turned out to be hugely inspirational and incredibly valuable for Jipping, and enabled him to scale up his craft soda manufacturing to a more manageable operation.
"I picked up a couple of hours down at the brewery, then at about that time, I got permitted to make craft soda," says Jipping of his evolution. "The Tooth's been awesome. A brewer at the Broken Tooth had to take some time off, and that's when I saw the writing on the wall. I stopped working at the Bear Tooth completely and went to the brewery and started doing what the absent brewer needed to do and learned a ton in the process," says Jipping of working with head brewer Tyler Jones and his crew.
"We've been having a great time with the pilot brewing system creating a lot of different specialty beers for the restaurants. I've been participating in that, but focusing mostly on my craft soda," says Jipping. "As far as learning, I've been all over the place, sticking my nose into everything and learning as much as possible, especially with the scaling thing."
Prior to working with Broken Tooth, Jipping was using a small, almost homebrew-ish system to create his instantly popular craft sodas which are available all over the place including draft accounts at La Bodega, Kaladi Brothers Coffee locations, Black Cup, South, Uncle Leroy's Coffee, Double Shovel Cider Co., Cynosure Brewing and Vagabond Blues in Palmer and Palmer City Alehouse to name a few locations where these noteworthy sodas can be had.
"I was making everything in five-gallon soda kegs. Working with the Broken Tooth, now I'm regularly making three barrel (about 150 gallon) batches," he says. Jipping's using this experience to artfully scale up from five to 150 gallons. It's not straight math. As a homebrewer myself, I know the learning curve involved with scaling up batch sizes. Jipping's also gaining valuable experience with the Tooth's canning system, something that will help him expand into a portable market in addition to his draft offerings.
"I'm not a brewer, I'm a homebrewer and I had a lot to learn slowly down there," says Jipping of his experience. "One of the ideas to help me learn was to produce an actual ginger beer with alcohol in it," he says, and this is what really excites me.
"Tyler and Shawn helped me and we came up with Deckhand Ginger Pale Ale," says Jipping of a beer that's now on tap at the Moose's Tooth for a second time, and you should chase it down while it lasts.
"We made the first batch at the end of last year and beginning of this year," says Jipping. We did a two barrel batch on the pilot system and I served it at the Great Alaska Beer and Barley Wine Festival in January."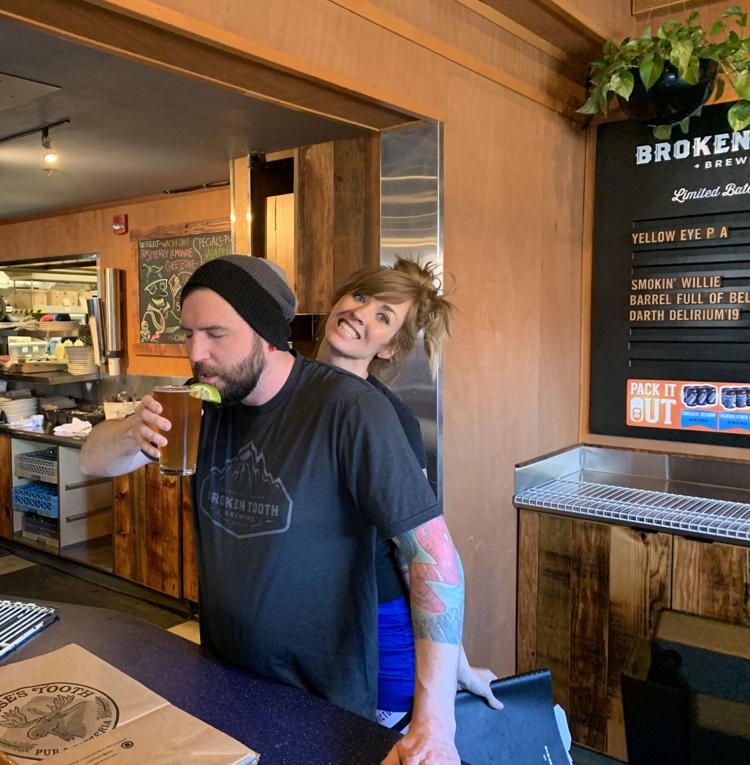 The beer was an instant hit. "It went over incredibly well; everyone was stoked and kept coming back for another sample. We had it on at the Moose's Tooth and it disappeared in less than a week," he says of the first beer's popularity.
This go-round, Jipping and the brew crew at the Tooth produced a 15-barrel batch and it's been on tap for two weeks. Can we expect more?
"No, I'm not planning on producing Deckhand on a regular basis," says Jipping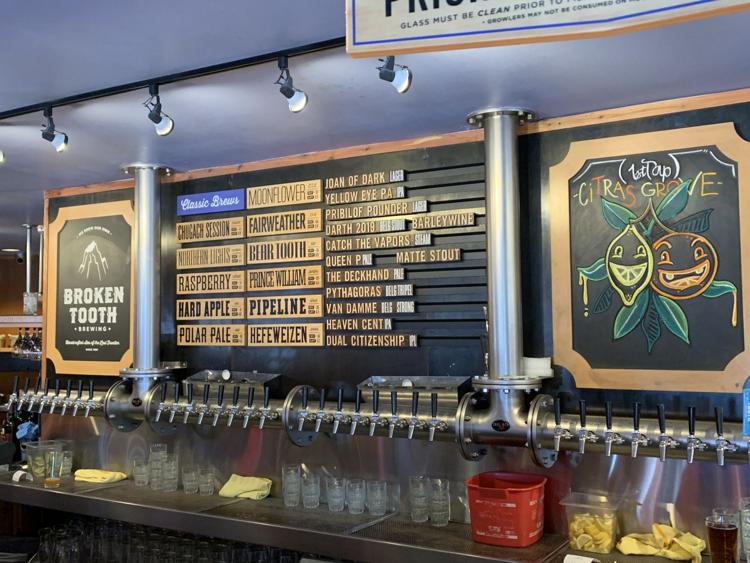 It is popular though, says Jipping of learning that people are using the soda version of ginger beer as a base for making Moscow Mules and Dark and Stormys, popular beer infusion drinks where Jipping's beer adds a distinct local twist. "I'm not a hard liquor kind of guy; it's definitely not what I created the beer for, but hey, whatever, right?" Anchorage Distillery uses the soda version as their house ginger beer for their Alaska Mules.
As for Deckhand, "it's a basic light pale malt bill on the malt end and not a lot of hops," says Jipping of the alcoholic version. "We used Lemon Drop hops and some nugget hops, and used our house ale yeast to make it."
The fascinating part is the signature ginger and lemon essence in this light, effervescent, spritzy beer. "I source my fresh ginger from DiTomaso's here in Anchorage. I have a commercial cold press juicer and I actually got 12 full boxes of ginger and the lemons and juiced 30 gallons of ginger and five gallons of lemon juice for the beer," says Jipping. "There are worse jobs in the world; and in all this was pretty unbelievable," he chuckled.
Deckhand pours light yellow. It's not real hoppy, but it's definitely spicy. "It's ginger forward and the lemon citrus element pushes through nicely, but it's not overboard," says Jipping. "It's super-easy drinking and it sneaks up on you," he says of the 7.2 percent alcohol by volume brew. "It was a little stronger than we'd designed it to be, but it doesn't affect it at all."
The ginger's not off-putting at all. Ginger is an element that can easily be overdone in a beer. "A lot of people are surprised. I've gotten comments including 'I don't really like ginger, but I really like this,' and 'this is amazing,'" says Jipping. Some people squeeze some lime into it to enhance the character and put a little extra zip in it.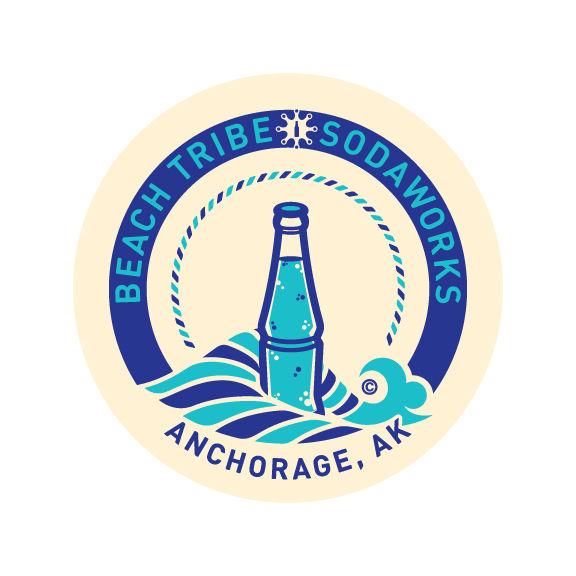 As for Beach Tribe Soda Works, Jipping's not looking to take over the world, but does anticipate growth. "I want to keep the product as fresh as possible without preservatives or additives and it's definitely the best fresh and on tap. I want to grow the local vision first and foremost and want to make sure I can control the distribution and freshness of the product," he says. "Yeah, I anticipate my own place down the road, but right now I'm turning out a great product, it works and I continue to learn."
Popularity and demand drive repeat performances, and as good Deckhand is, I'm not so sure this will be the last we see of it. Still, now's the time to get it at the midtown Tooth location before it's gone.