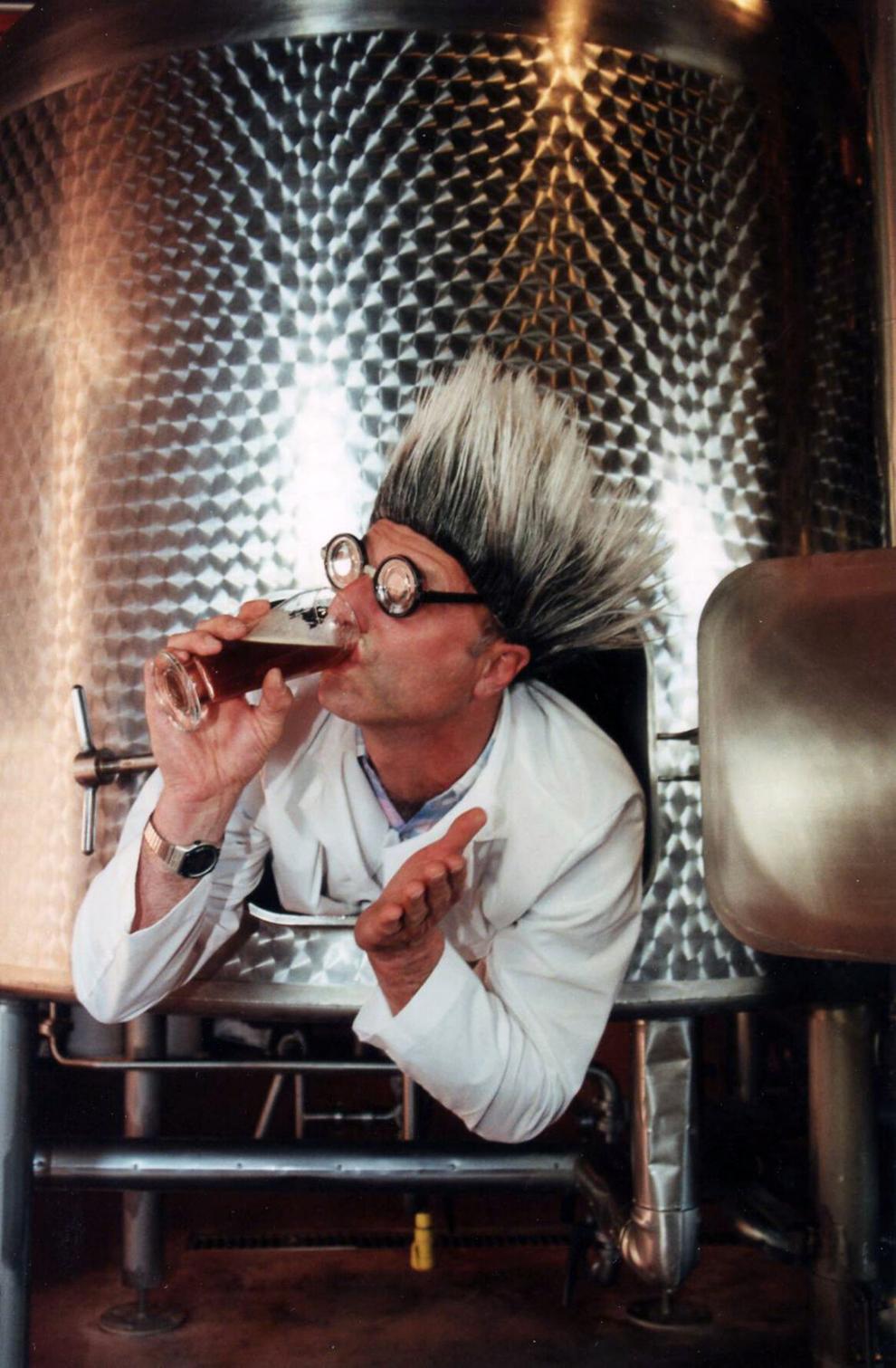 In May of 2014, I found out that plans were in the works to open a brewery in Mountain View. I thought it the brewery was a little incongruent with the social scene there, but owner/brewer Brandon Hall was confident that his new venture would be a success. Apparently, so was Mountain View's Community Council. Despite some predictable doubt based on pesky alcohol problems over the years in that community, on May 12, according to the Council, there was no public opposition to the proposed Chugach Brewing Company, and Hall moved ahead with his plans to launch in an unlikely corner of town.
Hall attended the meeting and said it went well. "We'd heard through the grapevine that there was some strong opposition to another alcohol establishment coming to Mountain View and that I was going to have to field some pretty tough questions," he said during my initial interview with him. 
Back then, Chugach was one of seven brewing operations in planning in Alaska, and Chugach was destined to become our 24th. For perspective, we have over 50 today.
Maybe the Council read the hop leaves and wanted a piece of craft brewing's explosive action. Maybe they just wanted somewhere to toss back pints in their neighborhood after contentious meetings. "Yeah, after they asked mostly curiosity-based questions such as what kind of beer I'd be making and how much, the only real thing they wanted to know at the end was if they could hold their council meetings in my tasting room," said Hall. 
Somewhere in the midst of the bureaucratic shit-show of entanglements that trip up brewers with ambitious opening plans that delayed Hall's plans to start pouring beer in 2014, the brewery name changed from Chugach to Resolution Brewing Company. 
Regardless, Resolution Brewing Company pulled that first tap handle on Friday, May 13, in 2015. Resolution did OK —  it survived. I can attest that Resolution's beers are tasty, and that I frequent the place quite a bit.  It's the closest brewery to where I live in Muldoon. The combination of parking, the place, the beer and atmosphere in the strip mall-like location worked, but the entirety of experience never made my socks go up and down for some reason. 
I guess I'm not alone. Resolution Brewing Company is far from a failure, but Resolution Brewing Company poured Resolution Brewing Company's last beer at 8 pm on Friday, October 29. 
If all goes well, the same brewery, in the same place, with the same brewing equipment and the same brewer, with some of the same beers, will re-open on Friday, November 5 at 2 pm as Alpenglow Brewing Company. 
This won't add another brewery to the state's collection; in essence, it's just new ownership and a name change, but it's the intent and new managerial prowess behind the new venture that will not so much recharge, but vitalize the quiet, mostly unassuming brewery a small commercial area just above and outside of the Glenn Square shopping area that bumps into the highway near the last stoplight out of town heading north.
Gone is Brandon Hall. Gone is Grant Yutrzenka, for those of you that remember them; they've moved along for their own compelling reasons that are unimportant to the transition. Enter Lori Morse and a two other investors, a new taproom manager – Neal Koenemen – and some new staff, and continue to harness the fifteen years of brewing expertise of Jeremiah Boone, and the little brewery will prevail. But, there's more to the recipe than just mixing up the ownership. 
Morse and her family grew up in Mountain View. Her mother still lives there, and has for the last thirty-plus years. The family has a vested interest in the community, but make no bones about it; Morse isn't a brewer and doesn't intend to be. She only participated in my interview with Boone as an investor. 
"I've never brewed beer in my life," she said flatly, and matter-of-factly. "I don't know anything about it. It sounds fun, I guess. It's just something I'll enjoy and build up with my partners," she says.
I pried a little deeper. It's not like someone up and buys a brewery, "just because." 
"It was too good of a deal to pass up on," Morse says, hinting at getting a killer deal on a business opportunity. "If you had an opportunity to buy it at that [undisclosed] price, wouldn't you? Resolution opened up for sale, and we just closed on it. It opened in 2014. It's not the same now. We'd like to bring it back to what it used to be," she says.
Okay, that makes sense now, and it adds up. But it's a lot more than just "restoring" the humble, unassuming little brewery to what it was almost seven years ago. It's all about livening it up, making it new, and getting it on the map like the rest of Anchorage's better known brewing operations. 
Alpenglow remains Anchorage's northern and eastern-most brewery; the next suds maker north of us is Odd Man Rush in Eagle River. 
Still, the location remains quirky. "There's no doubt it's in an odd spot in town; there's nothing on the north end and east side; we've got that market," says Morse. 
"Mountain View is a hard sell," reiterates brewer Jeremiah Boone, who's been with the operation for four years. "When I tell people I'm brewing in Mountain View, they say 'Mountain View, really? Ohhhh nooo.' I say, 'well you go to Bass Pro Shop right below us, you eat at West Berlin, you shop here, right? Hey, we're here too.'"
"When I tell people I just bought a brewery, they ask which one, and when I tell them Resolution Brewing Company, they ask 'where's that?'" says Morse.
But how do you get the market to come to the beer? 
There's no doubt that two things are going to help. It's high time to brighten things up and move things around in the brewery and tap room to make the space inviting and to keep the people that visit coming back. And, it's time to let the world know there's a brewery making good beer in northeast Anchorage. 
Boone welcomes the changes. He keeps describing himself as "the old guy at the brewery," and kept saying "I'm getting up there in age," during the interview.
Boone isn't describing any physical limitation; it's all about mindset. The freshness of the investors, the new taproom manager and others coming in with a "younger," if not different way of seeing and reacting to things is the first bit of vibrancy the brewery's seen since he started working there, and I can't argue with that since I've been drinking there, either.
"Honestly, the whole lay out is changing. The color is changing. The cooler's moving, everything's changing, and we're switching up the hours. We have big plans even further down the road, but right now, it's a just a facelift," says Morse.
"So, it's new blood in an old place," explains Boone. "The coloration was 'dark British brewpub,' and we're brightening that up. Resolution was dark, maroon, grey and all dark coloration. We're going to open it up and brighten it up and get more people to come through," he says with some non-tired excitement in his voice.
"Once you hit a certain point, you don't want to figure out the market anymore," says Boone of his experience with previous ownership, and often brewery operations and ownership in general. 
"You have to stay on top of it. I tell everyone not to open a brewery. You don't want to open a brewery. It's not fun, and being a brewer is even dumber. I've seen the trials and tribulations of the owners, and I've been at this for 15 years. I'm not a millionaire and my back hurts every day. The new owners with younger blood have the great energy and want to make this happen. I'm like, 'yeah, let's get this going, and that's what we're going to do," says Boone of his new certainty for success. 
It's also time to get the brewery known, recognized and on the map that brewers internalize when the choose where to go drink craft beer. "I want people to know we exist. A lot of people don't know there's a brewery here; it's not where anyone expect a brewery to be," says Morse. "We're hoping to up the social media game; that's where people get their beer info from; Tik Tok, Instagram, Facebook," she says. 
"I know you don't like to go to Mountain View, but there are some really good beers over here," adds Boone.
So, what's changing with the beer? 
"We're going to do some baby snatching while we build the new brand," says Boone. "Although it's basically creating a brand from the ground up, we're keeping some brewery favorites like Neighborhood IPA, Ixelles (a Belgian triple) and Cerveza De Los Muertos (an imperial stout)."
Boone's looking forward to stretching his brewing muscle, getting to brew new stuff in support of the new brand, and to breathe brewing life into the little place with so much potential. 
Check before you head over to the "new" place on Friday; the opening plans for 2:00 aren't any drier than the fresh paint, but let's be optimistic. Even if it doesn't open right on time, I'm certain that the brewery, will no longer just be resolute, it will glow.