There are others, but the most lasting achievement in my lifelong beer adventures is being able to wander into Humpy's Great Alaskan Alehouse in downtown Anchorage and see my dollar in a frame on the wall. I was Humpy's first patron, and it wasn't by happenstance.
Fully 24 years and eight months ago, I stood in line outside of what was to become Alaska's first, real no-shit alehouse. I wanted to be the first person in. I had a vested interest. I believed in the cause. It was 11 a.m. on June 13, 1994. This was three years before I started writing this column for the Press. Number two in line that day was my devoted Ms. Fermento. There was no one behind us. 
When the doors opened, I practically shoved Ms. Fermento inside in front of me and dashed straight to the bar and ordered a pint. I looked around and noticed no one else was there. I had to beg dollars from Ms. Fermento to pay for the pint. I got my beer and sat down in a brand new venue that I had great expectations for. I enjoyed the pint and had lunch. It was only later that I found out that Humpy's had framed my dollar as the first one spent there. I consider that the biggest milestone in my sudsy beer career.
I used to hang out at Harry's Restaurant in midtown. It wasn't the food, it was the draft beer selection that kept me coming back. There wasn't much to choose from back then. 'Coots had a respectable tap line too, but Harry's was more refined. It was quieter, more sophisticated, and one barkeep in particular – Jim Maurer – knew his suds and was happy to just talk about beer.
Good barkeeps know their regulars well. One day "Jimbo" - as I got to know him – leaned across the bar and asked if I wanted to know a secret.
When your barkeep goes beyond just listening to your woes and wants to share a secret, you perk up. I quickly scooched up, leaned forward with an elbow on the bar, and cupped my hand to my ear. "I'm working with a guy and we're going to open a real alehouse downtown that's going to focus on beer," confided Jimbo. He got my full, undivided attention.
In the months to follow, I met one of Jimbo's partners – Billy Opinsky – and was instantly smitten by the duo's vision, which was all about helping craft beer make a stance in Alaska.
These guys were serious, but I thought they were nuts. Who in their right mind would open an alehouse in downtown Anchorage back then when at night, getting mugged was as likely as getting a good beer? I have to give these guys credit, though. The Performing Arts Center opened in 1988 and when the space across the street in the original municipal print shop vacated, the Humpy's team was quick to go after it.
I'm indebted to Humpy's and credit them with being the forerunning modern-esque bar that busted open the Anchorage downtown corridor and brought in a younger set of partygoers. Humpy's pioneering venture 20 years ago paved the way for other establishments and brought a little more shine to some pretty dim streets back then.
Before Humpy's opened, after work, I'd jump on my bicycle in Muldoon and peddle downtown and spend a couple of hours putting some sweat equity into what would eventually become my Cheers. I wasn't a partner and I wasn't getting paid — I didn't want anything — I just believed in what these guys were doing and wanted to be a part of it and to help pay forward good beer up here.
I remember when the time came to actually build the connection between the beer kegs in the cooler – over 70 feet away – to the 48 tap handles in place when Humpy's opened. It took six of us the better part of a day to feed and pull four wrapped bundles of 12 draft lines each through a tube under the concrete floor. We dubbed that process "wrestling the ale snake," and I was proud to get invited back seven years later when the lines were replaced.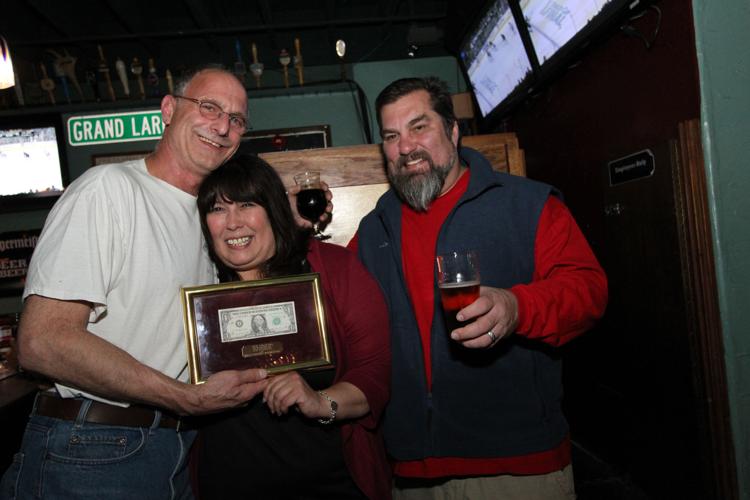 I went home every night. Opinsky and Maurer worked every night into the wee hours and slept on the floor or on cots, dedicated to see their dream wake up on time on opening day. I gained a whole new understanding for the concept of dedication watching these guys toil in the name of good beer.
Once Humpy's opened, I was so damned proud of the place I bragged about it to everyone I knew. A combination of reasonably priced pub grub with a distinct local flair and an unending nightly music venue kept the place packed once it got off the ground and gained momentum. There was finally something exciting downtown that was a destination, not just a watering hole to preload in for an event or hose down after it was over.
My circle of beer drinkers put those amenities in second place; it was Opinsky's mastery not only of beer styles, but his incredible procurement prowess that kept the tap line growing and every changing. Humpy's brought beer up here that no one could. Today, walk into Humpy's and surf the mostly local menu, and you'll have over 55 draught selections to choose from. This not only appeals to locals, but packs the house with beer lovers from outside that have heard that Humpy's is one of the best places in the state to sample the most local fermented flair under one roof.
Opinsky's keen interest in a forerunning style of beer back then – Belgian Ales – partially inspired the SubZero Microlounge that took over in the former Lucero's on F Street and came to life in 2002. With a couple of fits and starts – in 2013 - Flattop Pizza and Pool took over where Stephan Fine Arts was when that venue vacated the northeast corner of 6th and F Streets. Humpy's sister organization — Humpy's Big Island Alehouse — opened In Kona. Williwaw came along a couple of years ago after the Covenant House pulled up stakes. The jury's still out on that gig, but it's testimony that the Humpy's empire remains serious about good entertainment value downtown, and of course good beer.
I became best friends with Billy and Jimbo over the years, and many of the staff that have come and gone over the years, but we've always shared one thing in common; the love of good beer and unbridled pride in the local stuff that sets us apart up here.
I had the distinct privilege of traveling for the sake of beer with Billy more than once. In 2000, I got a personal invite from Hugh Hefner to come to the Playboy Mansion in Beverly Hills as Dr. Fermento to participate in the re-release of Pete's Wicked Ale as a brand. As incredible as it may sound, I couldn't find anyone that wanted to go with me until I asked Billy. His answer was simple: "I'm in; let's go." We spent just shy of a week jetting around northern and southern California chasing great beer and good food, all in the name of sampling what might be worthy of making the menu back up here at Humpy's.
In 2011, Billy and I were invited to attend the legendary three-day full-immersion Sierra Nevada Brewing Company Beer Camp in Chico, California. Again, we chased suds with abandon, this time across the western reaches of the Sierra Nevada mountains and brought back a beer we made at the brewery for proud service at Humpy's; another beer available nowhere else in the state. It was another crowning achievement for me; it was one Billy and I made ourselves.
Humpy's isn't going anywhere and neither are Billy and Jimbo. In honor of this, I'll be in place at Humpy's 25th Anniversary celebration slated to take place on Solstice this year. I'll be hoisting a pint high – hopefully with Billy and Jimbo – looking forward to another quarter of a century of celebrating the love of beer right here at home.