Restaurant Review By Jin Chong
I don't spend very much time on Yelp these days, but I still like to get a sense of what I'm in for before going to any new restaurant. Whether that means reading up on other people's experiences or looking at photos of their food. And prior to trying Rickshaw for the first time, I found that this former fixture of the Alyeska ski lodge features a broad spectrum of dishes stemming from all sorts of Asian cuisines—Thai, Japanese, Korean; you name it.
But for whatever reason, my undying pessimism led me to believe this jack-of-all-trades approach would amount to nothing more than an average experience. Add to that, the fact that their hours are limited to a brief window on weekdays, which made it easy to postpone coming here for quite some time. Though from what I hear, they've recently been experimenting with late-night hours via DoorDash.
Well, an opportunity finally arose for me to visit this past week—a decision primarily influenced by my craving for ramen, which looks to be the most promising item on the menu. My wife joined me as we met for lunch in a spartan dining area that was a little lacking in atmosphere. Still, the service was friendly and efficient with doling out menus, but I already knew exactly what I wanted.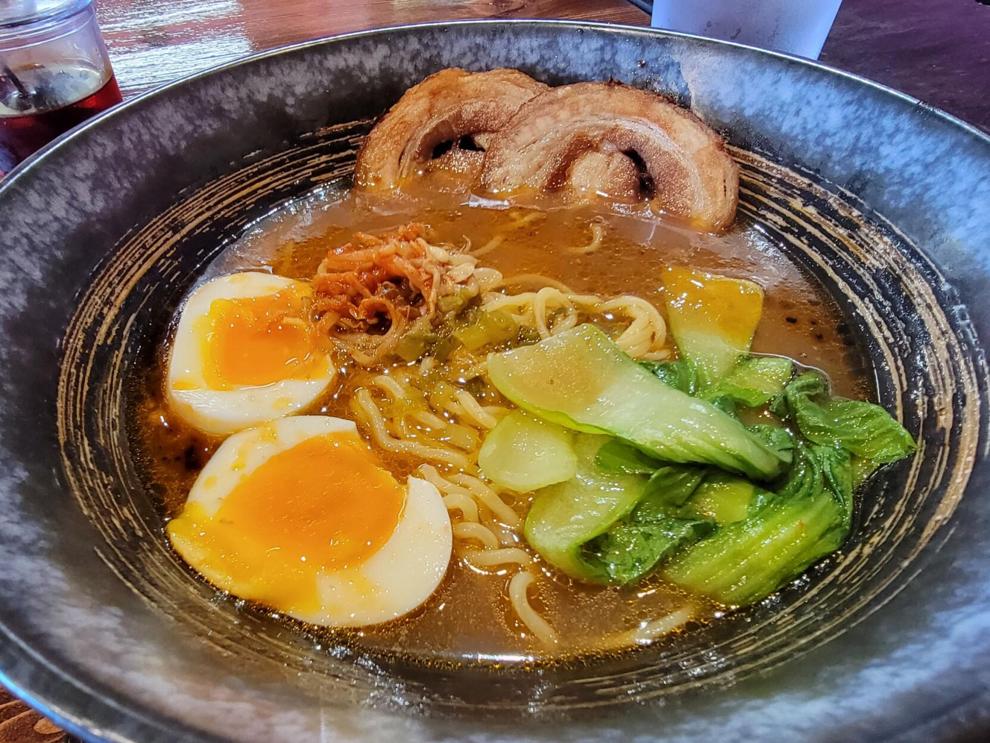 Described as being made from a pork bone broth and topped with an egg, chashu pork, bok choy, and bean sprouts, Rickshaw's ramen is one of several entrees found under the "cooked to order" side of their menu. There are also several "express" options, made up of even more entrees which I presume have had much of the prep work done in advance. Those who prefer variety or have trouble making up their minds should consider opting for their lunch special, which allows diners to combine two of the express entrees on a single plate along with rice and steamed veggies.
My wife opted to try said combo with butter chicken and the wine-braised beef. Never in a million years would I have thought to see Indian food lumped in with a predominantly East Asian selection, but here we are. This popular Indian curry actually turned out to be the strongest of the two options, with a foundation of onions and spices swirled in a velvety sauce with a hint of acidity from the tomato. The chicken was surprisingly tender, and though I would stop short of calling it the best I've ever had, there were really no qualms here.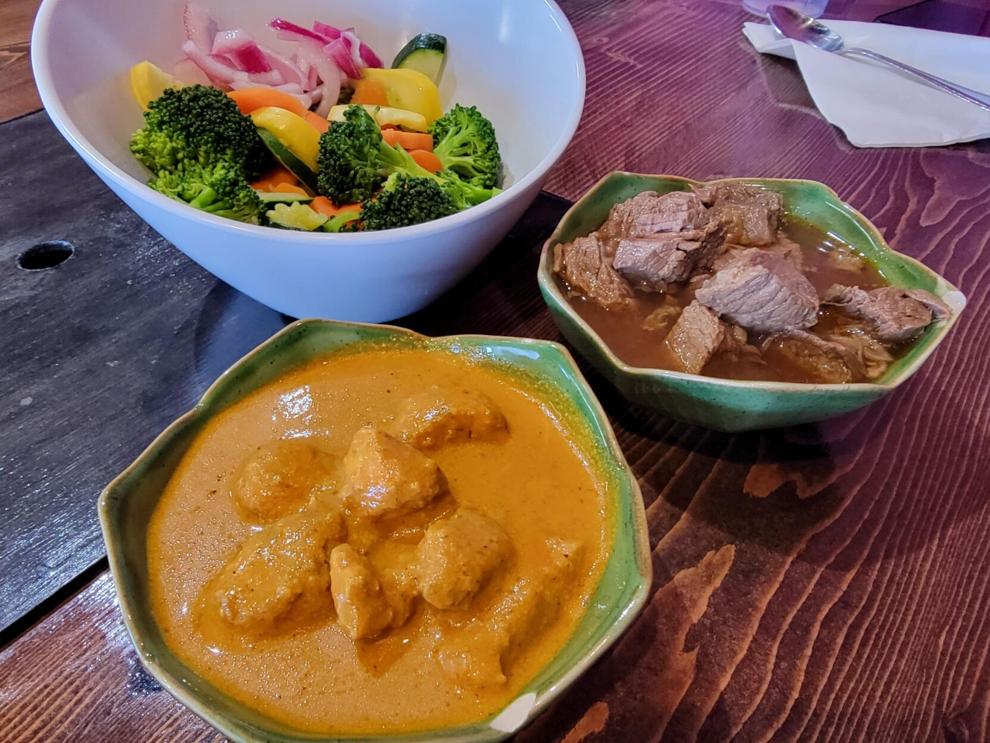 That was not at all the case with the braised beef, which was a significant decline in quality. What sounded promising on paper, and evoked images of a thick, hearty stew ended up looking regrettably like canned dog food. While the chunks of beef were indeed tender, the flavors lacked depth and the beef was somehow the only inclusion in a watery, insipid liquid begging for a reduction (or anything to help bolster this sad letdown).
Thankfully, I still had my ramen to look forward to, which looked comparatively stunning. Upon digging in, I thought the best part was the fresh, bouncy noodles which had a distinct egginess that enhanced the whole experience. While the broth wasn't remarkably explosive in richness or flavor, it was fragrant, meaty and slurpable nonetheless. The egg yolk had a nice jammy consistency, while the chashu pork was fatty, charred, and slightly smoky. The vegetables lent a pleasant crunch, and with a few dashes of some optional chili oil, it wasn't long before I finished the entire bowl. Not only did this check all my boxes, but this could also potentially be one of the better bowls of ramen this city currently has to offer, despite its relative simplicity.
But two great entrees and one not-so-great didn't feel like enough to make a determination either way. To their credit, Rickshaw does appear to tackle an entire continent's worth of cuisines, and that's no easy feat. So, a few days later, I returned to try their Korean spicy pork and Thai red curry as part of a lunch combo along with an order of curry fried rice. I know good spicy pork bulgogi when I see it, and I was happy that this one satisfied my expectations. The pork and onions were deeply marinated in gochujang among other sweet and savory components to make for an authentic reproduction of this Korean BBQ staple. Another plus is that it doesn't cost nearly as much to enjoy this here than at one of many Korean restaurants in town, where you're otherwise expected to spend an arm and a leg.
The red curry was also good, though nothing you couldn't find anywhere else. I appreciated the large chunks of chicken and mushroom that remained tender while the curry was thick and creamy with an appreciable level of heat. But the dominant feeling was that of relief as neither of the two express options were flat-out disappointments this time around.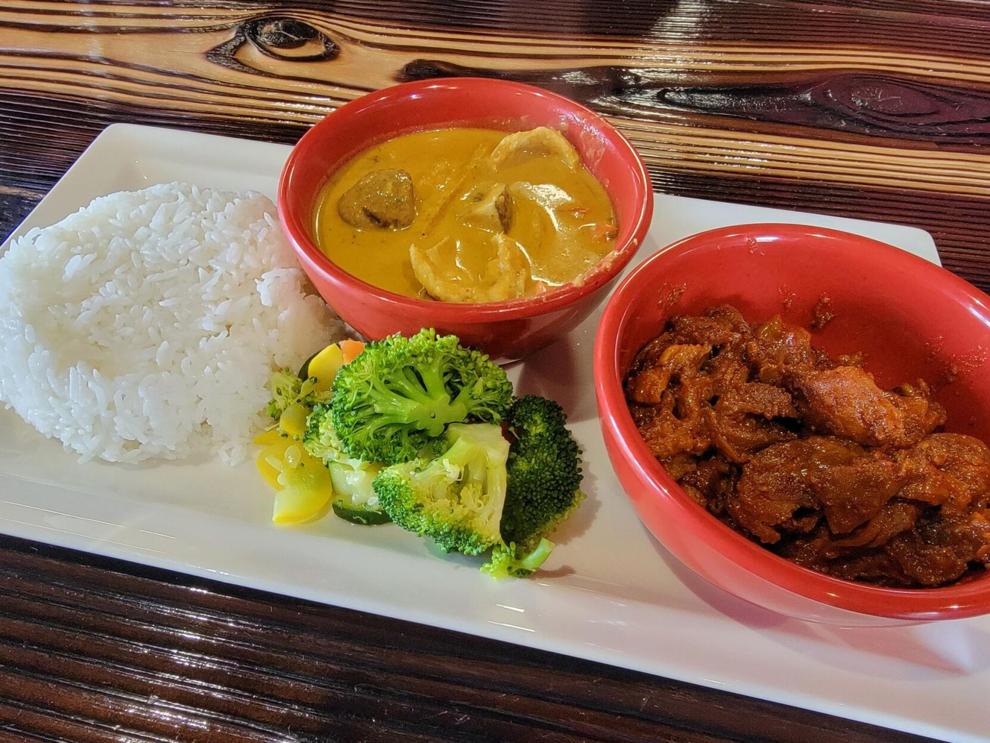 In fact, the curry fried rice was anything but. I was expecting something comparable to the one served at Ray's Place and found that to be largely true; from the crisp wok-fried bits to the heavy dose of curry powder staining the plate yellow. It was loaded with chunks of pork, plenty of veggies, and—as an added bonus—could easily feed 2-3.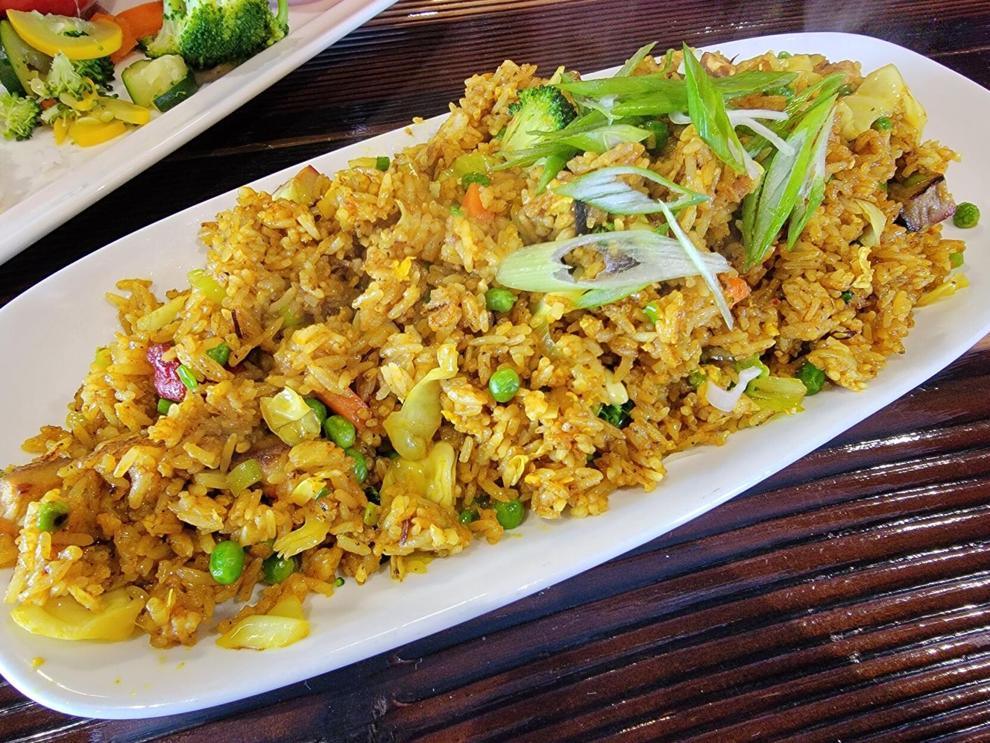 Perhaps I was being too harsh with my initial assessment of Rickshaw and their wide net approach. It's not uncommon for restaurants to feature multiple cuisines, and after all, rickshaws are a beloved method of transportation for people all over the world—why should they limit their culinary offerings to a single destination? Despite some bumps along the way, count on Rickshaw to provide a one-stop tour of some of Asia's best eats.