How does a brewer conduct a 12 day beer celebration - that's typically an in-house gig - in the middle of a pandemic? Glacier Brewhouse's annual The 12 Days of Barleywine event takes place between December 10 and December 21 this year, assuming the brewhouse will be open. What if the ever- looming threat of an emergency order shutters the brewery again?
Each year, Glacier's brewers feature 25-plus different beers in the heavy beer categories, typically including the namesake barleywines, Russian imperial stouts and Eisbocks. 
In terms of "heavy" beers, I mean the thick, full bodied, intensely rich and flavorful, strong heavy-hitters in the beer world. For example, the lowest alcohol by volume (ABV) beer in this year's 26-brew lineup is 9.0%, and the highest is 11.37%, and there are six of those knee-knockers in the mix. If you managed to drink every beer at the brewhouse over the 12 days, your average ABV works out to be 10.5 percent. 
Another aspect of this annual celebration that never ceases to amaze me is that any single brewery could do such a thing. These big beers aren't cranked out in a couple of days, after all. The beers' multiple year aging, a lot of which is in oak barrels, is what adds the incredible complexity to the beers that snooze away under the restaurant in what's known as The Wall O' Wood. I've spent many an afternoon in those cool confines having had the privilege of pulling samples from the casks with the brewers for taste tests, and yes, even having been part of choosing the beers to be included in one year's lineup.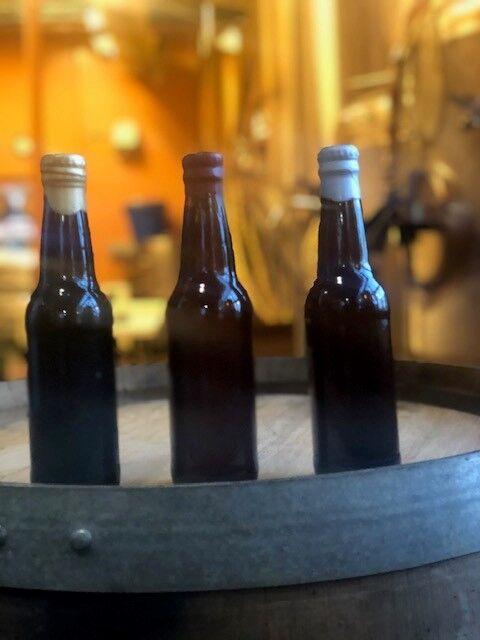 One of my biggest bragging rights to my network of outside beer drinking peers is that with Glacier, we probably have the biggest collection of barely wines on an ongoing basis under one roof in the entire world. Stick that in your mug and drink it, outside breweries! I'm fiercely proud of that little statistic, if you couldn't tell.
And, just for the record, drinking through the entire lineup earns you some serious bragging rights. It's not just drinking the beer that can be a fun challenge. In years past, the commitment required to navigate the formerly bustling downtown corridor to find parking, then go drink upwards of three high octane beers in one of Anchorage's most popular restaurants has always been a logistical challenge, not to mention elbowing your way through the crowd to fulfill your nightly commitment at the bar. Do this 12 days in a row and you'll know what I mean. 
In the 20 years of the event, I've only made it through the mix once. That one year I just got into the groove and showed up every day, and believe it or not, I showed up on day 13 on autopilot. I have some very serious beer aficionados that run in my pack that have achieved the goal many times in the event's history, and they never fail to rub my nose in their success and my dismal failure as each year passes. 
How this will all work depends on if the restaurant is open or not, but it will work either way. Here's how.
If Glacier is open, rise to the challenge and see if you can get down there 12 days in a row and earn your badge of honor by drinking through all 26 of the beers on tap over those days. Sip you way through 14 different barleywines, six different Eisbocks, five Russian imperial stouts and 1 specialty beer – a raspberry triple ale that weighs in at 9.22 percent.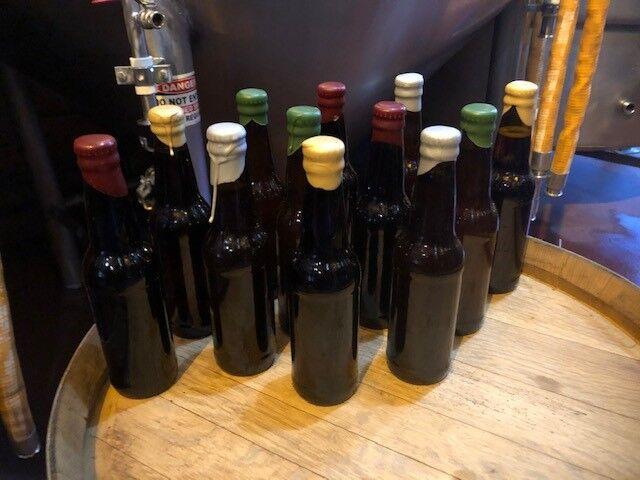 If Glacier isn't open, according to Glacier's head brewer Drew Weber, "If we do have a closure, we won't cancel the event, but we'll reschedule it for January or February or when we can re-open."
There's another enticing option. If the restaurant closes, or even if you've got the COVID jitters and just don't want to risk going into public 12 days in a row, you can enjoy the 12 core beers at home. 
"We're constantly dealing with the threat of a closure and this year, I still want to do the 12 Day of Barleywine no matter what, "says Weber. "We're offering a 12 pack of different barleywines. This box of 12, 12-ounce barleywines will enable everyone to get the same core beers that would be featured in our in-house event," he explains. 
Not that stats are important – although they always are to a beer nerd like me – the average ABV of the boxed set is 10.9 percent ABV with the tips and tails being at 10.06 percent ABV on the low end and 11.37 percent ABV on the high end. Oh and for you big beer freaks out there, there are five – or almost half of the collection - weighing in at 11.37 percent. The oldest beer is a 2015 Big Woody Barleywine aged 1.75 years in Wild Turkey barrels and the newest is actually two versions of the 2021 Big Woody Barelywine , one aged 11 months in Jim Beam barrels and the other aged in steel for about the same time. 
Forget about the stats; it's not big booze that's the allure in barleywine; that's more of a byproduct. Because I couldn't do as good a job of describing they style as succinctly myself, robbing directly from Glacier's own description:
"Tasting these beers can evoke descriptive words such as big, bold, huge, massive, full and assertive. Older versions will often be described in appropriately subtle terms. These include malty, sherry-like, estery and complex. At times they will even exhibit a richness of deep fruit-like flavors from cherries to plums, raisins and prunes. Finer examples aged in the customary wooden cask, will also present wine-like notes of a viney, woody, slightly tannic nature. A few breweries produce light colored versions of deep golden hues. However most Barleywines range in color from amber to deep reddish brown. 
Served in a tulip shaped glass or snifter, barleywines are unchallenged by any other beer in the role of a relaxing nightcap. Consume them like fine scotch, cognac or sherry, and slowly savor the strong malt and alcohol with underpinnings of subtle complexity. They make a picture perfect companion on a deep winter's night."
The boxed set is going for $200 each on a first come-first served basis starting on December 10 at the brewery. Don't balk at the price. First of all, barelywine is one of the most expensive styles of beers to make in terms of costly ingredients – primarily malt, and a lot of it – and then "expensive" real estate in terms of years of aging. Bottling what up to now have been entirely draft selections adds cost.
"It's a lot of work, getting everything out of oak and into kegs," says Weber of the process required to get the beer from the basement to the bar. "Then there's getting the beer out of the kegs and into the bottles. It's a much more labor intensive way of doing things, but, again, I want to make sure everyone has a chance to get a shot at this." 
Do the math: $16.60 for a 22 ounce, long, barrel-aged heady brew that can easily be shared among four or five worthy drinkers in a snifter is a steal. I've paid $25 and beyond for a 22 ounce bottle of beers of a lesser god. 
There's even more of a reason this bottled collection is so special. Forget about COVID for a minute; this is the 20th anniversary of the 12 Days of Barleywine Celebration. That makes this set of beers a collector's item. I'm tempted to get two: one to drink during the celebration and one for my vintage collection.
I may or may not make all 12 days of Barleywine this year if the brewery's open, but I will be getting at least one case of these incredible beers. I'll be first in line. And, the maniacal beer fiend within me says I can have the best of both worlds with a bottled collection and draught enjoyment in December or later if the brewery shuts down. 
Although COVID's pretty much ravaged our craft brewing industry, our brewers remain resilient and innovative in getting their product to market. Glacier's approach this year is a stellar example.