Maybe the saddest and most shameful fact of the homelessness crisis in Anchorage — at least so far as it concerns the Alaska Native population — is that many are merely shipwrecked here because they can't get a flight back home even though they're in a city with probably more flights per capita, per day than any place on Earth.
You can't take a bus to a place off the road system, so if you fly in from your village to Anchorage for even a routine appointment, but don't have the funds for a plane ticket home, or place to stay, there's a chance that you'll wind up a tragic statistic, a stereotype, an eyesore, a speedbump to urban modernity.
A few years ago, Samuel Johns, an aspiring hip-hop artist of Ahtna Athapaskan heritage, was asked by his young daughter why people were living on the streets of Anchorage and what could be done to help them. Her childlike solution was to make them sandwiches.
Johns thought, yeah, he could do that, and from that was born a movement that continues to grow.
'Forget Me Not' became a social media sensation that brought attention to and raised money for shipwrecked Alaskan Natives displaced in Anchorage. Its aim became to raise money for plane tickets to get these people back to their homes and back to their cultural roots.
This got the attention of filmmaker Mary Katzke, who was turned on to Johns' story by Anchorage Assembly member Forest Dunbar, and with some seed money from the Atwood Foundation, filming began on the documentary 'And Now We Rise' in September of 2015.
The one-hour film detailing Johns' life, music and altruistic pursuits made its debut Tuesday night with a pair of sold out screenings at the Alaska Experience Theater as part of the Anchorage International Film Festival,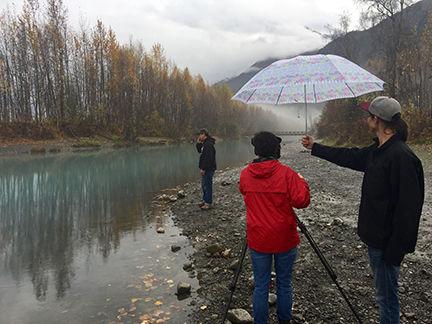 "It was really shocking to have someone reach out to me and offer something like that," Johns recalled prior to the first screening Tuesday night. "I didn't really see how it would happen. Sometimes when you know yourself you don't really see any excitement; don't know how your life is going to bring people in to watch it, but people are here."
Katzke and the film's director of photography Nara Garber were also on hand.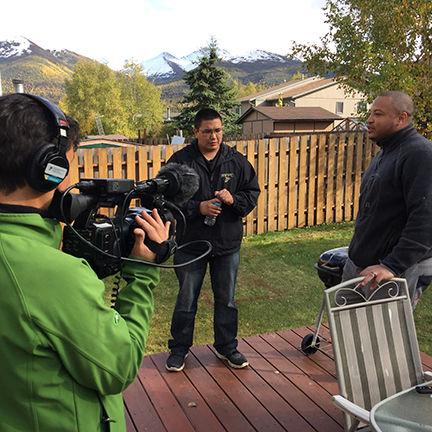 "My first thought was here's a young man who really carried weight in these villages; a man who doesn't have a career planned in public speaking — just rapping, and he's thrust into this role not of his choosing. It was interesting to be able to catch him at a point where he was still very green," said Garber, who hails from Brooklyn. "He created the Forget Me Not Facebook group that just exploded. There's people who train for this their entire lives who don't get that kind of notoriety or that kind of launching pad. He was just thrust into the middle of this."
Katzke said Johns wasn't the most willing participant she'd ever worked with.
"He took a lot of cajoling and coaxing; it's not part of his culture to put yourself out as someone to be looked at, to be admired, so we had to make sure it was not glory seeking on his part," Katzke said. "At times it was frustrating because he wouldn't show up for a shoot, or he'd be super-late or mad when he got there. It wasn't easy, but I think over the course of the shoot he began to trust us and started to see we were going to show up."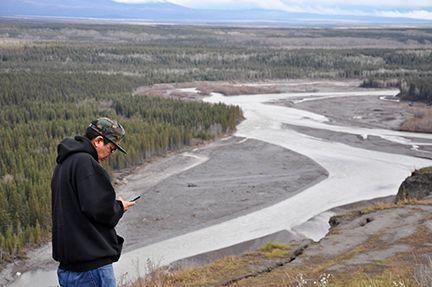 The story arc of 'And Now We Rise' moves along with the development of the main character. Johns begins as a rapper with socially conscious lyrics, who begins by doing a single, small good deed that catches on. As his philanthropic star rises, he becomes a coveted guest speaker throughout rural Alaska, meets President Obama, and one of the film's most memorable scenes he and his cohorts track down actor/activist Mark Ruffalo at the Standing Rock protests near Cannon Ball, North Dakota and deliver him a gift of Hulk Hands, apropos for the latest actor to portray the Hulk on screen.
"They were such fanboys," Garber recalled. "When we weren't filming for months, I really pushed for going to Standing Rock. There was no budget for it, but I said to Mary, if you can get me there, I will do that without pay. (Johns) was somebody who has become a big fish in a small pond, and for the first time he was a small fish in a bigger pond… I think that really switched him to the work he continues to do, to see he's a voice for indigenous people beyond Alaska."
Garber said the North Dakota trip helped her understand, and maybe reinforced the understanding in Johns, the plight of the homeless Alaskan Native.
"Our very first shoot we went up to Arctic Village and it was revelatory for somebody from New York who'd never seen it — it is a different culture," she said. "At Standing Rock they said we're going back to our culture, not a cash economy, everyone looking out for everyone else. These people who, if they come to Anchorage for a medical emergency and don't have anything to fall back on, it is like being in a foreign country. That's one reason Sam started Forget Me Not to get people back to their home villages where they will regain a foothold and hopefully a healthier lifestyle if they return to what they grew up with. It doesn't always happen."
Sam, being Sam, was late arriving to Tuesday's screening, but he had a good excuse. He'd just helped another Alaskan Native and her children get on a flight to Ketchikan, back to her home village to hopefully live a better life.
"I don't know how to put into words watching a few chapters of my life compressed into an hour. I'm excited that my loved ones and supporters get to be here tonight and check it out," Johns said. "I'm really grateful to them to be able to documents the moments where I felt like I was speaking truth… glad to have the opportunity to film my travels and glad to be in control of the content and speaking truth."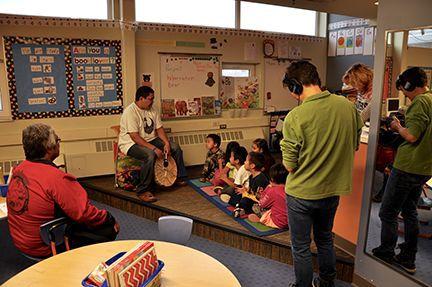 The movie character Johns finds most kinship with in his adventures is Johnny Depp's Captain Jack Sparrow from the 'Pirates of the Caribbean' movies, ironic in that his calling has been in rescuing metaphorically shipwrecked people..
"Sometimes I feel like Jack Sparrow — just moving forward," Johns said. "There's a scene in the first Pirates of the Caribbean where he arrives on this boat just as the ship is sinking and he steps on land and just walks on there like everything is all right. I feel like that happens sometimes helping people. I have no idea how we're able to connect the dots, but at just the right time everything happens. I feel like a higher power, at times, takes over. It's kind of hard to talk about that, but from my memory I can totally remember times I had no idea how things worked out but they came together miraculously."
Along the way Johns has found that 'Forget Me Not' isn't just about getting homeless people the hell out of Anchorage; it's about reconnecting them with their roots spiritually.
"When we first started it we just wanted to reconnect people with their homes and get them plane tickets back," he said. "Me and the people I work with now see reconnecting them not only to home but culture, community and family. That's what we plan to do and hopefully we can find the best way to do that."
It's universally agreed upon that the homeless situation in Anchorage has worsened in recent years. Some blame the recession in the Alaska economy, others point to the nationwide opioid epidemic. Johns believes it's a mixture of many causes, but the solutions, as he sees them, start with compassion and seeing people as individuals.
"The word homelessness is pretty general. Once you start working in that field you see different types of people. Some live that lifestyle because they want to; they want to live free from electricity. Some are mentally ill and some people have a really bad drug issue…. But when it comes to Alaskan Natives, I think just bringing more culture to their lives will help a lot," Johns said. "I would say it's good to see more people humanizing the issue and I hope that 'Forget Me Not' will help with that part of it. I couldn't say whether statistically speaking it's getting better — I mostly work with individuals — but I could see things getting better in the long run because what we're doing is humanizing the issue and that's like the ointment to the problem, not just the band-aid on it."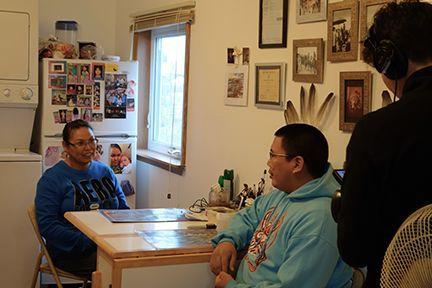 Johns said getting to know and even friending displaced people is key to that ointment working.
"People need to sympathize more with people who have trauma or an unhealed trauma problem, that's one of the things really lacking," he said. "Most people use stereotypes to minimize the situation and give them the change or talk down on them and move on with their day. If more people acknowledge the trauma, get to know their names it humanizes them. Ask them what type of native they are. For me, if I've known someone (for a while) and they call me Alaskan Native, I don't like that. I'm like, no I have an identity — I'm Athapaskan, Gwich'in Ahtna Athapaskan. If you were my friend you'd take the time to learn that. When you befriend people on the streets in that situation it will help them by shining light on that identity."
Katzke said she's in the process of finding a home for 'And Now We Rise' by Feb. 1, likely either the PBS show POV or Independent Lens.
"I love Sam's humor; he's a really funny guy," Katzke said. "While he didn't have ideal parenting growing up, he's doing his damndest to be a good father. That's really touching to me, as a parent, to see how much he cares about his daughters… Helping displaces people was his daughter's idea t make sandwiches. He's setting a new bar for Native fathers."