There is a side effect to this pandemic that not many of us saw coming. We are forced to realize that many of our friends and family are fucking idiots. Due to E0-15, bars and restaurants cannot allow service indoors. Some restaurants decided to ignore the order and continue service. Fox News had fun supporting Kriner's Diner as the owner took a stand and continued to run business as usual for a few days. Other business owners stood against him, while some supported him wholeheartedly. 
Other restaurants took advantage of the relaxed rules regarding outdoor service. Crush Restaurant was the first to build outdoor seating, but it wasn't the only business that applied for and received the permitting to do so. Over 50 permits were approved statewide and 30 of them were in Anchorage. There are some locations that wanted to provide outdoor seating but are not able to because of rules from landlords or parking lot owners. 
I am only going to say this once. If you think that Crush is providing outdoor service because it is a favorite of the Mayor, you are a fucking idiot. That is not what happened, Suzanne Downing is wrong, and she is an incredibly lazy 'journalist.' 
Now, let's move on to happier things. Dining outdoors is awesome, and you should be taking advantage of this opportunity. All over Anchorage locations are getting creative with a way to still provide service to beloved customers and hopefully stay afloat during these troubling times. 
On the corner of 6th and F, Humpy's, Flattop, and Williwaw have taken over the entire street with a great patio set up to help people enjoy the cocktails, beer, and food that the businesses are famous for. With the help of JJ Tranquilla from Big State Beer Trucks, the Humpy's side of the street has a retired fire engine that has been remodeled to become a beer truck featuring products from Alaskan Brewing Company. The new Alaskan Seltzer was one of the featured products this past weekend, but options will change often. 
One of the best parts of the patio seating on F Street is the collaboration between Humpy's and Williwaw to bring in live music acts such as the Eternal Cowboys to entertain the crowds enjoying delicious items from both restaurants. Williwaw is also able to provide service on their rooftop area. 
On the other side of downtown, 49th State Brewing Company has turned the parking lot into a service area in addition to the rooftop patio seating that they are famous for. They have also created a valet area for anyone that wants to ride their bicycles in. On Friday night all of the seating was at capacity while socially distanced. One employee commented, "This is a representation of all of the business that we would be losing if we were not able to provide outdoor dining."
Up on G street near 4th Avenue, Crush had a nice crowd while a talented young woman was playing an acoustic set on her guitar and singing. Just a few yards away Side Street Espresso has been doing outdoor service during the day providing coffee and baked treats to those still working downtown during the day. 
Moose a la Mode has even put some tables outside to help customers enjoy the delicious food and pastries that they offer. If you haven't stopped by for a gourmet cupcake from Chef Marty you are missing out.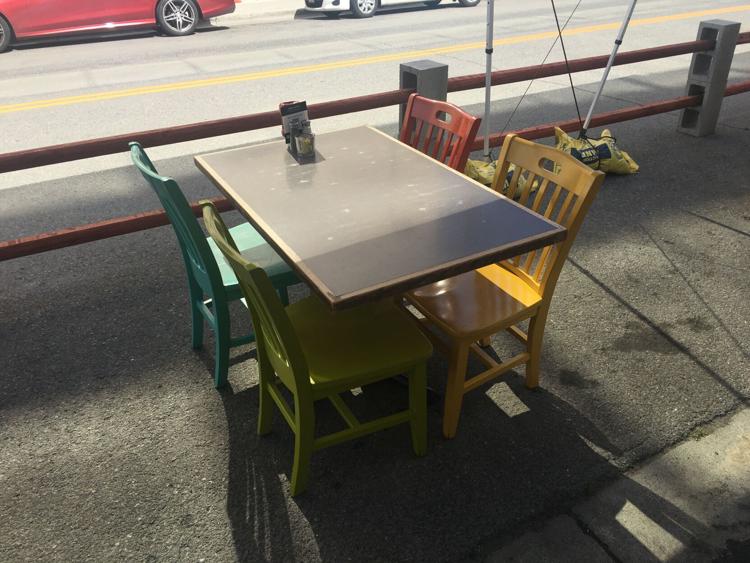 A very heartwarming occurrence that has been happening is local business people reaching out to help each other in different ways. The Anchorage Markets posted on social media that they wanted to loan tables, tents, umbrellas and chairs to any restaurant that did not have their own. Alleyway Grille on Arctic is now able to stay open because of this type of help. Little Italy on 88th Street was able to open their patio with assistance from Ace Hardware who loaned out all of the furniture needed so that the southside institution could continue to serve their loyal customers. 
Even Koots has been able to open up for service with The Kitchen as long as patrons stay on the patio. With the carved walls and music happening outdoors combined with the beautiful weather we have been experiencing there really isn't a reason to stay inside anyway. The Kitchen at Koots has a great menu that includes appetizers like chicken strips and jalapeño poppers, as well as their steak dinners on Wednesday and Thursday. If you decided to dine in or take out from this spot as Ricky about the Brussel sprouts. The item alone is enough to make you a regular of his food. 
Matanuska Brewing Company in midtown off of C Street took their time making sure that they could safely serve but now they have tented off the parking lot and are able to allow people to dine al fresco as well as provide to-go service for not only their food but also cans and growlers of beer. 
As we go through this pandemic your favorite bar or restaurant may not be able to open for dining outdoors, so this is the perfect opportunity to try something new. Locations such as Jens', Leroy's, Snow City Café, South, Spenard Roadhouse, Moose's Tooth, Midnight Sun Brewing Company, and Midnight Sun Café are all placing tables and tents outside. Each location mentioned also provides to-go service and many are available for delivery.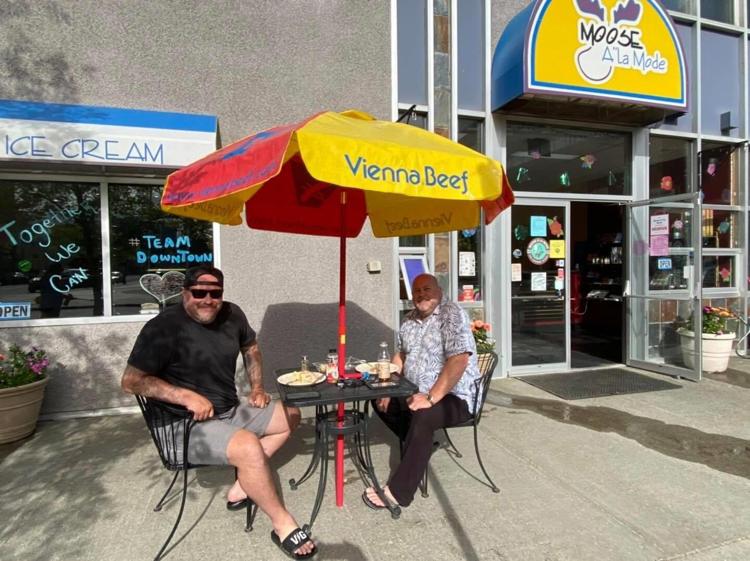 The attacks on Crush restaurant and any investor, partner, or employee are despicable and anyone threatening harm should be ashamed of themselves. As an industry we are struggling to survive with little to no income. This is the time to come together and support the workers that have made service their profession.