This timeline is based on public comments, public posts, and reporting from a wide spectrum of Alaskan sources as they unfolded. I have not corrected spelling or grammar and have instead opted to leave quotes in tact as they were presented online.
News Net Alaska journalist Maria Athens interviews the owner of a cookie shop in Alaska. (I am withholding the name of the cookie shop and business owner).
During the course of the interview, Maria Athens asks the business owner what she thinks of Anchorage Mayor Ethan Berkowitz. The business owner asks Maria Athens if that's the short guy.
A conversation about Mayor Berkowitz occurs between Maria Athens and the business owner.
During the course of the conversation, the business owner tells Maria Athens that her daughter use to escort (non sexual) in Anchorage.
Maria Athens goes to the news station and records a video making allegations against Mayor Berkowitz, writing:
Maria Athens then posted a picture showing the back of a man's head captioning the picture with:
The Mayor's office issued a press release stating:
"The slanderous allegations from your Alaska link reporter Maria Athens are categorically false and appear to be the product of someone who is hostile and unwell. We spoke with Ms. Athens' employer, general manager Scott Centers, who emphatically disavowed his employees comments."
Maria Athens then posted another picture, showing a full portrait view of the same man with exposed buttocks, side by side a picture of the press release from Mayor Berkowitz captioning the picture:
"Nice try damage control, certainly First Lady Killer Mara Kimmel can confirm that is her husband's hairy ass and bathroom tiles 🤣"
Police take Maureen "Maria" Athens, 41, into custody Friday after it was reported she and a man were involved in an altercation. Athens was charged with fourth-degree assault, criminal mischief and disorderly conduct.
Ms. Athens' video segment does not air.
The daughter of the business woman interviewed by Ms. Athens and who knew of the interview between the two, sent a message to her mother asking: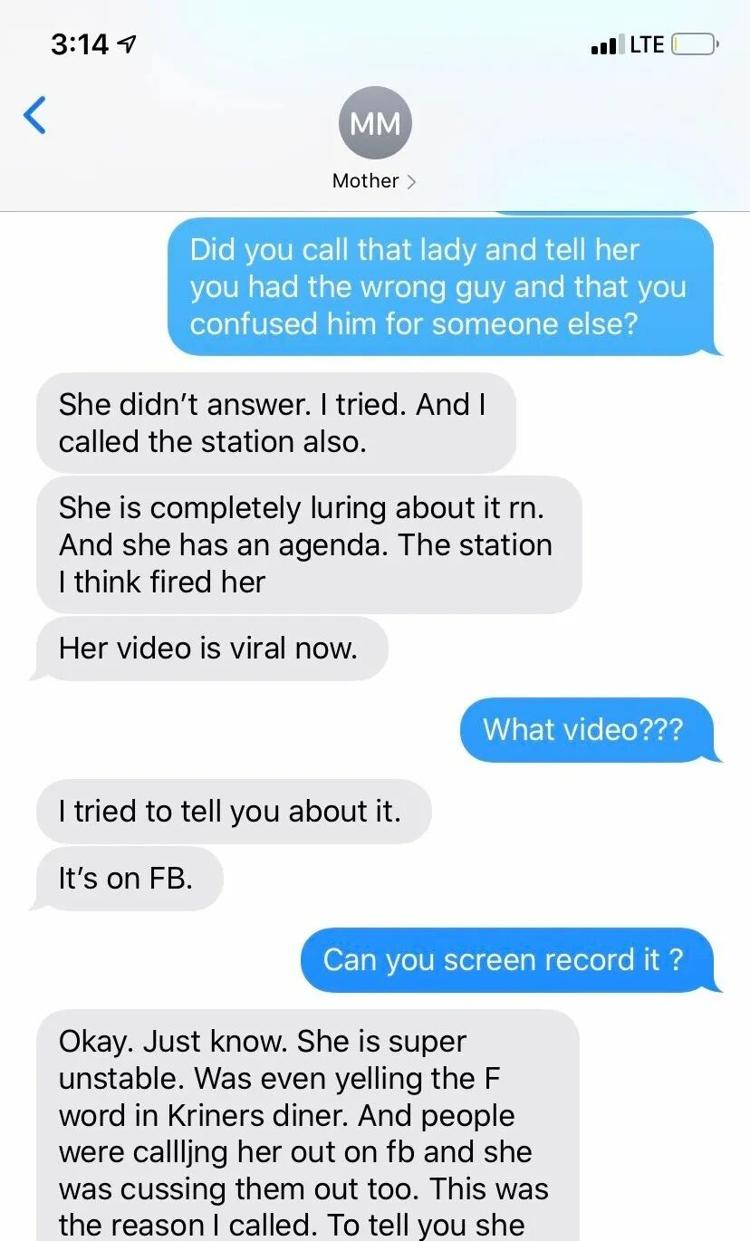 "Did you call that lady and tell her you had the wrong guy and that you confused him with someone else?
The mother responded via text message and said:
"She didn't answer. I tried. And I called the station also. She is completely luring about it rn. And she has an agenda. The station I think fired her. Her video is viral now."
The business owner (mother) allegedly texts her daughter to say about Maria Athens:
 "Okay. Just Know. She is super unstable. Was even yelling the F word in Kriners diner. And people were calling her out on fb and she was cussing them out too."
"A spokesperson from the Anchorage Police Department said Saturday that they were aware of the allegations against the mayor and a joint investigation with the FBI revealed no evidence of criminal conduct."
Maria Athens is arraigned: 3AN-20-07844CR
A Twitter account purportedly belonging to the daughter of the business owner interviewed by Maria Athens began posting her statement about the events on Twitter, where it was seen by the Blue Alaskan and others. In part, she says:
"She went off on a whole story about how I was an escort for Mr. Berkowitz, that he hired me for sexual favors, sent me pictures, etc. because she was receiving attention for what she was saying, and she wanted her five seconds of fame. I was NOT and escort for Ethan Berkowitz, I don't know that man and I have NEVER met him. He has never sent me naked pictures or posted any on any of my websites, I have no idea who that man is. Maria Athens is running a fake story in attempts to ruin this mans life."
"I know the mother in these texts personally. She is mentally ill. She is also a firm believer of Qanon and in this strange charismatic version of Evangelical Christianity. Almost schizophrenic in the way she claims to have visions from Jesus and such. But here's the big thing: She has major connections to Kriners Diner. It could have been a revenge thing. This lady really needs help. I have a lot of empathy for her because I know she is unwell, but I've never been this mad in a long time. How can someone just make baseless accusations like this? Even for her it's far. Makes me sick." 
"So in a wild twist to the crazy Maria Athens story, the brother of the cookie store owner who seemed to have started a lot of this is none other than Andy Kriner. The owner of Kriner's Diner. It doesn't get more loose than that."
The Alaska Landmine writes in an article: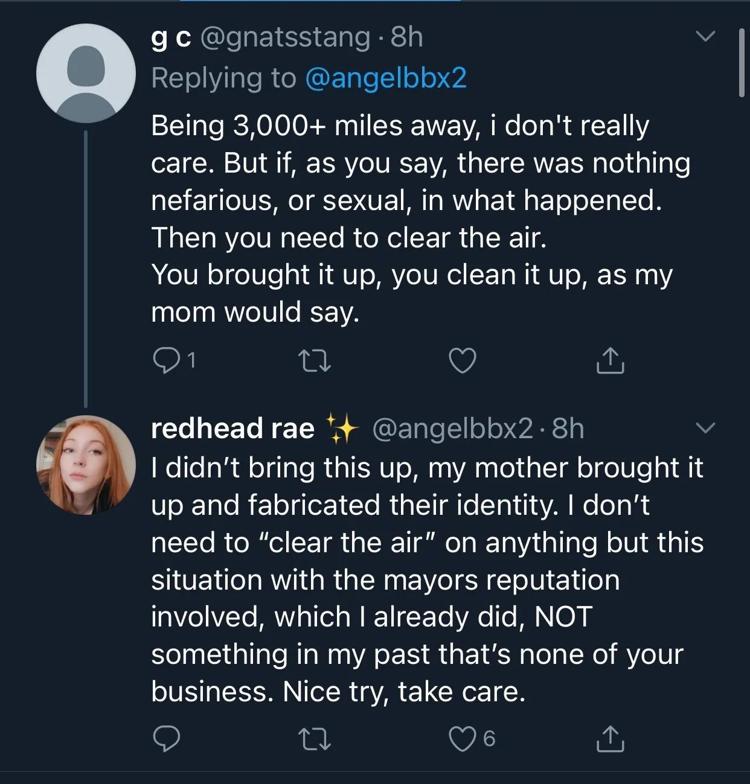 On Sunday afternoon, Twitter user angelbbx2 stuck to her story, saying:
"I didn't bring this up, my mother brought it up and fabricated their identity. I don't need to "clear the air" on anything but this situation with the mayors reputation involved, which I already did, NOT something in my past that's none of your business. Nice try, take care."
---
On August 25, 2020 Maria Athens tags the Facebook group Save Anchorage on Facebook.
On September 30, 2020 Maria Athens tags the Facebook group Save Anchorage on Facebook.
On October 2, 2020 Maria Athens posted a picture of a fundraiser flyer with Jamie Allard. The Hashtag on the flyer is #SaveAnchorage.
On October 7, 2020 Maria Athens posted a photograph that included a car window that said, "Biden Likes Minors." (That's BLM for those of you not paying attention).