On Tuesday, August 25th, on the third night of protests in Kenosha, Wisconsin, following the police shooting of Jacob Blake, a 17-year old gunman named Kyle Rittenhouse opened fire on protestors, killing two and hospitalizing a third.
The spin and commentary came pouring in immediately. Whether Rittenhouse's actions were an act of murder or self-defense, narratives quickly crystallized along party lines. Many on the Right pointed to the victims' criminal histories or to the general protest behavior to rationalize vigilante justice, while the Left largely ignored the billions of dollars in property damage and lives lost leading up to Kenosha.
The following Saturday, hundreds of Trump supporters gathered in vehicles outside the Portland city limits, adorned with Trump 2020, Confederate, Gadsen, and U.S. flags. The Trump caravan made its way into Portland, where police attempted to keep the mobile rally from entering the downtown core where Black Lives Matter and Antifa protestors had been demonstrating for 90 days.
Live video streams on Twitch and Twitter showed pepper spray and paintball guns being used to disperse protestors who confronted individual vehicles. Dozens of comments poured in, fearing escalation in the wake of Kenosha. Hours later, a Patriot Prayer supporter would be dead, shot and killed by a suspected Antifa protestor.
Video shows the victim, later identified as Aaron Danielson, drawing and deploying mace or pepper spray immediately before the gunman fires. Once again, the rhetoric immediately and inversely ramped up. What pundits had called an act of self defense only days before in Kenosha was now being called a public execution in Portland. Trump blamed Portland Mayor (and Police Commissioner) Ted Wheeler's lack of enforcement. Wheeler blamed Trump's divisive and inciting rhetoric.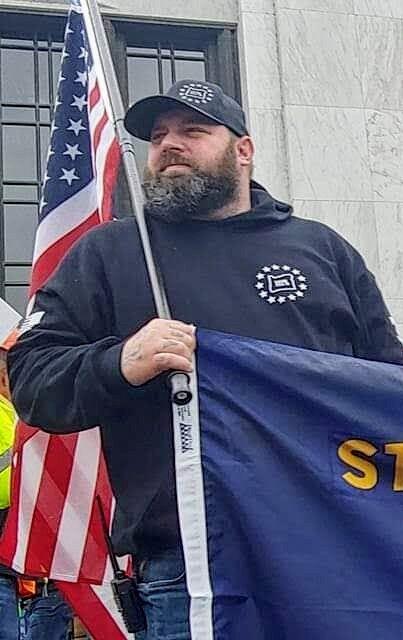 But 80 miles to the south, in Albany, Oregon, a former local Three Percenter leader isn't interested in blame, but common ground. Justin Rosenbaum says he initially joined the group with the idea to transform the public's perception. "My whole objective was to change the minds of people about what the Three Percent was because of places like Charlottesville where these rogue white supremacists and nationalists would try to tie their name to the 3%. Any major Three Percent group would denounce and deny these guys any involvement. We're for 'life, liberty, and the pursuit of happiness' for everyone, all-inclusive."
Rosenbaum said that his early days as a group lead were more community-minded. "Lead is responsible for calls to arms if ever necessary, but more often calls to action, like in [the small mountain community of] Oakridge, where they were locked in by ice storms and 35 miles of fallen trees. We got a crew of about 15 guys together with four wheel drives, winches, trailers and chainsaws to cut our way into the community and deliver supplies."
Rosenbaum estimates about 50-60% of local chapter members are retired law enforcement and non-active veterans. He says that while some factions of Three Percenters consider themselves militia, the groups are highly localized, so mileage may vary. Rosenbaum's chapter wasn't supposed to be militaristic.
"There are different groups like the Proud Boys, they don't claim to be Three Percent but they try to align with Three Percent quite a bit. Some of the Three Percent groups welcome them with open arms," Rosenbaum says. "I would never accept invitations to rally with them when I was a lead. It was a bad decision on [new] leadership's part, in my eyes, to align with a strike-first type of group. The Three Percent considers themselves a last line of defense."
Rosenbaum says he believed that the only way Three Percenters would ever be able to gain an inch of mutual understanding and was through peace.
"I was looking for the proper opportunity for the Three Percent to sit down and have a face-to-face," he says. "In the end, conversation is what's going to cure everything. Not bullets, not knives, not fistfights in the street, not riots, not rallies, not flag-waves over the fuckin' overpass. The only thing that is going to make change is open minds and open hearts. You can't do that without conversation."
After the death of George Floyd on May 25 and the subsequent national reaction, Rosenbaum found his opportunity. "A local group of kids here decided to hold a Black Lives Matter rally. A bunch of people who call themselves patriots said, 'Get your pickups, get your guns, we're going to run BLM outta town.' These are kids that I've coached since they were five or six years old. Some of these kids have gone off to college and Division I football. They want to tell their story. These aren't rioters. They're bringing awareness to a community in Oregon that was founded on racism."
Rosenbaum says he shunned the typical Three Percenter protective gear and firearms and went plainclothes down to the demonstration to extend the olive branch of peace. "I started going down to these local BLM rallies and just sat," he says. "A local organizer recognized me, we had a good talk, and I asked him to introduce me to some of the people coming down the line. There were some Antifa, some sickle-and-hammer types, and they asked what the fuck I was doing there. I said I'm here to talk. And I opened minds by showing up with no guns, no flag waving, no gear, just to talk."
Rosenbaum said he reported his experience back to his chapter's new leadership and they initially praised his efforts. As demonstrations continued around the country, Rosenbaum was again approached by the same local BLM organizers. "I got a message from one of the local organizers asking if the Three Percenters do security. 'We don't want guns but detractors get rowdy,' she said. 'Could Three Percent walk with us and make sure nothing gets out of hand?'"
Three Percenters walking alongside Black Lives Matter, in communication with local law enforcement. A community together. The moment Rosenbaum says he'd been waiting for.
Although agreeing and committing to help, Rosenbaum said leadership announced a change of heart 12 hours before the chapter was to provide 40 Three Percenters for the march. That was the breaking point.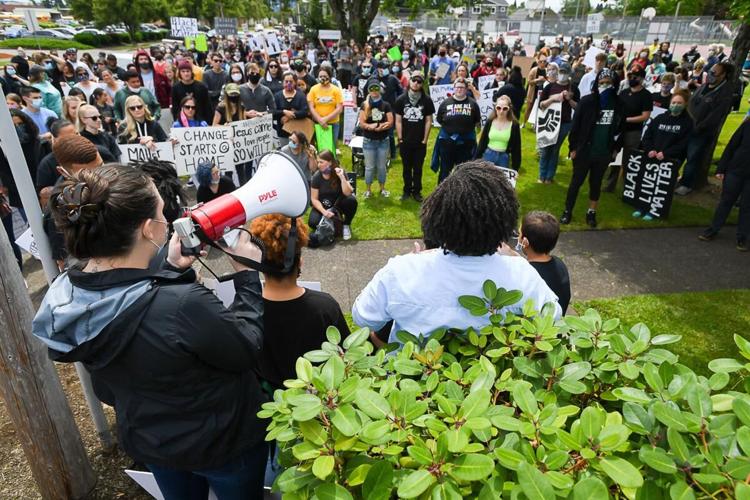 "We honor ourselves and our community by our word," Rosenbaum says. A handful of members swore to attend the rally anyway, resigning their positions within the group if necessary. "We ended up showing up for the march welcomed with open arms. We did the march route, and when we reached the end of the route for the speakers, there were 20 of my guys, unarmed by request, calm and happy to be there."
One agitator ran through the rally with a Blue Lives Matter flag, but it didn't have much effect on attendees or on the Lebanon Police, Linn County Sheriffs, or Oregon State Troopers who were in attendance. "Some of the BLM marchers had anti-police signs, but the cops weren't bothered," Rosenbaum says. "We were all there to do our jobs and we did them."
Rosenbaum said the event led to a casual friendship across the political spectrum. "I had one of the BLM speakers come to my house a couple weeks after the rally because he wanted to know who I was," he says. "I said, 'the best way is to sit down and have a couple of beers and let me cook for you.' He and his wife came over and we had a great time as people, as Americans."
Rosenbaum said fallout with the Three Percenters came after the only violence of the day's rally, when agitators clashed with a woman of color outside the event area. Rosenbaum says new leadership was present and inserted himself into the situation, later claiming that he had been assaulted by the woman. In an online message board, members began to take sides over the incident and language began to escalate.
When members began to verbally attack Rosenbaum's wife, he said he decided to walk away. "I started to see where new leadership was trying to pull this chapter. They were beginning to become a lot more militant, and that's not what I signed up for," he says. "We took an oath not only as Three Percenters but as constitutionalists, and as Americans we should all be taking the same oath to fight against any form of violence. There are always going to be those people out there that are hell bent on breaking shit, burning shit, shooting somebody. We have to work together to stop those individuals."
Rosenbaum says he's since been invited to stand by an LGBT friend for a Pride rally in Rosenbaum's neighboring hometown of Sweet Home. "Intimidation isn't the right word but if I can cause a little shock and awe for the people who used to think they knew who I was, if they can see that a person like me can open their mind and stand next to someone who may not align with their views, I'll do it any day."