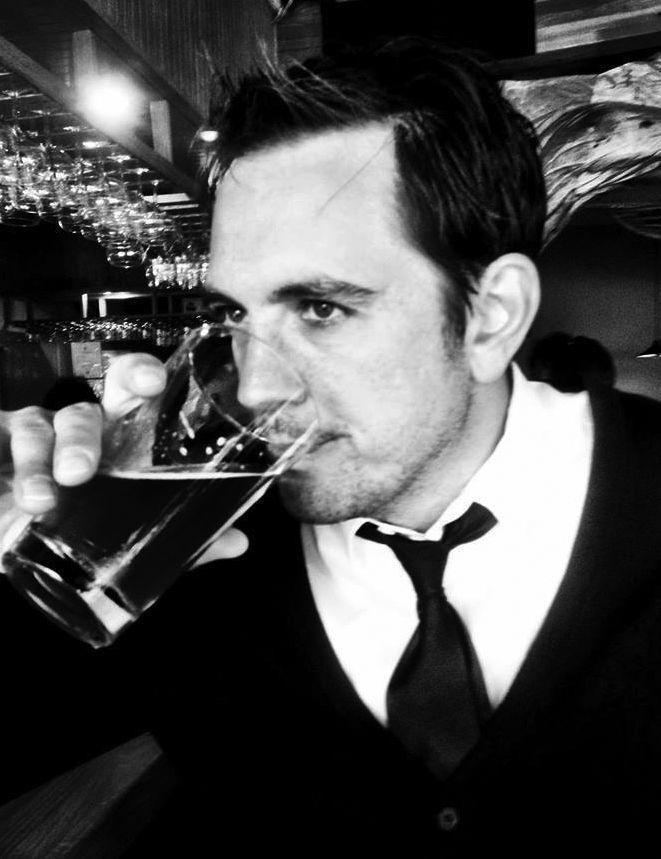 It's been said that a political race doesn't start until the first sign is vandalized, and still a month away from the filing deadline to become Anchorage's next mayor, plenty of spray paint already stains the battlefield.
The two main victims happen to be the front-runners and leading fund-raisers of the supposedly non-partisan race in the early going — conservative Mike Robbins, a longtime radio station owner, and progressive Forrest Dunbar, who's currently in his second term on the Assembly.
"I have never experienced this level of vandalism we are seeing now," Dunbar said on Monday night, even as two more of his signs were being defaced with hard-right messaging. "We've had seven or eight signs vandalized already and all but one appear to be the work of the same person, who appears to be targeting my signs. There's a distinct color of paint."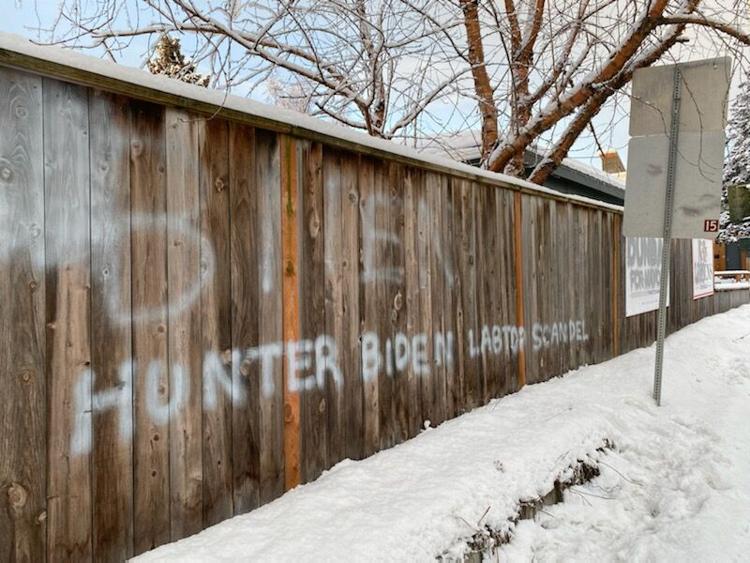 Vandalism of Dunbar signs appear to follow a common pro-Trump theme, including one that, in true MAGA form, calls for investigation into Hunter Biden's unsubstantiated 'labtop scandel.'
"What's happening is pretty clear," Dunbar said. "My campaign is, right now, the most successful on the progressive side. For months, Must Read Alaska and other Republican mouthpieces have been attacking me. They know I'm the one most likely to draw together a moderate and progressive coalition that can beat them. It's sort of a trickle-down vendetta."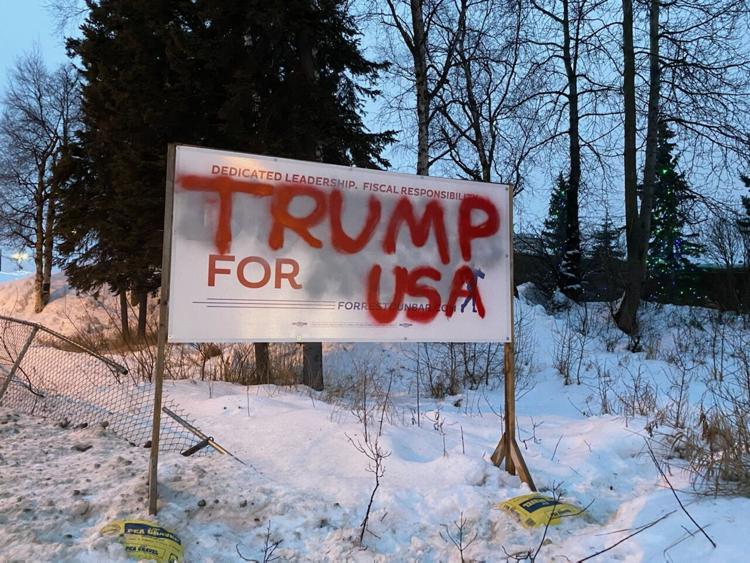 The problems started for Robbins back in early November when multiple 4-foot by 8-foot signs were stolen from the midtown patch of dirt bifurcating A and C Streets. At first, Robbins assumed it was left-leaning antagonists, but eyewitness accounts revealed the perpetrator to be wearing a bright green, high-visibility vest and driving a white Chevy Suburban that turned out to be registered to a woman whose Facebook page revealed her to be a supporter of Dave Bronson, another mayoral candidate running well to the right of the already conservative Robbins.
Around that time on the east side of town, on the residential property of a friend of Robbins', another of his signs was stolen along with a spotlight that made it visible at night.
"Our signs were removed and stolen, basically," Robbins said. "We saw who it was, got a license number, a description and notified APD and nothing got done."
Robbins said that at the time he made the police report he did not know about his suspect's preference for Bronson.
"It wasn't until later we discovered someone possibly associated with another campaign may have been involved," he said.
Dunbar said he, too, reported the vandalism to the police but, to date, the investigation has not advanced.
Both candidates estimate their losses to be around $1,000, so far.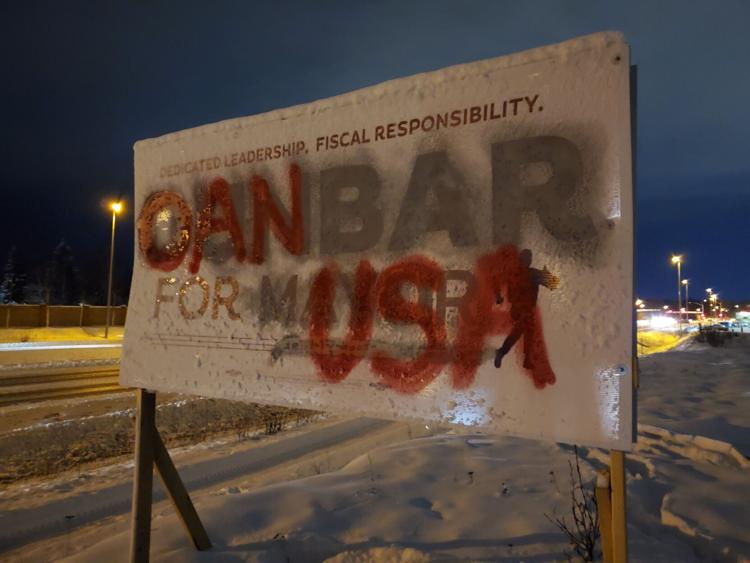 There is no evidence the acts of theft and vandalism were ordered by the Bronson campaign, or that the the woman allegedly spotted at the midtown crime scene works for the campaign, but the messaging in the vandalism, and that many of the stolen Robbins signs sat next to Bronson signs that went unmolested, makes it appear that far right wing adherents are behind the effort.
With all this in the backdrop, Robbins finds himself in a tricky spot heading into Christmas. Because municipal rules require one candidate to reach 45% in the general election to win outright, the race, which currently features 10 candidates and potentially more by the Jan. 21 filing deadline, is not likely to produce an outright winner. This, more or less, makes the April 6 vote-by-mail election a primary, essentially, as a divided city will have to choose between Dunbar and City Manager Bill Falsey and community activist George Martinez on the left, Robbins and Bronson on the right, and former Assembly member Bill Evans, more or less occupying the most centrist position, among the top contenders.
Assuming no one reaches the 45% threshold, the two top vote-getters will go into a runoff election, which likely would feature one candidate on the right and one on the left.
Given the tension between Robbins and Bronson, it's safe to say it's far more likely fellow Dunbar's fellow progressives will get out of his way and clear a course to possibly get to the 45% threshold that would make the conservative semifinal essentially for naught.
To that end, Robbins has reached out to the conservative community, in general, and Bronson in particular, to hold a summit to rally around one conservative candidate who would be the most electable. On his Facebook page, Robbins posted, "If the two conservative Republicans and the moderate Independent split the vote, we will hand our city back to the radical left for three more years. The clearest path to victory for our cause is to coalesce behind one candidate."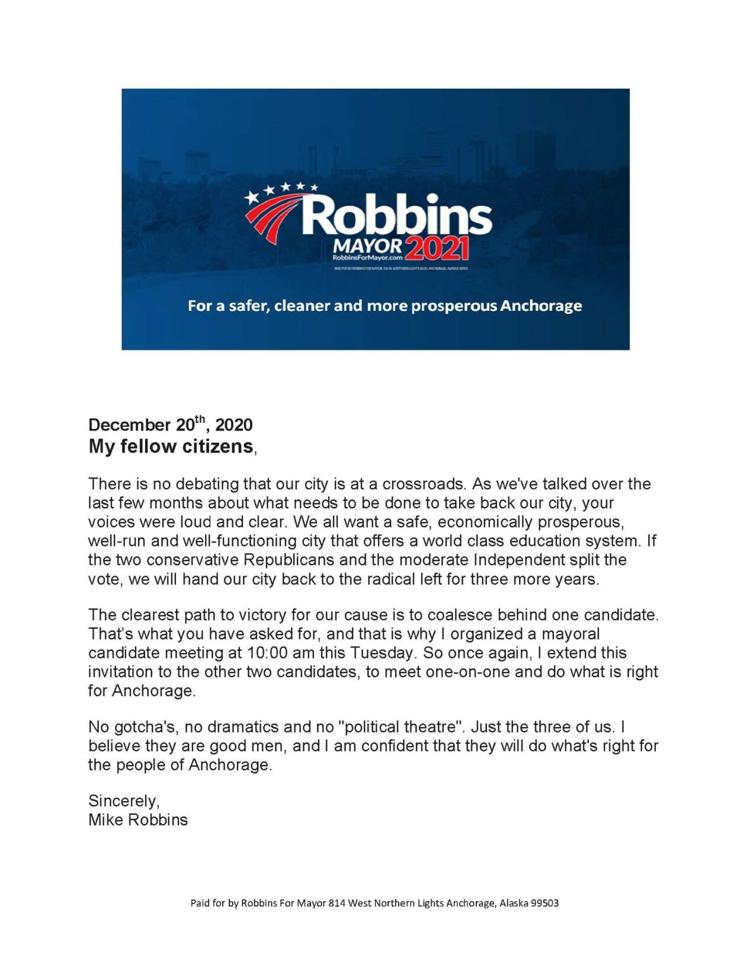 Bronson supporters immediately called foul in the comments, but the two candidates reportedly agreed to meet privately on Tuesday before postponing the discussion until after the new year.
"I have no (personal) goal; I just want to talk about what's best for Anchorage," Robbins said. "What I really want to talk to him about is, what's the target? What's the goal? We're trying to elect a conservative mayor."
Robbins, a devotee of the President, who was among the millions and millions who attended Trump's first inauguration, finds himself in the difficult position of being the 'Compassionate Conservative', while most of the more virulent Trumpers and Save Anchorage conservatives are probably in Bronson's camp.
Robbins said his positions are not decidedly different from Bronson's.
"I think our policies are much the same but my business experience has taught me it's OK to work with people you disagree with," Robbins said. "Sometimes you have to find common ground instead of walking away from the table because you don't get your way. You have to find a way to move the ball down the field."
While Dunbar's path in the progressive semifinal is easier, it's by no means a cakewalk, especially if Acting Mayor Austin Quinn-Davidson decides she likes the job so much she'd want to stay.
"I think we saw some efforts by conservatives to consolidate this week and in some ways this is a race to see who can consolidate and they think if they can get to 45 percent," Dunbar said. "If it doesn't break out that way, I think me vs. Mike or Dave is the most likely outcome, just based on some polling data and in terms of fundraising. Given the amount of funds we've raised and the coalition we've built, our campaign is going to finish top two."
The other challenge facing Dunbar is that this would appear to be the Republicans' race to lose. Between frustration over the city's COVID-19 shutdowns, lasting fury from Trump's defeat and the sexting scandal that forced Ethan Berkowitz to resign the office in October, there's not a lot of energy behind retaining the status quo.
"Talking to folks, they want us to focus on recover and the fact that (Berkowitz) resigned quickly — it was obviously a personal issue (helps)," Dunbar said. "We also shouldn't let it be lost in the scandal that somebody (former TV reporter Maria Athens) left anti-semitic death threats on a voicemail and posted personal photos of (Berkowitz) against his will and without his consent."
Robbins said on Tuesday that another of his signs had been stabbed repeatedly, while Dunbar posts almost daily on his Facebook page photos of new acts of vandalism against his 'Run Forrest, Run' signage.