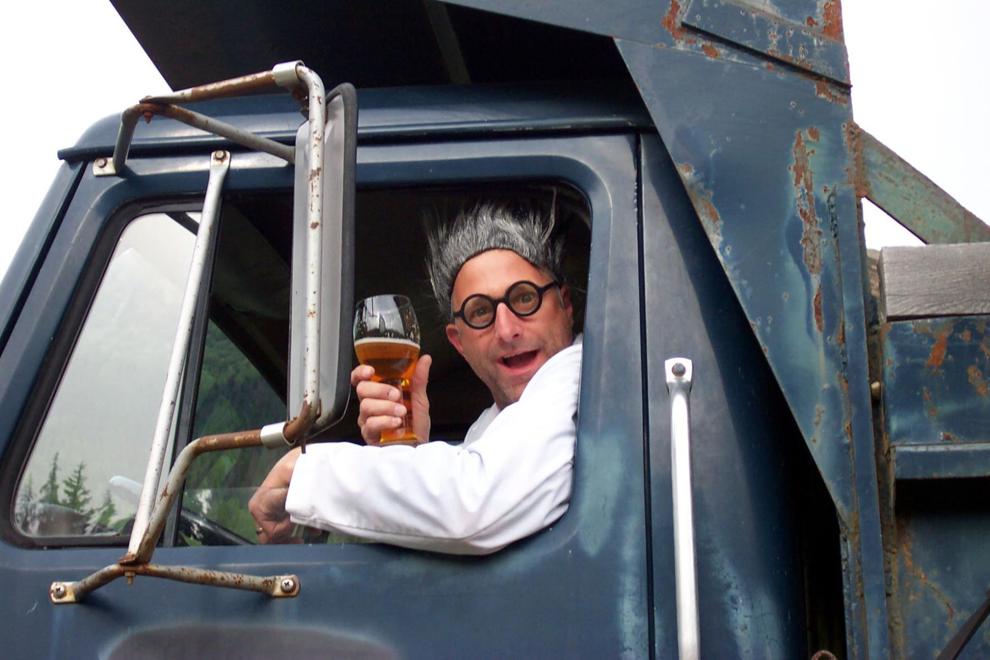 The one thing that Anchorage's Tent City Alehouse has on the other multi-brewery craft beer destinations in town is untold variety from the far corners of our state. This translates into beers you can't get anywhere else unless you go directly to these select, typically non-distributing breweries.  
Tent City's beer menu is virtual, and I can access it through the DigitalPour application on my cell phone. I can bring up Tent City's always up to date menu anywhere, at any time to see what's new. As far as I'm concerned, every brewery should have a similar application in this day and age, especially since most craft beer lovers crave variety and quickly changing, up to date beer menus at their fingertips. 
On the date of my most recent visit, for example, I sampled eight beers that I've never had before, including selections from Bawden Street Brewing Company from Ketchikan, Forbidden Peak and Harbor Mountain breweries from Juneau, a couple from Valdez Brewing Company, one from Kodiak Island Brewing Company, and the object of my desire, Full Send Hazy IPA from Devil's Club Brewing Company, also from Juneau. 
This isn't the first Devil's Club beer we've been lucky enough to get up here. Devils' Club is a small brewery that doesn't distribute too far away from their taps in the downtown Juneau brewery. I was blown away when I first discovered bottled versions of a couple of the brewery's more shelf stable beers at La Bodega, another beer lover's standout based on how the independent liquor store respects and cares for the beers it can procure, many of which are pretty unique as well.
But, getting Devil's Club Full Send IPA is pretty special. It's not bottled or canned. Like most well-crafted small-batch IPA's, Full Send is designed to be consumed either on the spot, or in a very short time if it ends up somewhere else. A beer like this would have to be fastidiously well taken care of along the way to deliver what the brewer truly intended. Devil's Club is fastidious about all of their beers, and knows getting this delicate beer to Anchorage involves risk. 
"We're pretty picky about where our hoppy stuff ends up because of the fragile nature of these beers that need to be consumed very quickly to enjoy the ultimate possible quality," says Evan Wood, one of the "three Juneau boys" that set out to make adventurous ales that are representative of our lifestyle up here when the brewery launched three years ago on April 20. 
"We worked with Tent City and they had Alaska Airlines freight the keg of beer straight up from Juneau. How fresh is it? It was airfreighted the same day it was kegged, so it was fresh from the brewery within hours of its packaging," says Wood. 
"These are beers we make a lot of in Juneau, and we're genuinely excited to share this variety of Devil's Club flavor. Sending our hazy beers outside of Juneau comes with the worry that they might not be consumed in the appropriate time frame for these fragile beers; we don't want to risk them getting warm in some bar hallway next to the kitchen while waiting to be tapped, because the beer just becomes less wonderful when that happens," says Wood. "Those guys reached out to us, were willing to air freight the beer up and it's obvious that they appreciate the industry and know what they're doing."
This is why other remote breweries are willing to send their unique beers forth, and despite slightly spendier beers for the consumer, there's no lack of patronage for the exclusive brews Tent City brings to us true aficionados. 
It's also good timing for the beer, if you're from Juneau, where it really is spring. "We call it Full Send because to make it, we threw all the techniques to develop a hazy IPA in it all at once, for one, and it's a spring IPA on top of that. For us, springtime has a lot of feeling, like being up there on the mountain and being outside in other areas, and that thrill and passion of the first sunny days and the warm weather," says Wood. It's like, giving it your one shot, you know, all you got?" he implored, baiting the feeling out of me. 
I got it, especially after trying the beer this last weekend. I banked on Wood's description when I first tried the beer. "It's on the upper end in the IPA stats; it's 7.5 (alcohol by volume)," he explained, starting on a passionate roll when describing the brew. "It's all northwest hops; we were really shooting for that thick, voluptuous mouthfeel with a super dank, citrus ,almost green carpet, tropical fruit, passion fruit hop profile," he almost babbled. 
With April 20 being the brewery's third "beerthday," Devil's Club was going to do what they always do at the brewery, which is celebrate friends and family and friends. Of course, COVID wrecks everything.
"So much of our brand is centered around spending time with friends and family, and we focus on that, and live that through our product," says Wood. It's been a struggle last year, right to the point where we're seeing the light at the end of the tunnel, but we're not quite comfortable for a huge party yet. Instead, we have this beer we wanted to release at just the perfect time, but we didn't know when that was."
According to Wood, "the brewery is getting 'old,', so we decided to release our oldest barrel-aged product to date."
"Barrel Roll was brewed just after Devil's Club's first beerthday, and lived the following two years in bourbon barrels before being blended together into the dessertly-unchuggable bomb of beer that it is. The extreme lengths in the barrels added a smorgasbord of delightful coconut cream pie, chocolate mousse and dark candy flavor to this robustly boozy, dessertish treat," describes Wood.
It's fitting that this is our brewery's longest project and it's so totally appropriate for our third beerthday. We made this special, just for Juneau, and we're only going to release it on tap in the tap room," says wood of the limited five keg batch of beer. 
Here's a beer that was made pre-COVID and almost slept all the way through it. Barrel Roll will be a fermented treat instrumental in helping Juneau crawl out the pandemic's confining effects.
Wood describes the beer as "pretty select, small batch and I absolutely love the 'dessertly unchuggable treat" metaphor. "Unchuggable" is an apt description for two reasons. First, Barrel Roll weighs in at 10 percent alcohol by volume. It's a knee-knocker – a beer that's definitely not suited for chugging, but rather protracted sipping for full immersion into the beer's deep complexity. Second, Barrel Roll is disappointingly unchuggable for me because we won't be chugging any of it up here in Los Anchorage. Unlike Full Send, we aren't getting any, even at trusted locations like Tent City or La Bodega. 
It's disappointing, but understandable. I guess I'll have to just party at Tent City and nurse on Full Send until it's gone.