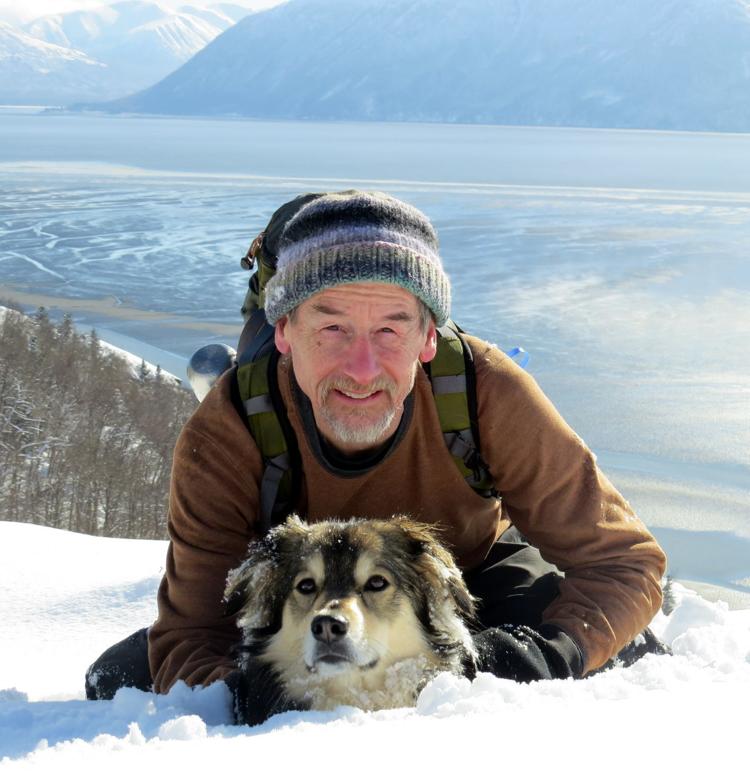 On the second Saturday in September, Jan and I plus Denali and Guido headed for the Chugach foothills. Our plans for the day included an afternoon birthday celebration (a small group of friends, abiding by COVID-19 protocols), which meant we couldn't go for an extended hike in Chugach State Park's Front Range. So we opted instead for the Hemlock Knob Trail, accessible from the Hillside's Upper Huffman parking area and trailhead.
The day was a classic September beauty: crisp air, expansive blue skies, sun that is still warm on the skin, and, in alpine habitat, the autumnal color shift of plant communities that was at or near its peak, the tundra landscape fiery in its various shades of yellow, orange and red. Perhaps because the mountains got a healthy mix of sun and rain in summer, the colors seem especially vivid this year.
From the previous weekend's experience, we knew that the Glen Alps parking lot would be filled to overflowing, and likely the Prospect Heights lot too. When they occur on the weekend, such clear and bright blue-sky autumn days inevitably draw crowds of people to the Front Range. And during this pandemic, the number of people seeking adventure—or escape—in the Chugach Front Range has been greater than ever.
I suspect it's not only the glorious weather and fall colors that draw so many people, but the knowledge that these conditions are fleeting.
It won't be long until those beautifully bright colors fade, daytime temperatures drop below freezing (as nighttime temperatures are already doing when skies are clear), hours of darkness exceed those of daylight, and early snowfalls—termination dust, we Anchorage residents like to say—begin to cloak the mountains in white, confirming the shift from fall into winter.
Jan and I and our canine companions have spent plenty of time roaming the mountains in recent weeks, with several of those alpine hikes centered around picking "tundra blues," so we didn't envy the many people higher in the range. In fact a quiet, leisurely stroll through stands of large hemlock trees seemed just right on this otherwise busy Saturday (my schedule including a visit to the South Anchorage farmer's market, helping Jan with some end-of-summer yard chores, and the birthday party).
When we reached the knob, we were treated to a stunning view of the front range, places familiar from past explorations: Rusty Point and Wolverine Peak's upper reaches to our left, then across to Little O'Malley and the "Football Field" (and behind them, O'Malley Peak and The Ramp), and further on to Flattop and its taller neighbors, from Peak Two to Ptarmigan Peak. With the mountains' flanks ablaze in autumnal hues, their rocky upper reaches etched sharply against that deep azure sky, and their heights fronted by lush green lowlands, earth and heavens were utterly glorious.
But our walk through the hemlock forest also presented us with smaller glories, which might easily be overlooked on a more ambitious hike to high alpine reaches: wood ferns gone from green to cream, a white-and-brown-patterned autumnal moth (its common name) perched on purple-leafed dwarf dogwood, and small meadows of ground-hugging plants—many of them wildflowers no longer in bloom—also showing the season's color shift, a blend of green, pale yellow, and shades of red from pink to violet.
Moving about the hemlocks and talking among themselves, black-capped and boreal chickadees and golden-crowned kinglets, birds that live here year-round, added bits of liveliness to the largely quiet woodlands, a quiet pleasing to our ears. The shadowed understory was also a soothing interlude to the brightness of the day and alpine landscape beyond.
Whether shaded by subalpine hemlocks, hiking high, sun-drenched rocky ridges, or walking the forest-lined paths of Kincaid Park in Anchorage's lowlands, I savor the gifts that September brings. Chief among them are those bright and crisp, blue-sky days, the sun gently warm on the skin, along with the shifting colors of the plant community, tundra and forest sometimes glowing as if lit from within. And, of course, there's the berry picking; primarily "tundra blues" but also sometimes lingonberries. While frosts soften and eventually shrivel blueberries, they add sweetness to the low-bush cranberries (as lingberries are also known).
Blueberry picking first became an interest in the mid-nineties and eventually grew into a passion (Jan might say an obsession) and though the season starts—and in many places, reaches a peak—in August, the berry harvest season extends well into September, at least for me.
I think blueberries and their abundance in Anchorage's "backyard wilderness" are what clinched the deal. Added to those glorious blue-sky days and fiery alpine landscapes , they've made September one of my two favorite months, here in my adopted homeland (the other being May, a story for another time). Perhaps the fact that it's a transitional month, starting in summer and taking us through fall to winter's doorstep in such a rapid way, somehow adds to September's appeal, its beauty.
Yes, the month can be dreary, when days of dense clouds and cold rains settle over us. But those blue-sky days and what accompanies them: they're like no other, bringing a sort of rhapsody into Anchorage and the neighboring Front Range.
Anchorage nature writer Bill Sherwonit is a widely published essayist and the author of more than a dozen books, including "Living with Wildness: An Alaskan Odyssey" and "Animal Stories: Encounters with Alaska's Wildlife." Readers wishing to send comments or questions directly to Bill may do so at akgriz@hotmail.com